Digital transformation through the implementation of Customer Relationship Management systems has been a topic of discussion and debate for years. As far back as 2014, Forrester identified this as a growing trend and matter of deep business importance to firms that are focused on retaining clients and delivering differentiated support services.
SMB owners can now take a step far beyond "digital transformation with a CRM" and gain the competitive advantages of the "digital transformation of their CRM."
Traditional Client Relationship Management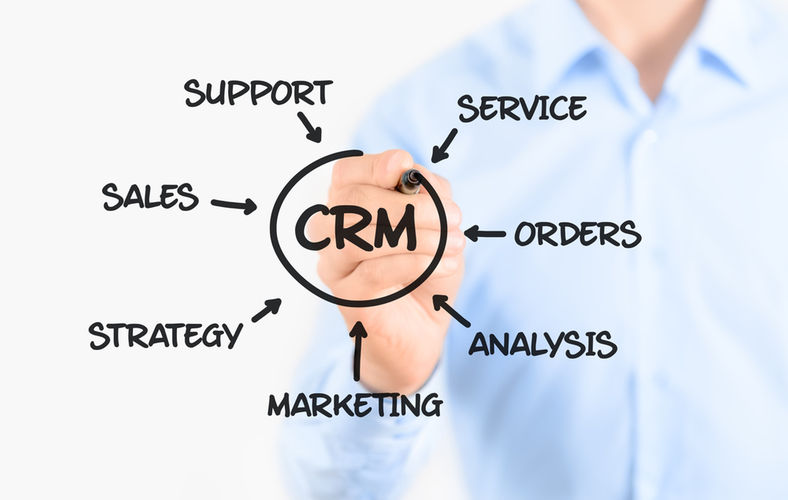 The illustration above depicts the functions most Customer Relationship Management solutions provide. Each arrow points inward. This occurs for a specific reason. Traditional CRMs are not designed to "reach out" to the customer and include them within the functions of the system.
Kintone challenges this traditional process by providing built-in CRM capabilities that SMB owners and citizen developers can use to quickly establish and manage a customer information database, build customer journey workflows and define customized deal stages—all through visual design and no-code app development.
The Transformational Capability: Customer Inclusion within the CRM
Kintone can enable SMBs with the capability to easily modify and expand their CRM app to directly include customers within a personal digital workspace.
"Digital workspace" means computer and mobile device access to an end-user Kintone workspace that brings customers inside the CRM app just as it would with internal employees.
Here are three examples of the dozens of creative ways companies can connect with their customers through key relationship touchpoints:
Customer Collaboration
A citizen developer-led sales team can engage Kintone's collaboration functions to host and provide "team-oriented" exchanges with their customers—in real time.
Example use: "Sales calls" become digitally-collaborative dialogs that can include the business owner, customer support team members and product/service delivery experts.
Customer Task Participation
A citizen developer-led account team can enable a firm's customers to be directly involved in the tasks that support their buying and administrative needs. "Follow-ups" become an integrated interaction with task-completion activities associated with both company employees and the customers.
Example use: The back-and-forth emails and calls necessary to process an order can become a pre-defined and time-efficient process that provides customers with notifications of the steps that are necessary to complete on their end.
Customer Journey Involvement
Service journeys, delivery confirmations and satisfaction checks—these steps typically include specific customer touchpoints. Kintone citizen developers can digitally transform their company's "product and service workflow" into a customer-inclusion experience.
Example use: after the completion of an order or services delivery process, a CRM | Workflow management app can ensure customers automatically receive requests to verify they pleased with their service.
ALSO READ: 4 Ways Traditional Software Fail Business Managers and Delay Digital Transformation
SMB Competitive Advantages
Customer Needs Awareness | Improved Capability to Sell
Within CRMs, information about the customer is collected and managed internally. In a Kintone CRM/Customer-inclusion app, customers can communicate their specific needs interactively with the sales and support teams.
Better client information = improved capability to sell.
More Efficient Interactions | Faster Customer Service Responses
Within the CRM environment, manual "customer communication" is required. Emails, messages, tasks—all of these touchpoints can be automatically placed inside a Kintone CRM/Customer-inclusion app.
A more efficient exchange of information = faster customer service response times.
One-to-one Involvement | Customer Loyalty and Retention
With CRMs, loyalty and retention are built by "managing the relationship". In a Kintone customer-inclusion app, customers are brought inside the processes designed to serve them.
One-to-one relationship interaction = higher customer loyalty and retention.