"If you're not at least considering low-code platforms in place of traditional SaaS/Cloud solutions, you're making a big mistake." –Abdul Karmach
Abdul Karmach is the Chief Technical Officer for AscendWare.Net, a digital transformation and marketing company that specializes in MarTech and building turnkey and custom software solutions. As part of providing solutions for their customers, AscendWare utilizes Kintone as a development platform. We sat down for an interview with Abdul and Chris Fowler, CEO of AscendWare, to discuss how low-code platforms, Kintone in particular, has played a role in their business.
While low-code platforms have crept into the marketplace over the last decade, only recently have they become viable solutions for developers and consultants as part of building effective business software solutions. Many developers wonder what they can do with low-code. Abdul wonders what can't be done through it. The CTO compared the importance of low-code solutions to cloud technology because, "like Cloud, it's become a question of 'when' you will utilize it, not 'whether' you will use it. That's how AscendWare thinks of low-code platforms. For creating solutions, it's faster and easier, so we first ask ourselves: is this something that can't or shouldn't be built on a low-code platform? Only if low-code is not a fit do we consider alternatives."
A good low-code platform offers the flexibility a business needs to quickly set up and run business applications from the get go. But a great one provides future-proofing with powerful and capable APIs and the permission and auditing capabilities required by enterprises and IT teams. Many competing platforms do not offer these critical features.
For AscendWare, Kintone offers the best of both no-code and low-code development. According to Chris: "In Kintone, a department head or manager can utilize no-code, drag-and drop development to build a solution to replace spreadsheets, paper processes, email, or outdated systems. They can build apps, store everything centrally and leverage Kintone's social framework—and that's all fantastic. But, if you're going to build world-class software that's good enough to drive a business or an enterprise…you need strong security, compliance, audit and permissions capability. And Kintone brings us that."
"By far, the most amazing part of Kintone is its "low-code" capability—that is—its API (Application Program Interface)" said Abdul. "Many platforms have a REST API and that's great, but in addition, Kintone has a phenomenal JavaScript API. It's easier and more powerful than anything I've ever used. And what you're able to create and perform with the API… the customization, the system integration, the automation… it's just amazing."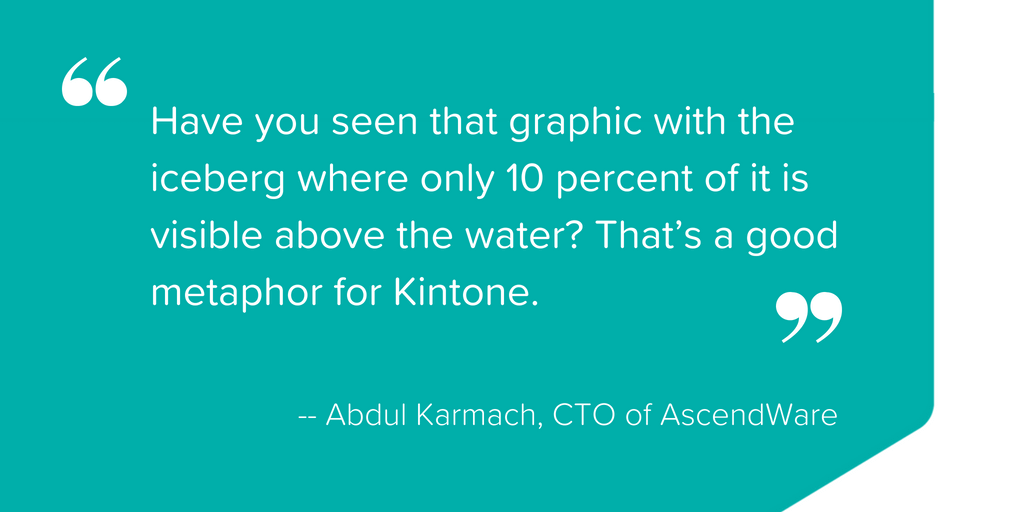 Abdul asks, "Have you seen that graphic with the iceberg where only 10 percent of it is visible above the water? That's a good metaphor for Kintone. The small, visible part is citizen development—as powerful as that is. But the huge mass underneath the water is the lessor-known, but far more powerful capability powered by Kintone's APIs and enterprise-level features. This is what makes Kintone special to us. While it's obvious these items are critically important to the enterprise. They're also critical to small business; they just don't know it yet."
For Chris, Kintone is not only a great option for enterprise IT departments. It's also a great solution for companies with limited IT resources. "One of the great things about Kintone is that you can do things so fast; it doesn't take a full development team. A manager can design what he or she wants to have built by utilizing the drag and drop interface—but then a more advanced user or solutions partner can utilize CSS to change the look and feel and JavaScript to customize and automate steps. For example, you can create and assign functions to a button within the interface.
Many developers shy away from low-code platforms without realizing their capabilities. According to Abdul, a lot of this comes down to low-code being marketed towards business users over developers. "Citizen development is a powerful movement," said Abdul. "It empowers business people to express their ideas and solve real problems. But that's just the tip of the iceberg compared to what can be done with the API. But that's the beauty of Kintone."
Low-code will not be the death of solution providers, rather it will empower them to offer even greater value to their clients. Abdul said, "I like to compare it to WordPress. It's been reported that WordPress powers 25 percent of the entire Internet. However, it was initially thought of as an end-user tool and replacement for custom website development. Everyone said it was going to be the death of the of the digital agency; it's going to be the death of website developers. But that's not what happened at all. It's true, millions of non-technical people have created websites with WordPress. But WordPress has also revolutionized the digital agency by giving it a tried-and-true, rock solid platform on which to build amazing projects. While a non-tech person can make a great looking website for their child's little league team or freelance project, an experienced web developer can create a powerful e-commerce system in WordPress. It's the same with Kintone.
RELATED: Read our free report on The Rise of the Citizen Developer: 2017 Low-Code Adoption Survey
For AscendWare, low-code and their ancillary technologies aren't just an asset, they are the future of development. In closing, Abdul said, "The market has proven these are viable solutions. They are cost effective, secure and highly capable. Don't miss the boat. Make sure you give low-code a good, hard look for your next project.
Gartner Research and other industry consulting firms now refer to this segment as hpaPaaS (High Performance Application Platform-as-a-Service". Kintone is in the 2018 Gartner Magic Quadrant for hpaPaaS and will continue to grow in functionality and effectiveness.
"Any organization can leverage no-code development to improve the way companies, departments and teams work more effectively", added Chris. "These same platforms can be leveraged and extended to be true enterprise level applications solving real-world problems. And AscendWare and Kintone are there to help expedite their Digital Transformation."
Looking to give Kintone a try? Sign up for a free 30-day trial to see what Kintone can do for your business.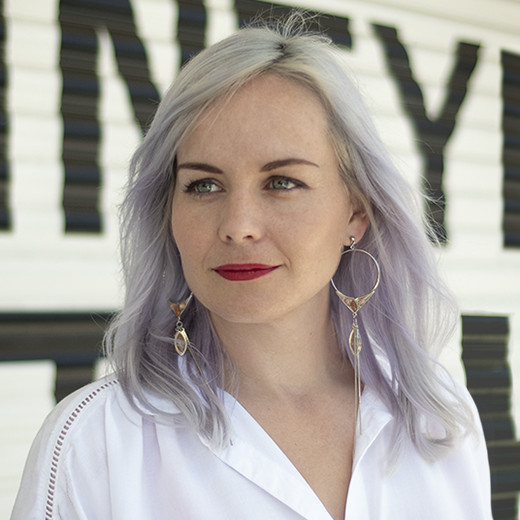 About the Author
Michelle is the Content Marketing Specialist at Kintone. She is a content marketing expert with several years in content marketing. She moved to San Francisco in 2015 and has experience working in small businesses, non-profits, and video production firms. She graduated in 2012 with a dual degree in Film and English.