As a sales and business development representative here at Kintone, I talk to customers and prospects all day about the struggles they are trying to overcome in their organizations. I hear all kinds of different roadblocks, pain points, and issues affecting companies' workers, preventing them from finding the tools they need.
I've put together a list of three of the most common problems I hear and how cloud-based "low-code" platforms are helping people solve them every day. These low-code and no-code solutions are popping up everywhere to solve business issues that were previously only overcome by custom development jobs, massive budgets and large IT teams.
1. Too niche of process to find the perfect solution
Every company has different business processes, unique management styles, and very diverse ways of accomplishing a wide range of tasks. Company A is not going to sell their products the same way as Company B, and Company C is certainly not going to manage projects the same as Company D. This leaves many feeling that a pre-built, off the shelf solution is like trying to fit a square peg into a round hole.
Solution: If you want a solution that perfectly fits your needs, be it a CRM, a project management application, or an inventory tracking system, you will have to customize it. No-code and low-code platforms allow you to build your perfect solution without the costly price tag that comes with custom development projects.

With drag-and-drop application building, you not only can tailor business apps to your exact needs, but you can
remain agile by updating on the fly. Line of business users are able to create the tools that takes coders and IT teams months to build from scratch. A custom business process is no longer a roadblock when leveraging easy to use, quickly deployable, no-code application builders.
2. Lack of process, organization, tracking
A large concern and an overwhelmingly common problem with people I speak
with is the lack of organization, tracking and data integrity. In the midst of a tech revolution where there is a mobile app for everything, there seems to be a gap when it comes to business applications. Teams are still taking project notes on a piece of paper, emailing endless spreadsheets around, and using different point solutions to manage decentralized processes. Without up to date and correct data, projects fail, sales decline, and chaos becomes the norm.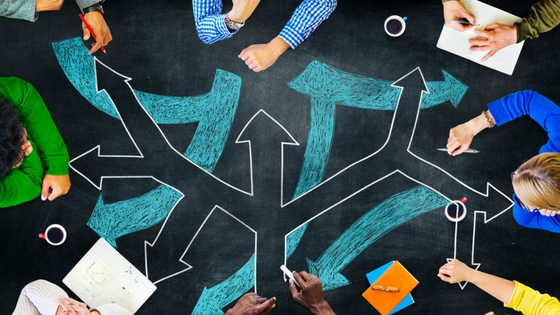 Solution: To solve the issue of a general lack of organization with company data and
processes, turning to all in one low code business platforms can be a saving grace. Getting your data turned into business applications and setting up permissions and custom workflows can insure up to date, correct data, and manageable processes. Having all the information you and your colleagues need to work together all in one place results in productive, happy workers and a clear and organized tracking of company information. These tools are easy to create with spreadsheet conversion and process management features that seamlessly connect colleagues and data in one place.
3. Resistance to change
Many clients express a frustration with an unwillingness to change from different stakeholders in their organizations. This resistance can come from managers or executives, IT teams, or end users. Change can be a difficult thing for many, and it is often approached with a "if it's not broke don't fix it" mentality. This leaves change makers running up against a people issue, rather than a resource one. In the age of digital transformation, there is still a gap between the tools and the people who are using them. Sometimes getting the team on board can be the hardest challenge of all, even after the perfect solution has been found.
Solution: The best way to address resistance to change comes down to the solution itself. No-code and low-code platforms allow you to overcome this obstacle with their user-friendly, easy-to-use, and accessible nature and the ability to create the tools your team actually needs.
Because these application platforms save costs while boosting productivity and workplace collaboration, convincing management becomes a much easier task. These tools allow IT teams to be less bogged down with the rise of citizen developers and rapid application development, lessening the chance of resistance from their end.
Final Thoughts
Making change in the workplace and taking issues into your own hands is a challenging and often frustrating task. But providing your team with the correct tools can be at the heart of making processes run more efficiently and solving your biggest business issues. The great news is that low-code and no-code platforms are allowing business users to create applications that match their exact need in their niche space. With these solutions, overcoming workplace resistance and objections is more manageable as data integrity issues and organizational mishaps become a thing of the past.
If any of these things above are disrupting you, your colleagues, or your organization, maybe it's time to find a low-code solution.