2022 is coming to a close, and in addition to wrapping holiday presents, we're going to guess that you're also wrapping up a few last minute projects and preparing for the year ahead. But before you finalize your projects and finish building your business strategies for the new year, we want to make sure you're in the know when it comes to 2023 trends – and no, we're not talking about the reemergence of low-rise jeans.
Taking a look at 2023 business trends should be an essential part of your end-of-year prep work. It not only allows you to develop relevant, detailed business plans, but prepares you for the business challenges you may encounter as a company throughout the next year.
Lucky for you, we've broken down five emerging trends into one informative article. So if you're looking to learn more about 2023 business trends and how the right software can help you tackle them, you're in the right place.
1. Recession Prep
It's no secret that companies have started taking measures to prepare for an economic recession. According to TrueUp, there have been over 1,400 rounds of layoffs affecting nearly 223,000 employees globally this year in the tech industry alone, and it seems the situation is only going to continue trending this way.
Unfortunately, layoffs don't equal a lighter workload. As industries contract and teams shrink, there's going to be a need for people who can wear multiple hats, adapt to new tasks, and manage a variety of projects that were once worked on by laid off employees. So, how can software help?
Adopting a solid business software can allow a small team to manage a big workload. And if your company is short on software developers, no-code platforms are the perfect recession-proof software solution to keep your team on track. These platforms allow anyone across the company to build custom business applications tailored to their needs, making it easier for teams to track projects, task handoffs, and more. You can also adjust your applications and workflows as teams grow and shrink–swapping out old processes for new ones with ease.
2. The Great Resignation
Even in the midst of a recession, millions of people are changing jobs each month in search of something better. Not only is talent getting harder to find and hold onto, but Gallup estimates that up to 85% of employees worldwide could be quiet quitting, leading people to scale back on their workload without leaving their jobs to focus on their personal lives.
No-code software can't read your employees' mind or make up for the talent that has left the company, but it can help you get a better grasp on how much work a person might truly be handling and bring up ways to better promote work-life balance. To do this, you'll need to a tool that:
Increases Visibility: Your software needs to give you a complete view of the amount of work each employee is tackling. This includes an overview of all the tasks a person has on hand, along with their respective deadlines and priorities. Looking at the big picture can also help you see which team members have a lighter workload that can help support someone who may be drowning in deadlines.

Many no-code software platforms feature customizable dashboards that allow you to ; feasily switch between the big-picture view and the details behind itor example, you might set up your dashboard to show your key monthly sales metrics, but a quick click through can guide you to a more detailed breakdown of who's contributing and where your leads are coming from.
Tracks Accountability: One way to hold team members accountable is using software that tracks the status of a task and who it's assigned to. No-code platforms make it possible to trace accountability at every step of a task with customizable workflow management features; these tools allow you to track task handoffs or changes (whether you're moving a task along or your colleague is taking over your work due to a last-minute emergency) without the work dropping off the radar. Popular no-code platforms can help keep teams and departments aware of critical info like upcoming deadlines, weekly reports, or other small things they need to complete.
Encourages Flexibility: Adaptable software that allows for a more modern way of working can give employees the flexibility needed to get the job done. A tool that can be accessed via phone or tablet allows people to continue to work on the go, even if they have to work from unconventional places like the doctor's office or school pickup line.
3. (Digital) Sustainability
It's more important than ever for companies to pursue and promote sustainable business solutions. While this seems less applicable to the tech world than retail or other consumer goods, it still applies on a different scale.
Choosing sustainable software that will continue to work for your business needs as you grow, shrink, or scale, will be essential to your long-term success. The last thing you want is a software that's a perfect fit for right now, but is suddenly less comfortable as soon as you encounter change or challenge. Industries are changing too fast to pick software that doesn't adapt to what's next–with that in mind, you'll want software that:
Easily Adapts: Whether it's adapting to something as small as handing off a task to a new team member or adding a new step in your manufacturing process to account for supply chain delays, you want a software that can adapt to anything. No-code platforms are by nature a sandbox; they're meant to offer versatility at every level, whether it's choosing the data fields you want to populate your CRM database or adding an extra step in your shipping process. The extreme customizability also allows for a high level of scalability. Teams can build what they need now and build more when they need it later. No-code platforms are designed for teams who need to quickly design and launch custom software to suit their ever-adapting needs, and great no-code software makes it easy to design, launch, and modify without needing IT support.
Is Reliable: Look at the company's longevity. If it has the potential to go under in the next few years, it will leave you without the support and resources you need to continue using their software.
4. Hyperconnectivity
Did you know the average company wastes over $135,000 on unused, underused, or duplicate software tools? Knowing that, it's easy to understand the hype around hyperconnectivity.
Instead of piecemealing different subscriptions and software together to manage individual tasks (and wasting money while doing it), businesses are beginning to consolidate to one software that meets multiple needs. We no longer want 30 different software solutions, we want one solution that can do 30 different things. Does that seem like a high bar? Maybe, but that's where the future is headed.
To start the integration process, it's important to have software that handles the three big facets of business: communication, workflows, and data management. The ideal solution either connects all three of these things in an intuitive and effective way, or it creates a connected environment using extensions to link the software we already have for each.
No-code platforms often combine these elements in powerful and intuitive ways. For example, they may include databases that allow for conversations inside individual records, or a built-in workflow management tool that lets teams easily track tasks around company data (such as contacting a new lead and taking them through the sales journey to customer).
5. Cloud Security
Cybercrime has increased a whopping 600% since the start of the pandemic–that stat alone should tell you why businesses are taking cloud security seriously.
As companies become increasingly digital in the way they handle their processes, it's important to have security features that protect your intellectual property and internal data from outside threats, and even from unauthorized access internally. All it takes is one missent excel document for data to get in the wrong hands.
The right software can counter this by providing external protections such as two-factor authentication, data backup, and data encryption, as well as easy-to-manage permission controls that give administrators a way to cleanly add, remove, adjust, and track access to various data, workflows, or conversations on individual, team, and department levels.
One of the other big benefits of no-code platforms is that centralization helps reduce the likelihood of a lost password or shadow IT software. Instead of juggling data management, security, data-sharing, and access across 30+ tools, your team can share all of that and more from a singular platform.
Ready to tackle trends together?
Now that you're up to date on new trends, you may be wondering where to start your search for software. If we had something to say about it, we'd ring in the new year with our free 30-day trial–but you know, that's just us.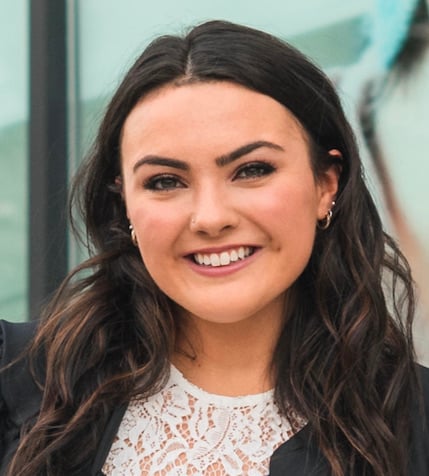 About the Author
Michaela is a part-time freelance writer passionate about writing creative copy and content. She graduated with her Bachelor's Degree in Marketing, minor in Creative Advertising, and has spent time working for start-up companies, agencies, and large enterprises in the marketing and brand strategy spaces. Outside of the office, she's an avid foodie and traveler living in Chicago, Illinois.