The Kintone App Marketplace is the fastest way to get started with Kintone. That's why we've been busy developing improvements to the experience to make easier for you to quickly build the custom apps your team will love you.

Watch this Kintone overview video to see these updates in action:
One early observation we made was how the new app creation menu needed some work. So what's happening starting in May?
Instead of popping up a lackluster menu, we want to allow users to get a 360-degree-view of their options by jumping straight into the Marketplace to centralize the app creation process and present the different options in a much more user-friendly way.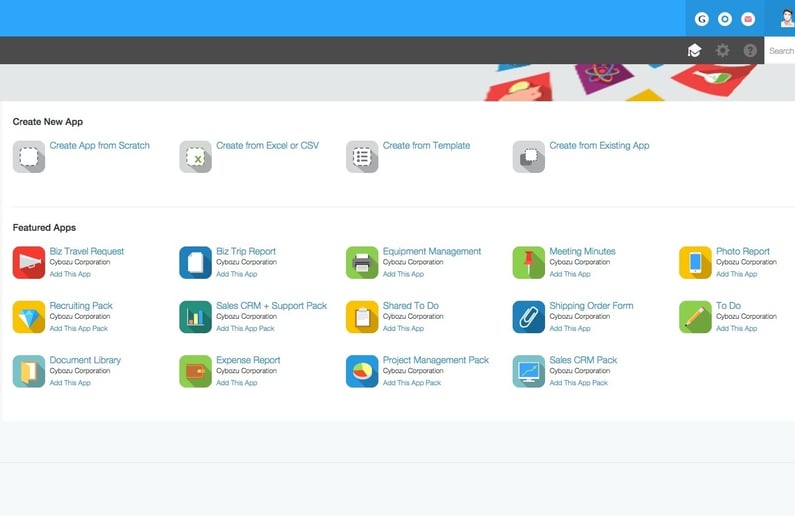 But this is just the beginning. Now that the Marketplace is the central hub for app creation, we can start bringing more options in. What would you like to see in the Marketplace? Plug-ins? Integrations? Partner Solutions? Let us know!
One of the features that puts us above and beyond the competition is the ability to collaborate with your team inside data records. By placing comments in-line with information, everyone is always on the same page and you can avoid the hassle of disjointed email threads and spreadsheet comments. But we know that our commenting tool could still use a lot of work, so we're getting started with one of the more fun and more frequently asked for features that is available in our threads, but mysteriously not in our in-record-commenting tool -- the ability to "Like" comments.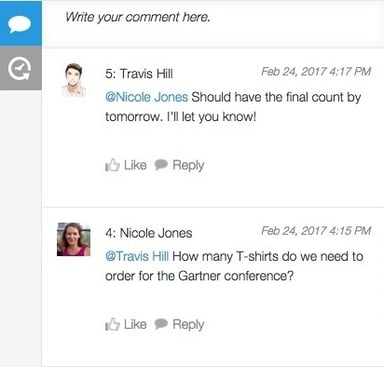 This tiny, tiny feature add is just the beginning though, we promise! Let it just be a testament to our focus on transforming collaboration in-line with data going forward. Let's talk about attachments, drag-and-drop adds, link preview, and any other suggestions you might have. The question is: what do you need from your in-line collaboration?
These are just a couple of improvements that we've made for release in May, but there are several more updates to the UI and feature set. For example, you can now use comment posts as webhook events. You can also access the app settings menu directly instead of having to waste clicks. If you spy other smaller UI updates that you're excited about that I haven't mentioned, give them a shout out! We love hearing feedback, whether it's praise or an opportunity for us to improve.
Thank you to our wonderful dev team diligently working behind the scenes and thank you to all the Kintone superfans that continue to provide helpful insights on the platform!
All the best,
Travis
Product Manager
travis@kintone.com