For all you Pokémon Go trainers, catching them all just got easier with business applications.
At the first Kintone San Francisco Developers Meetup Wednesday, new coders to experienced developers learned how they could easily build an online database to enhance Pokémon Go, a mobile gaming app that uses concepts of augmented reality, GPS, and the phones' cameras to overlay Pokémon onto the real world. The goal is to catch all 151 Pokémon, but that's no easy challenge.
It can be a highly interactive game that allows you to go Pokémon hunting as a team, battle at gyms, and in the near future, trade Pokémon. But there's no in-app collaboration. Using Kintone, we saw an opportunity to streamline some of the coordination efforts.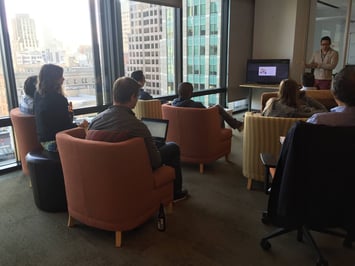 We did this by two creating apps in Kintone: one as a location database to house known hotspots of activity and another to record Poke-sightings. Users can upload pictures of their Pokémon and even receive notifications to their mobile device every time they or their team has a Poke-sighting to increase their chances to catch 'em all.
This is just one example of how Kintone's platform enables both developers and no-coding users alike to come up with custom solutions that's quick and instantly deployable.
"I would like to thank all our attendees and especially the developers from Coding Dojo in San Jose for coming," said Meetup organizer and Kintone Marketing Manger Travis Hill. "I'm happy that everyone brought questions and now that we've given a little bit of an overview of Kintone, with help from Pokémon Go, I look forward to putting on a more in-depth program for the next meetup."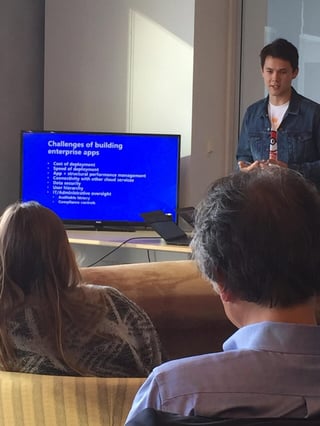 Join us next time to learn how to customize Kintone applications using JavaScript, and how to connect applications to sensors and data inputs for IoT use cases. Bring questions and app ideas and we'll explore how these applications can be made possible using the Kintone platform. While this will be a more advanced meetup than our previous event, all skill levels are welcome.
When: Wednesday, August 24, 2016, to
Where: Kintone Headquarters, 560 Mission St, San Francisco (location may change)
More details here.
Grab a free Kintone developer edition account here.
Then:
1. Sign up for the community
2. Select "Free Kintone Developer License" from the main page
3. Start building awesome things!