If you've dabbled in Kintone's free trial or even looked around our website, you've probably heard about the app templates. Kintone app templates are pre-built applications you can use to quickly get started building custom apps. Think of it like the framing of a house: the template gives you a bare-bones framework that you can use no-code to add the details to.
How many kinds of app templates are there?
Kintone's app template library features more than 50+ app templates to get started from. Popular app templates include:
Sales/CRM
Project Management
Photo Report
Expense Report
Shared To Do List
How many kinds of apps you can build, however, is endless. On average, Kintone users around the world build approximately 1,000+ new apps every day to handle their unique business needs. Some include:
What you already have is your template? If you've been in business for awhile, odds are you have a way of doing things that works for you. It might not be perfect (which is why you might be looking for a better solution with Kintone), but you have a general process you already like to use.

With Kintone it's possible to use your current process–including any spreadsheets or workflows you already have–as the starting point for building out your new process in Kintone. In other words, use your current setup as the template.

If you'd like to learn more about building off your existing data and workflows, schedule a personal demo with one of our product experts to learn how.
Whether it's a CRM, an inventory management database, a supply chain management app, or more, users can build it in Kintone.
So what can I do with the app templates?
There are two key things you can do:
If you're browsing to find out what's possible to build, the app templates are a great place to start. They offer a great overview of how many kinds of business needs Kintone can serve.
If you want more insight, you can also check out our list of use cases or talk directly with one of our product specialists for free.
Use the app templates in your free trial to start testing the boundaries of what you can build. App templates are a good way to see what you can do in Kintone with the drag-and-drop app builder.
How to get started using them?
First, you'll need to open a free trial of Kintone here.
Second, you'll want two things:
An idea of what you want to build
Some familiarity with no-code platforms*
*If you don't have this, don't worry, we're about to give you a crash course. If you find you still need more help, or if you want to watch an expert build something for you first, talk to a product specialist here.
"If you're like me and you like learning how to put the building blocks together, the sky's the limit with Kintone." - GM, OffBeat Press
Building a familiarity with no-code tools
Don't get us wrong: no-code platforms like Kintone are easy to use. But like setting a digital thermostat, peeling a pomegranate, or doing a pull up–easy can still come with a learning curve.
So how much do you have to learn to navigate Kintone's no-code platform? Not much, but here's a good place to start (you can skip around these steps depending on your experience):
1. The Kintone rag-and-drop interface tool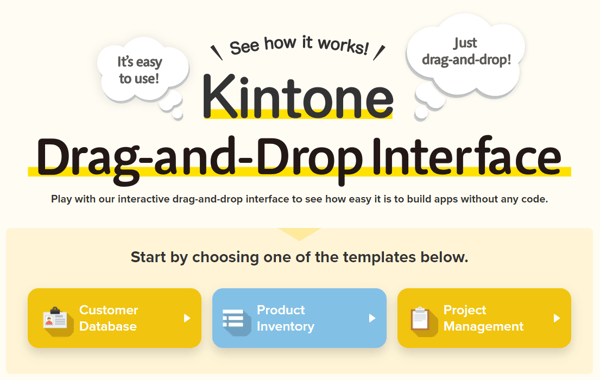 This tool is a great way to get a quick feeling for what it's like working with drag-and-drop. As the name implies, drag-and-drop involves literally dragging-and-dropping various data field types onto a blank page and organizing them the way you want.
Field types include text, numbers, radio buttons, attachments, user selection, and more. This tool only gives you access to a few of them, but it will give you a quick feel for what the process of adding fields is like.
If you've never played with a drag-and-drop interface, try this first. You'll get the hang of it in a couple of minutes.
2. Having an idea of what you want to build
This is critical, otherwise the app templates you choose might get in the way of what you want to create rather than help you build it faster.
This doesn't have to be complicated to start, but you'll need to have an idea of what you want to make. For this instance, let's say you want a CRM to manage incoming sales leads and customers. Fields you might need could include:
Company name
Company size
Company website
Address
Industry
Sales Rep
Process stage
Contact name
Contact job title
Etc.
Perhaps you also want a few other details like the day they became a lead, how long they took to close, and their lifetime value.
3. Adding/modifying data fields to a Kintone app template
Once you know the details you want, you can find an app template that gives you a starting point for these. If you've got a free trial open, here's where to start:
1. Go to the Apps section of your dashboard and click the + sign in the upper right corner.

2. You'll see the option to create an app from scratch, but since we're working with templates scroll down to see some initial options. You can also choose from the categories on the left-hand side of the page.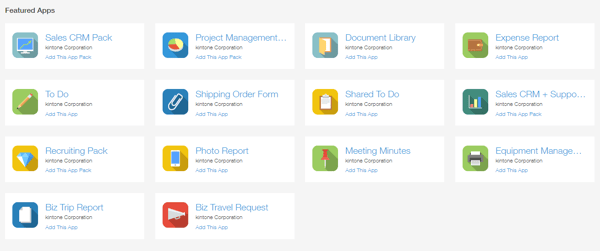 3. The Sales CRM Pack is a good initial option, but it will include product inventory and other pre-built databases. Which might be what you want, but we're going to keep it simple for now. Instead, we'll go with the Customer Database app template (which can be found in the Sales category under "By Department" on the left-hand side).

4. Click the app and say yes to the pop up to confirm you want to add it: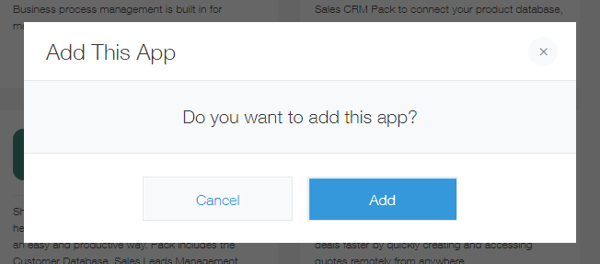 5. You'll see that an app has been added to your list of apps.

6. Click into the app–now we're getting to the good part! So at first you'll see nothing when you click in, and this makes sense because for right now you have no customer data in this database. It should look like this:

But that's okay–adding data is the last step in this process. First, you're just here to build what you want on top of the app template. This time you'll want to click the gear icon on the right-hand side of the screen. It will immediately take you to the drag-and-drop section of this app.
As you can see, the app template has already added a number of basic fields, many of which you'll want for your CRM.
This is where app templates are handy–they take care of the basic stuff, leaving you to work on the more unique parts of what you want.
7. Let's say you want to add two things: industry type and an address broken down by City, State, and Zip Code.
(Video showing adding an industry field)
(Video showing adding various address fields)
8. Once you've added these, click the Update App button in the upper right corner. It will take you back to the preview of your data records. When you go to create a new record, you'll see these new fields added to your app:
9. Here is an example of a filled out record:

This is the view of the record in list form. (The fields that display in list form can be changed with Kintone's view feature).

You can continue to go back and add edits by clicking the gear icon in the upper right corner of the screen. You can edit the information inside a specific record by clicking the pen icon in the upper right corner.
While there are a variety of other actions you can take (from adding comments, making views, creating reports, and setting up custom workflows), this is a good overview of how to make use of a template to suit your needs.
Doing more with Kintone–with an expert
If you'd like to see more of what Kintone can do–such as adding relational databases, workflow management, and custom reporting, we recommend reaching out to schedule a free 15-minute consultation with a product expert.

Our product experts can not only help you learn how to do more with Kintone–they can also build you a free complimentary prototype of an app tailored to your needs.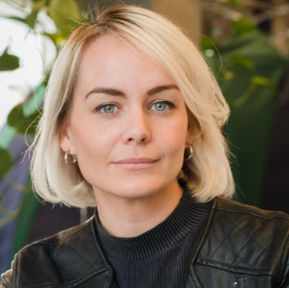 About the Author
Michelle is the Content Marketing Specialist at Kintone. She is a content marketing expert with several years in content marketing. She moved to San Francisco in 2015 and has experience working in small businesses, non-profits, and video production firms. She graduated in 2012 with a dual degree in Film and English.