Move over, millennials, there's a new king in town.
Generation Z (Gen Z), or those born between 1995 and 2015, are about to or already part of the workforce! Comprising over 25% of the U.S. population, Gen Z will wield considerable influence on everything they touch: politics, economy, technology, and more.
Here are a couple interesting facts about Gen Z:
98% own a smartphone

This will be the 1st majority non-white generation in America

Most grew up during the recession

Nearly 80% feel stressed when disconnected from the internet
As a result of their digitally-drenched upbringing, Gen Z sees things a little differently than previous generations, especially when it comes to the workplace.

So what do they want from employers?

Glassdoor published a study on Gen Z on what kind of workplace the newest generation wants. It found listing work environment, great people, flexible hours and good pay were among the most desired company traits for this generation. We've decided to conduct our own, small, survey on what people born in 1995 or later are looking in the workplace.


We asked (via Instagram):
If you are born in 1995 or later, share with me at least one factor you look for when choosing a workplace or job in general?


Gen Z answered:
"I want the company to have a great community and company culture. Respecting international people and sponsorship is important, too." - Nicolas, 22 years old, San Francisco, USA
"It's important to me that the company I work for has] international standards and experience. Not typical tasks. I want the company to not be scared to try new ways and new strategies. I like the model of a fairly young workforce with an older mentor in charge." - Nurzhigit, 22 years old, Almaty, Kazakhstan
"Location is important. It has to be central." - Dasha, 20 years old, London, UK
"When I look for a job, I want to make sure that I won't die of boredom while working there." - Anna, 22 years old, Moscow, Russia
"When choosing a job, I care that the company has a bigger purpose. I want to do something that has an impact, and I want to be valued in the company. Also, I would prefer a non-corporate hierarchical structure." - Alima, 22 years old, Bangkok, Thailand
"Close location and high salary."- Anel, 22 years old, Milan, Italy
"I care about the area, coworkers and atmosphere in general." - Alibek, 22 years old, New York USA
"When looking for a job, I would love to have as much freedom and independence as possible—working from home/not in the office, have flexible schedule. Would also look for an ethical company and cool/unique team. Generally, I don't want a 'normal' job haha." - Anastasiia, 19 years old, Boston, USA
"I want real life experience in the specific area I am applying to (not just to distribute message and the paperwork). I want commitment, not just being an intern. If I am suitable and perform well, I want to have an opportunity to stay for a full-time position. Most importantly, I care for the company to be of my interests (in my case cosmetics, beauty care etc)." - Valeriia, 21 years old, Paris, France
"[I care about] job security. Are they willing to sponsor me or not. How likely they are to invest in me knowing I am an international student." - Kamilla, 22 years old, Boston USA
"I don't care about the salary as much at this stage. What is important for me is for the company to have a friendly, young, and progressive workforce. I care for the company in general to be valuable and helpful for the community and, most importantly, the opportunity for growth and ability to gain experience. Lastly, I want the company to respect and care for workers even in small ways, like offering free coffee. It is a small gesture but it counts!" - Aziza, 21 years old, Almaty, Kazakhstan
"I care about flexible working hours and fairly young community" - Alua, 22 years old, Paris France
"One of the most important factors for me is to get a job that interests me and has to do with something I am passionate about." - Sonya, 20 years old, New York USA


Make the Most of Your Gen Z Employees
Gen Z will soon be an inseparable part of the workforce. Understanding their demands and interests will allow companies to get ahead of the game in when it comes to hiring and retaining Gen Z employees. What's your story hiring and working with Gen Z? Leave a comment below!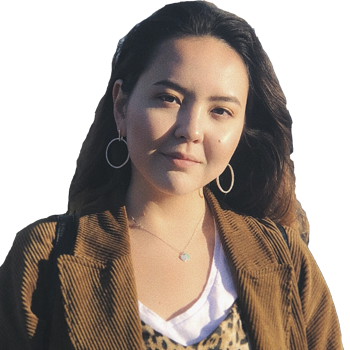 About the Author
Kintone Intern. Recently graduated from the University of San Francisco as a Media Studies major. Originally from Almaty, Kazakhstan. Went to high school in Hawaii and lived in Paris for a year as part of the study abroad program. Enjoys traveling and learning about life in different parts of the world. Always aware of what is going on in the tennis world (committed Nadal fan).