It feels like everyday there's a new software tool on the market that's touted to improve the way your team works. No-code/low-code database builders are a growing segment of the software industry, and in this article, we'll take a closer look at two popular database builders: Quickbase vs. Airtable.
Quickbase
Quickbase is a low-code "application development platform that unites business and IT teams by enabling problem solvers of any technical background to work together to safely, securely and sustainably create an ecosystem of applications."
(source: https://www.quickbase.com/product/product-overview)
Essentially, Quickbase markets to citizen developers, a term first coined by analysts at Gartner, which refers to non-development staff who take on traditional software development tasks like building apps. Quickbase users can build database applications with little to no coding—these apps can be used for a variety of purposes, including project management, CRM, inventory, and more.
Summary: Quickbase is a low-code application platform that allows non-technical developers to build and customize cloud applications for business processes.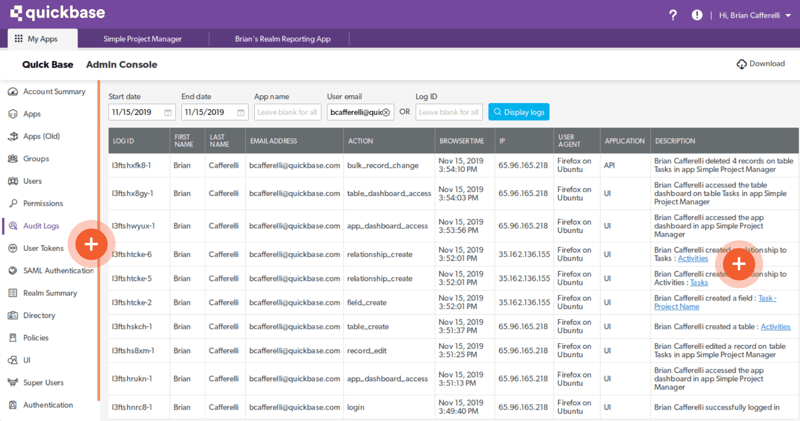 (Image source: quickbase.com/product/product-overview)
Airtable
On the other hand, Airtable touts "the familiarity of a spreadsheet and the power of a database." According to Airtable's "About Us" page, their mission is "to democratize software creation by enabling anyone to build the tools that meet their needs. Creators and creatives around the world use Airtable to do everything from cattle tracking to filmmaking, and they have great things to say." (Source: https://airtable.com/about)
Airtable's spreadsheet/database hybrid lets users create databases, set up column types, add records, link tables to one another, sort records, and publish views to external websites.
Summary: Airtable brings your spreadsheets online into a database format to track whatever you want.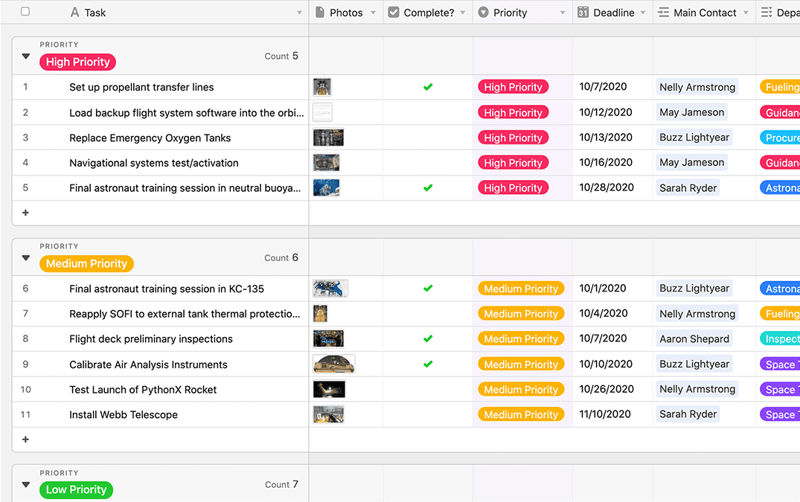 (Image source: airtable.com/product)
What do Quickbase and Airtable have in common?
While there are some differences between Quickbase and Airtable, let's start by looking at their similarities. Both are online database builders that let you build custom databases without coding. These databases can be used for a variety of purposes across roles, departments, and industries. Here are a few features they share:
Platform type: Both Quickbase and Airtable are web-based, software-as-a-service (SaaS) platforms.
Database app creation: Both let you build databases in a few different ways. You can start from scratch, with a template, or by importing a spreadsheet.
Database customization: While both Quickbase and Airtable let you customize your databases easily, Airtable uses a spreadsheet-type interface, which is useful just based on its familiarity. With Quickbase, the steps look a little different. You start by creating a form with the various fields you want (meaning the data points you want to collect).
API: Each platform has an open API so you can integrate the tool with your other systems. Learn more in the pricing and integrations section below.
Mobile app: Both platforms offer a mobile app, although Quickbase's mobile app doesn't allow you to build new databases from within the app. (Source: https://builtonair.com/airtable-vs-quick-base/)
How are Quickbase and Airtable different?
Category: According to software review site G2, Quickbase and Airtable are both categorized as "No-Code Development Platforms" and "Workplace Innovation Platforms." But the two platforms each have a few unique categories as well. While Quickbase is categorized under Digital Process Automation, Airtable is considered a Strategy and Innovation Roadmapping Tool as well as a Project Management and Task Management tool.
What does this mean exactly? Well, while the building blocks of both tools are similar, what you're able to build is a bit different. Quickbase focuses on process automation while Airtable focuses on project and task management.
Audience: Airtable markets more heavily to the small-business segment, including freelancers, creatives, and smaller teams. Quickbase on the other hand caters to a larger, mid-market audience. According to their respective websites, Quickbase has over 6,000 customers, and Airtable is used by teams at over 200,000 of the world's leading organizations.
Automation Features: While Quickbase comes with some built-in automation features for when records are added, changed, or deleted, Airtable does not.
Language Support: Airtable's and Quickbase's native platforms currently only support English. For Quickbase, an add-on called QTranslate can be purchased to add additional language capabilities.
Support/Help: According to software review site Capterra, Quickbase offers the following support: email/help desk, FAQs/forum, knowledge base, phone support, 24/7 support, and chat; Airtable offers all of the same except for 24/7 and phone support.
As for training, Airtable provides the following: in-person, live online, webinars, documentation, and videos; Quickbase provides all of the same except for live online.
Quickbase vs Airtable: Pricing & Integrations
Quickbase Pricing: Quickbase's pricing is split into three options: Premier, Platform, and Enterprise. The Quickbase website doesn't provide any hard numbers in terms of pricing, so the following information is pulled from Capterra.
For the Premier tier, pricing for up to 50 apps (20 user minimum) starts at $500 per month (annual subscription) or $600/month (billed monthly) or $500/month (billed annually).
The Platform tier for up to 100 custom business apps (40 user minimum) starts from $1,920 a month (billed monthly) or $1,600 a month (annual subscription).
For the highest tier, called Enterprise, those interested need to contact Quickbase for pricing information.
Airtable Pricing: Airtable is based on a freemium model with four different tiers: Free, Plus, Pro, and Enterprise. The lowest tier of the product is free to use but comes with limited features. As you go up in pricing tier, additional features are added.
The free tier includes unlimited bases with a limit of 1,200 records and 2GB of attachments per base. This tier is also limited to grid, calendar, kanban, form, and gallery views, but without automatic syncing.
The Plus tier costs $12 per seat (billed monthly) or $10 per seat (billed annually) and includes 5,000 records and 5GB of attachments per base. This tier also comes with 6-month revision and snapshot history and 1 synced table per base.
The Pro tier costs $24 per seat (billed monthly) or $20 per seat (billed annually) and includes 50,000 records and 20GB of attachments per base as well as 1-year revision and snapshot history. This version also includes personal/locked views and field/table editing permissions.
Finally, the Enterprise tier (pricing not available on website) comes with unlimited workspaces per organization, 100,000 records and 1,000GB of attachments per base, 3-year revision and snapshot history as well as additional features.
Integrations: According to Airtable's website, they have 32 different integrations currently available. However, the page also says that their customers can "use Zapier, Workato, Integromat, or Automate.io to connect Airtable with over 1000 websites and apps."
Quickbase does not list the different integrations available on their website, but their Integrations page does show a number of logos, including Salesforce, Zendesk, Zuora, Box, Dropbox, Gmail, and more.
What do customers say about Quickbase vs Airtable?
To analyze customer reviews we turned to Capterra, and the ratings were not too far off from each other. On Capterra's website Airtable has a 4.7 star rating based on 1,118 reviews and Quickbase has a 4.4 star rating based on 218 reviews. Here's how they stack up in a few different categories according to reviewers (image source: Capterra).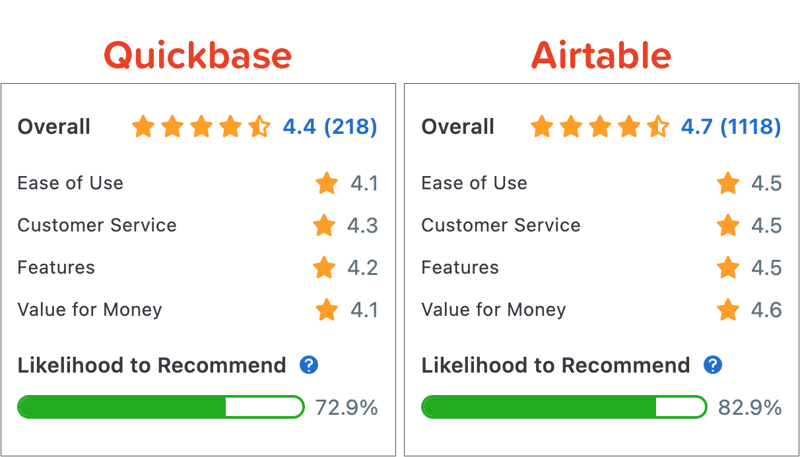 Here are the top pros and cons for each according to Capterra reviewers.
Quickbase Pros:
"I love being able to edit from the grid, it's a great way to see the big picture and edit errors."
"With the help of support, you can pretty much create whatever you need that is database driven. The fact that you can log in and see your data from anywhere with internet access is great."
Quickbase Cons:
"Simple platform - limited applications available."
"There is no reporting or anything available to end-users."
Airtable Pros:
"It runs well, is accessible on all devices, and has wonderfully clean design that is aesthetically pleasing yet distraction-free."
"I love the ability to be able to see our entire strategy at a glance, including who's responsible for what, when they're delivering on it, and the progress of the task."
Airtable Cons:
"My biggest complaint about Airtable is it's lack of functionality from an accounting perspective. Out of google sheets and excel I would say it is the worst product."
"There are some weird things, especially in certain views that they need to address. People complain about them, and they need to make adjustments."
What are the alternatives to Quickbase and Airtable? Try Kintone!
Kintone actually outperforms both Quickbase and Airtable for ease of use, customer service, and value for money according to Capterra reviewers.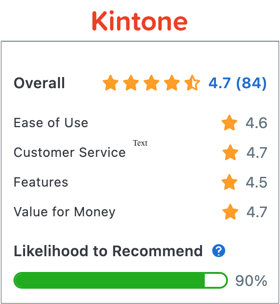 Users also said they were 90% likely to recommend Kintone; Quickbase had a 72% likelihood and Airtable had 82.9%.
What's different about Kintone?
Kintone brings many of the features of Quickbase and Airtable together with collaboration at the forefront. What does that mean, you ask?
Basically, not only can you track all your important business data and processes on Kintone, you can also centralize your team's communication. Your communication gets stored alongside your data and neatly organized into your databases, project trackers, as well as topical threads so that your team always has the contextual information they need to get their work done—no more hunting through your email inbox and various chat channels to access past conversations.
You can also get rid of tedious and time-wasting follow-up reminders by building out workflows that automate task handoffs and follow-up notifications.
Another strength Kintone has over the other database platforms is the ability to create custom portals or dashboards for each team, department, or project. For example, you can have one for HR, sales, marketing, accounting, and the list goes on. These "Spaces" let you decide what information goes front and center for your team and can include anything from auto-updated charts and graphs, any of your database apps, threads for communication, and more.
In addition to the database building and customization features Kintone shares with Quickbase and Airtable, Kintone has a few other unique qualities.
Category: According to G2, Kintone is categorized under business process management, workflow management, database as a service (DBaaS), warehouse management, and inventory control.
Audience: Kintone is suitable for a wide range of purposes and industries and is currently used by over 19,000 companies and organizations, ranging from local mom-and-pop shops to Fortune 500 companies.
Automation Features: Kintone's process and workflow management is where the platform really shines, letting you automate task handoffs as well as reminders and follow-ups. Learn more about Kintone's automation features here.
Integrations/API capabilities: Kintone also offers native plugins, optional paid extensions, the ability to execute client-side Javascript, and an open API.
Language Support: Kintone natively supports English, Japanese, and Simplified Chinese, but the localization features actually let you customize details in the settings. Learn more about Kintone's language localization here.
Support/Help: Kintone's support team offers email/help desk, FAQs, blog posts and articles, chat support. And training resources include: in-person, live online, webinars, documentation, and videos.
What do customers love about Kintone?
Here are a few highlights from Capterra:
"We feel confident that we will be a more successful organization because of Kintone."
"Kintone is easy to customize without coding knowledge and offers almost all of the functionality of products that are 5x as expensive."
"One of the advantages I think it has over most of the products in the same line, is how easy it is to set up process management and to assign roles to everyone on the team."
Find out if Kintone's right for you
Sign up for a free 30-day trial of Kintone, no strings attached (read: no credit card required), or get a one-on-one demo with one of our platform specialists.