Steve Jobs did much more than leave us with iPhones, MacBooks, and iPads. He also left us with this great quote you might have come across as #mondaymotivation:

"Get closer than ever to your customers. So close, in fact, that you tell them what they need well before they realize it themselves."

There is no doubt that if you want your business to thrive, customer satisfaction is essential. In any business that is customer facing, you'll find a customer success team. Their main focus is to create an ongoing relationship with customers and understand their individual needs and experiences. At a more granular level, they also handle everything from customer support, onboarding, training, renewals, and customer swag.

Our stellar Customer Success team (CS team) at Kintone gave us the inside scoop on how they manage all of their day-to-day job functions and keep their customers happy. They walked us through their top three applications on Kintone, and included some photo examples for all of our visual learners. The three business applications below are just a few of the many apps they use on a regular basis to strengthen their relationship with customers.
1. Customer/HR Swag App
What is it: A business application where team members can submit ideas they have for customer swag. If you've ever been to a conference, picked up a giant swirl lollipop with the sponsors logo and wished your company had these too, then this is the app for you.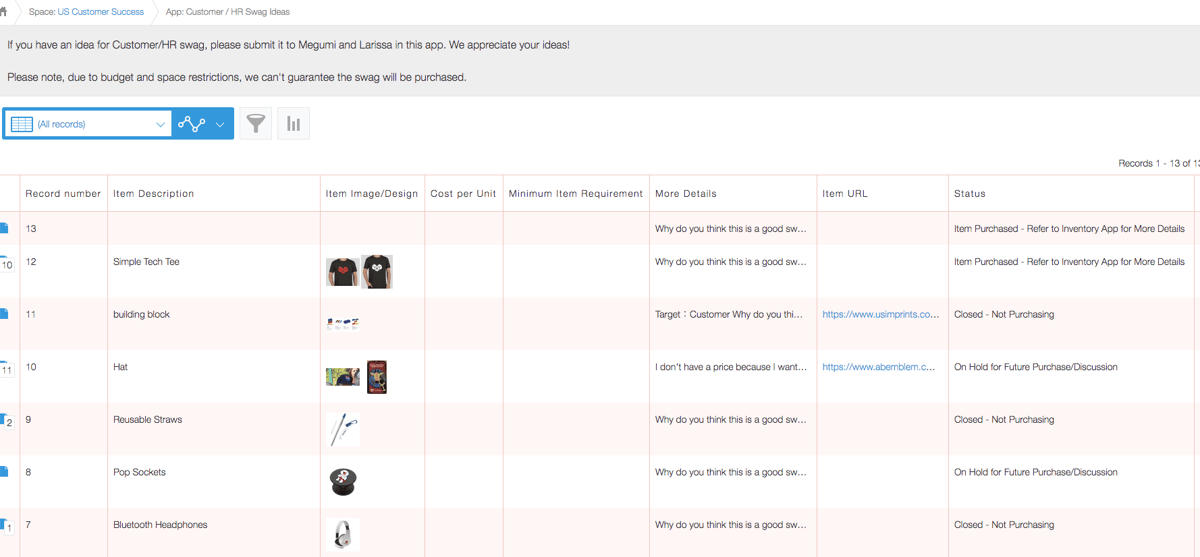 When you click on the All Records view you can see all the items that have been submitted and the status.
How it works: The team member goes to the app and starts a new record to input their idea. They first add an item description (Giant Lollipop), upload a photo of the lollipop, and completes the rest of the fields including the price per unit and the minimum item requirement. There is also a text area with questions from the CS team such as why this would be a good item to purchase, would it be for customers or internal members, and lastly if the member has a design in mind already. If a design is already available, you can attach an image or a link to the record.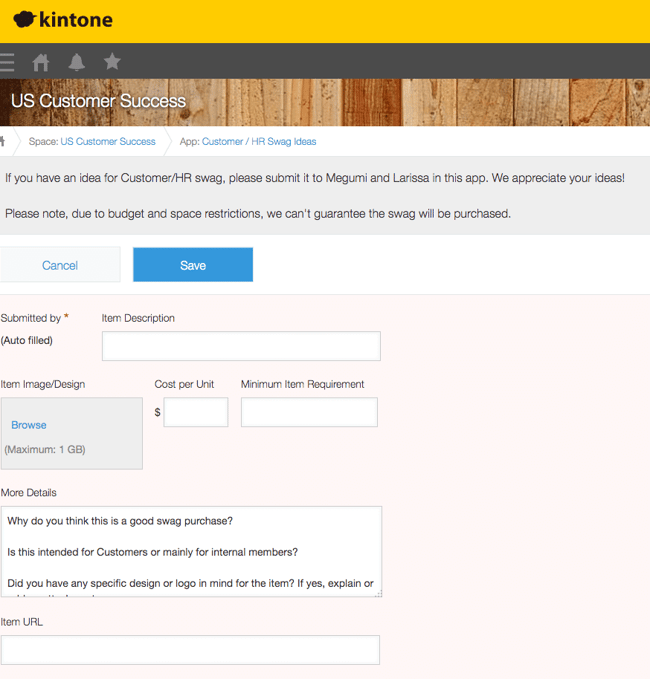 This is the record that the individual submitting the swag idea would complete, and then click save. CS team is immediately notified that this record has been submitted.
Why it's cool: The CS team gets notified every time an item has been added, and they can then meet and decide whether to move forward with the proposal. The workflow will prompt them to mark the item as approved, place on hold, or reject, and the member who submitted will be notified of the status.
2. Customer Waivers
What is it: a business application that manages customer requests to join Kintone's customer support network known as KT's Corner. Customers submit a request to Kintone's Customer Success team, who review the application and decide if a person can join. Applications must be reviewed since access to the portal is for customers only and allows users to ask questions and discuss ideas or challenges they face within Kintone.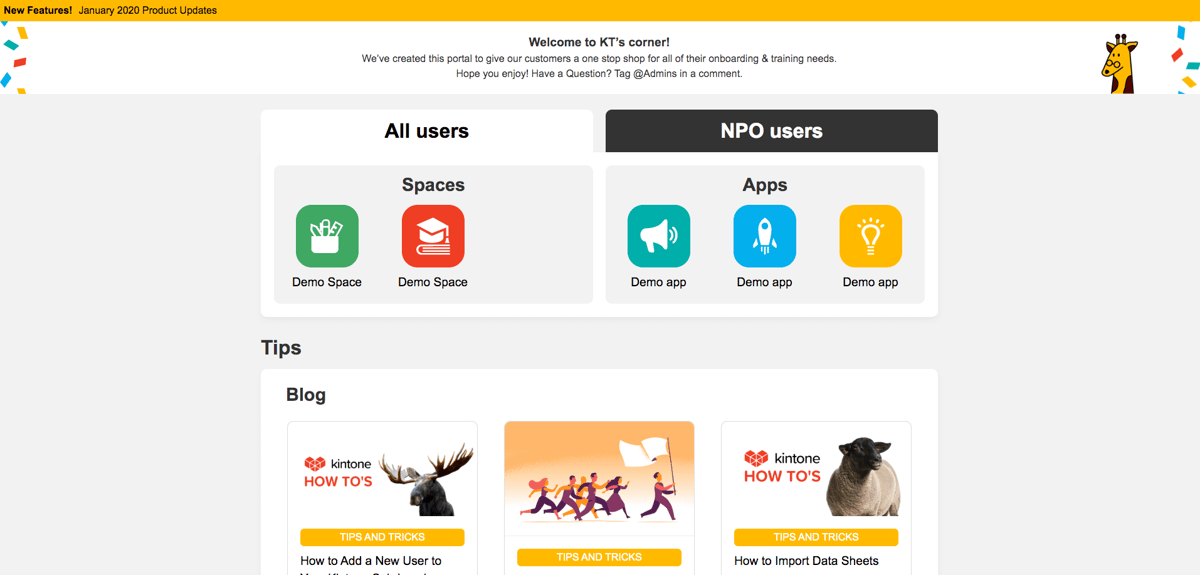 This is the customer portal known as KT's Corner. Access is exclusive to customers, and a waiver must be completed in order to generate login credentials.
How it works: Customers are invited to join the customer portal by the CS team via a private link. This link takes them to Form Bridge, a third-party application, where they can submit their application to join the portal. Once submitted, this form will automatically add the information to a new record in the Customer Subdomain Waivers app, which sends an automated request to the CS team for review. Once CS approves a user, they receive an automated email letting them know they are now members of KT's Corner.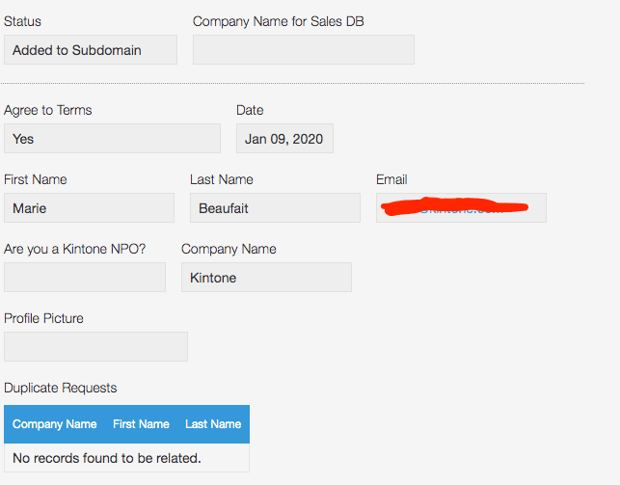 The record above is what the CS team member would see on the backend once the customer has submitted the waiver.
Why it's cool: Information sharing between the user and the CS team is completely automated. Forms are such a headache to manage, but with the Kintone-Form Bridge integration customer information is seamlessly shared between the form and our database without any manual effort. Since the information pre-populates in Kintone, CS can quickly review and onboard a customer as soon as a request comes in.
3. Customer Story App
What is it: When we identify a customer with a strong use case and start the process to write and publish their customer story, we refer to this app for this cross-departmental workflow.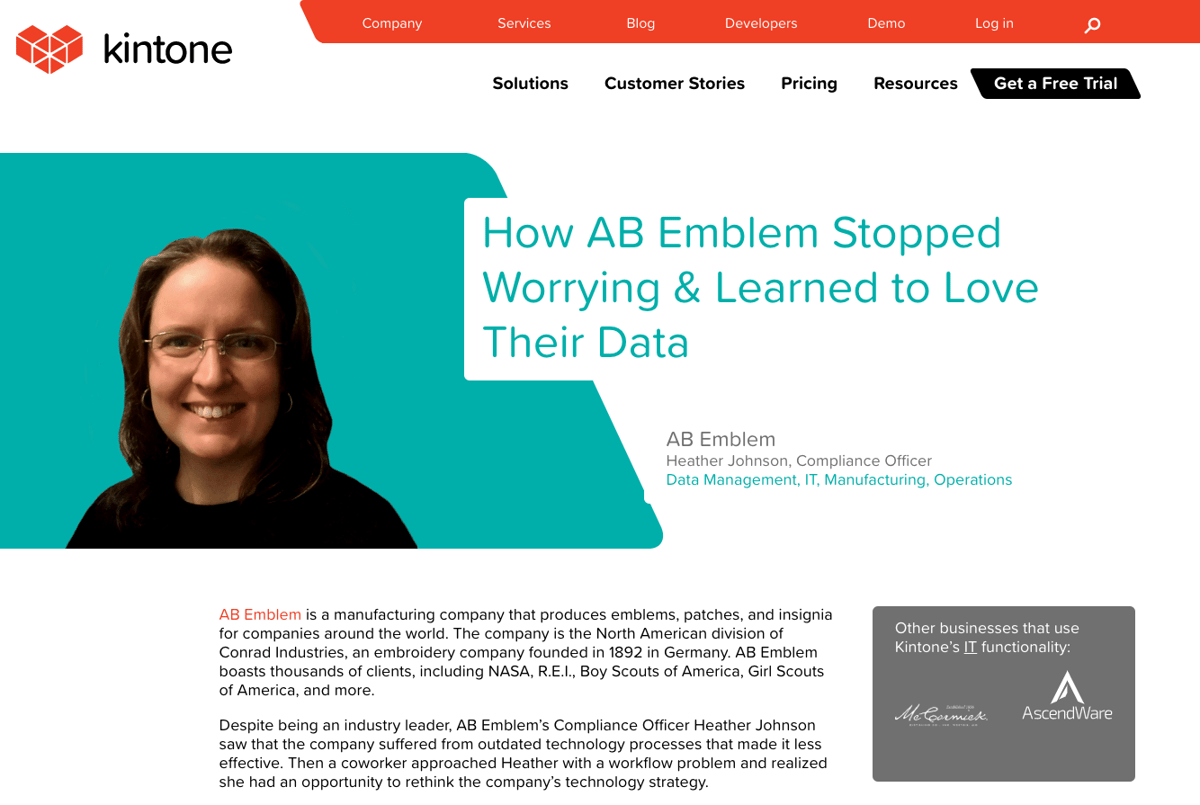 How it works: It all begins with our Technical Evangelist. Our Technical Evangelist interviews customers to understand their needs and identify who among our users has a strong customer story. When he has enough notes for a story, he uploads his notes, audio recordings, and transcriptions to the Use Case Reviews App and submits it to the content team with the touch of a button. Action buttons will push details from one app to a new record of a different app. All the details from his app auto-populate into the Official Customer Stories App, where the writer can access them.
The content team can move forward with writing the story without having to request the information from the Technical Evangelist. Once the assigned writer is done drafting the customer story, they can move the workflow to the CS team, who then shares the draft with the customer for approval. If they approve, the article is published.
As a final step, once the article has been published, the writer will change the status of the project; this status change sends an automated reminder to the CS team to send the customer a thank you letter.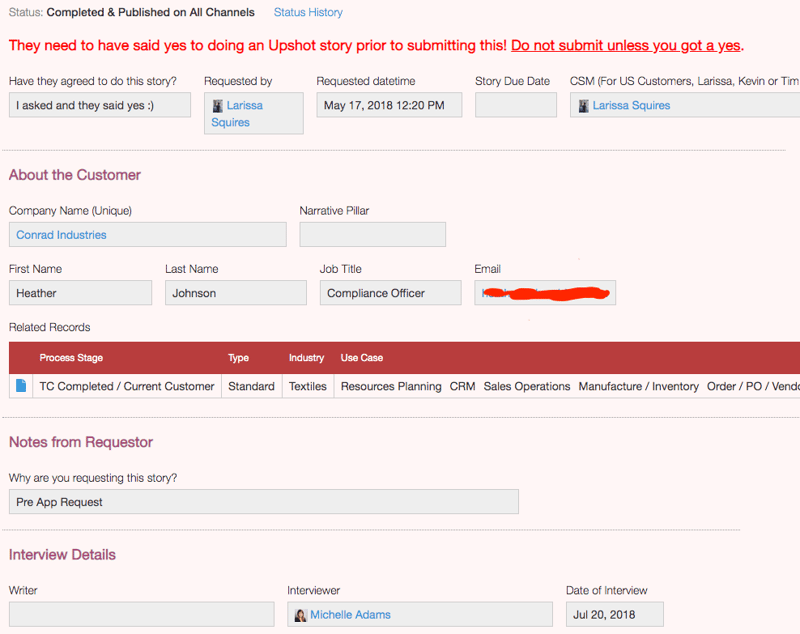 Why it's cool: This cross-departmental workflow is made possible through one-click action buttons. No information gets lost in translation, and no time is lost asking coworkers where to find the info they need.
With these three dynamic apps that the CS team uses on a regular basis, it's clear how they manage to keep customers satisfied with Kintone. Want to learn more tips and tricks from the CS team? Let us know below, and your idea can be featured next.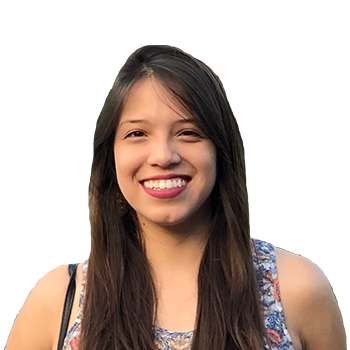 About the Author
Malena is a Senior Events Specialist and Marketing Campaign Associate at Kintone, where she enjoys getting people excited about Kintone through events they host and creative marketing campaigns. You will find her sketching out new ideas for social media copy, drooling over event catering menus, and flipping through Kintone threads where all the project management lives. Born and raised in San Francisco, she is a natural at finding the best places to eat in the city and navigating towards the nearest Bart station. Malena graduated from UC Berkeley, with a degree in Psychology, roll on you bears!