Working from home is the new norm for many companies right now, but the trend itself isn't new—regular remote work has increased by 173% since 2005, and 43% of employees work remotely with some frequency according to Global Workplace Analytics. With 80% of employees wanting to work from home at least some of the time, offering a flexible workstyle is a policy that many companies have considered or have already put into practice.
At Kintone, we're lucky to have the "100 Workstyles for 100 People" policy, allowing us to work at any time, anywhere, if it allows us to perform our 100%. Because of this policy, more than half of our U.S. team works remotely on a regular basis, and some are even full-time remote employees.
The flexibility of working from home provides a lot of benefits—whether it's the ability to focus on a project with a tight deadline, support a sick family member or spend more time with a newborn—and this flexibility has made our team feel grateful and even more motivated to do our jobs well.
Despite all the benefits, there are a few challenges with remote work, and some of our fully remote managers have shared their top six tips to making sure their teams stay productive and collaborative:
1. Be direct and set clear goals and assignments
This will help your team understand exactly what is expected from them and what they can expect from you. It can be hard enough to fully understand someone when you're face-to-face, so it's even more challenging through a computer. Clear communication is essential—for any project, make sure it's absolutely clear who is in charge of which tasks and by when. Keeping detailed notes and meeting minutes will come in handy here to make sure everyone is on track.
2. Be available
It is so easy to ask for help in the office because all you had to do was walk over to someone's desk to have a quick chat. It doesn't have to be any different when working remotely. By being available, your team will know you are there to support them. At Kintone, we disclose our calendar info so everyone can check each other's availability, use Zoom Video Conferencing and Chat throughout the day, and Kintone as our main communication platform for projects and tasks. This doesn't mean you should be available 24/7. Let your team know what times you're available during the day and stick to it.
3. Centralize your data
Files and notes can easily get lost when they're scattered in emails, written on paper, or noted in the many different document sharing sites available. That's why it's important to have a centralized location for information sharing. At Kintone, we have customized workspaces and business applications to share information and have discussions on different topics. This ensures we all know where to find our latest meeting minutes or the latest announcement on a new process. It also allows for accountability and ensures the team is working together and are on the same page.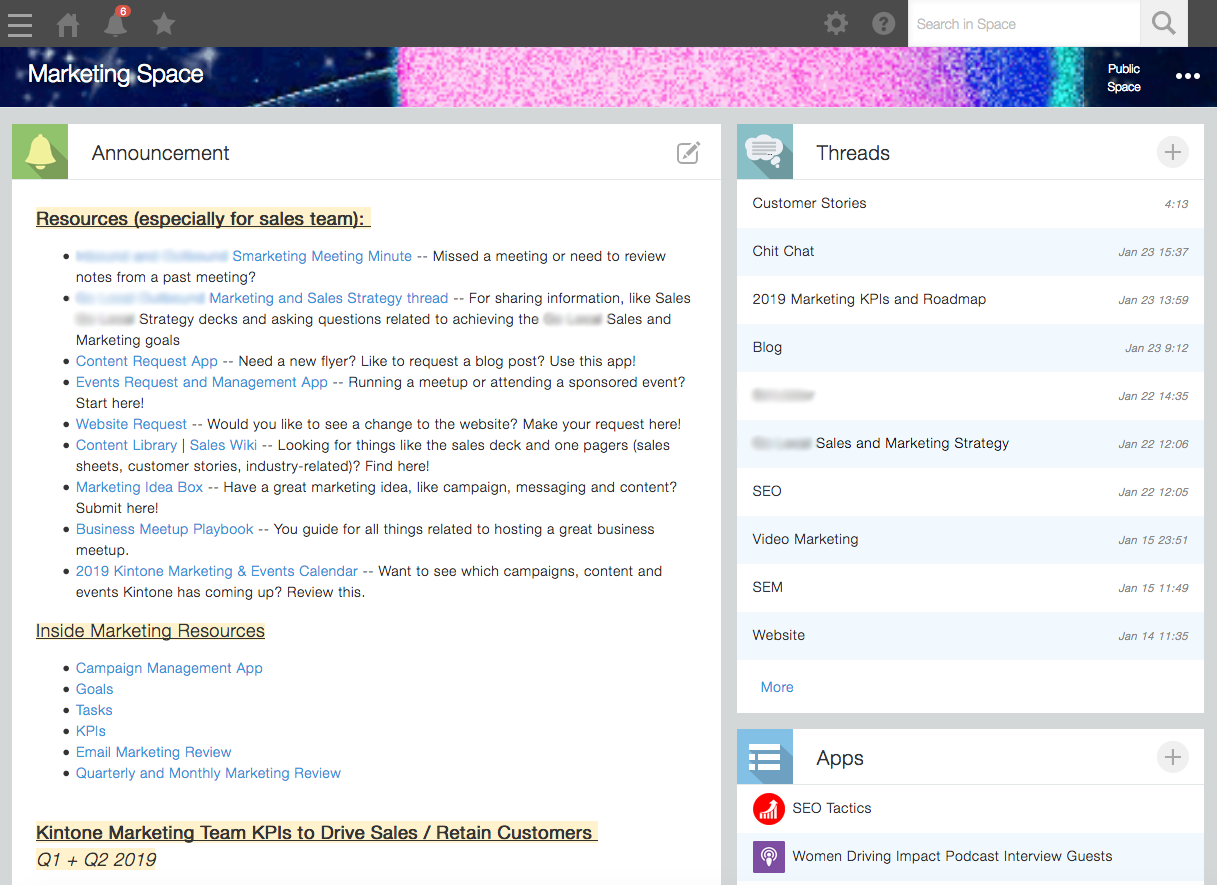 Example Customized Workspace
4. Define concrete processes to tackle challenges
As a manager, part of your role is to keep track of the challenges your team is facing and to follow up with action items to resolve them. Design a process that'll make it easy for you and your team to communicate and raise issues.
Larissa Suguitan, Kintone's Customer Success Leader, shared how she's able to stay organized when tracking issues that arise:
"I created an app in Kintone to track my team's challenges. It includes an 'Urgency Level' for me to prioritize challenges the team is facing. 'High' means their job duties can't be completed unless it's resolved, and 'Low' means it doesn't affect work much but it is something that we need to resolve eventually. I then added a workflow to allow me to review and a final approval step from the member who submitted it to ensure they are happy with the outcome. By staying organized and following up on those challenges, my team can trust that I'm here to listen and help make their work run as smoothly as possible."

Example App to Manage Challenges
5. Clarify how to share and store valuable knowledge
Especially in a remote setting, it's very easy for everyone to forget to share new ideas and learnings that could help another team member and also be an important asset to the company. Having frameworks and an easy-to-access way to share the data will make it a lot easier for your team members to share their valuable knowledge. At Kintone, we have several ways to share knowledge:
Using the K-P-T framework for projects and campaigns
The Keep-Problem-Try methodology is a great framework to discuss and clarify what worked, what was an issue, and how to solve that issue next time for projects and campaigns.
Using an app to share best practices
The structure of the app makes it easy to attach files and notify teams or individuals that may find the information helpful.
Take time during regularly scheduled meetings
Set aside time on the agenda to talk about any KPT's or best practices so your full team would be able to absorb and learn from others.

Example App to Share Best Practices
Brittany Paulo, Marketing Events Manager at Kintone, shared how structured frameworks have helped her:
"Constructive criticism is very important to keep improving and aim higher. The K-P-T framework allows my team to be truly transparent and remove any defensiveness because it is part of the process that we practice. I encourage any manager to think about ways your team can share successes and failures post-campaign."
6. Allow transparency whenever possible
We live in a world where we can obtain vast amounts of information through the palm of our hands. Therefore, there's no point in hiding things that don't need to be hidden. People will eventually find things out on their own, but it will take longer and may also consume other's time if the information is hidden away in private channels or conversations.
Vincent Dang, the HR Coordinator, has shared how transparency has helped Kintone:
"Within HR, there is a level of confidentiality with certain information, so things such as salary information cannot be shared with everyone, but besides any information that needs to stay confidential, we try to keep info as open as possible. An example of how we do this for the HR team at Kintone is the use of open threads on our Kintone platform to make announcements or to ask questions. Allowing this transparency makes it easy to not only answer questions but also avoid multiple people asking me individually about the same thing. People also help do my job for me, by chiming in and responding to questions they know the answers to."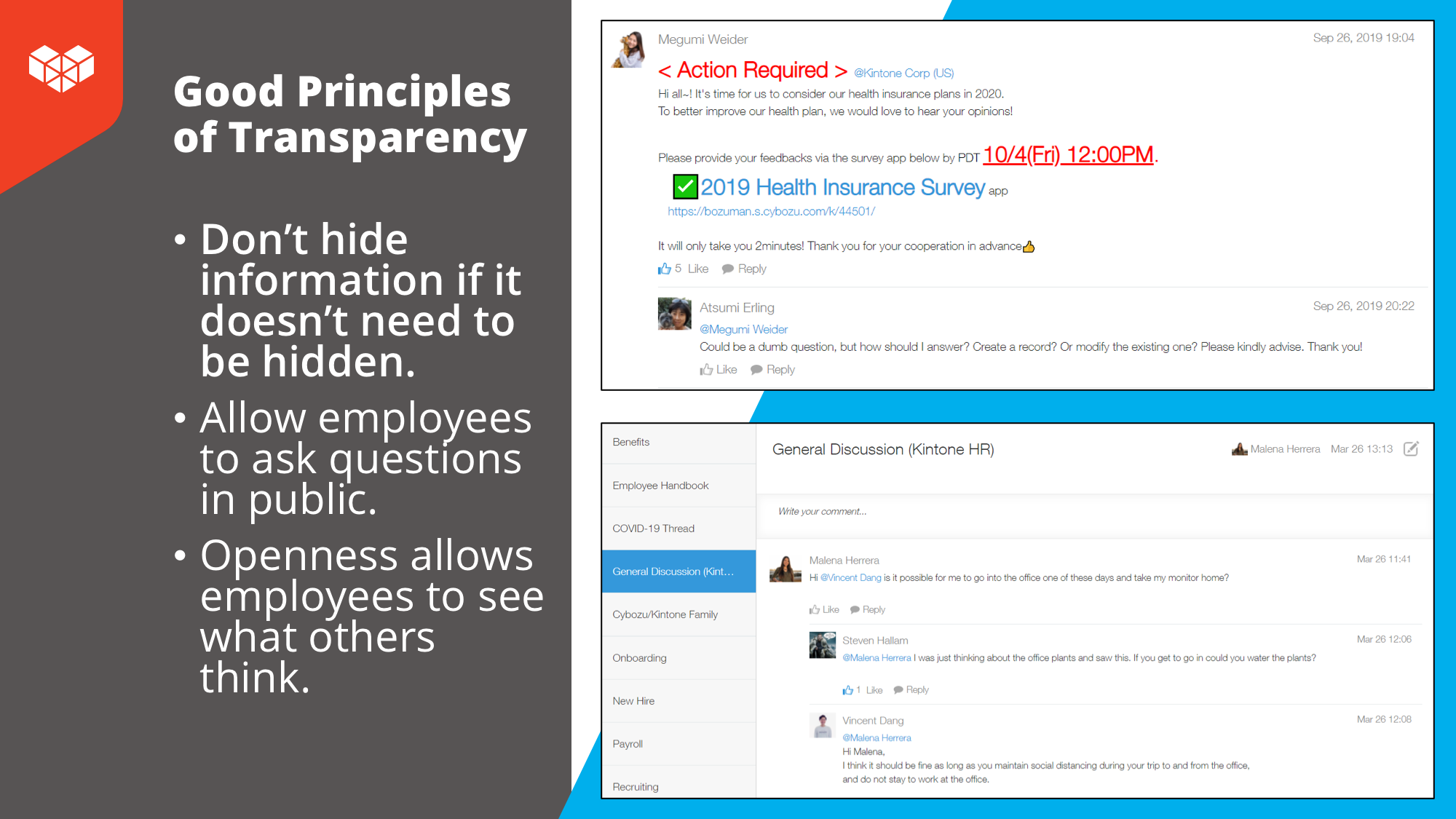 We hope these tips gave you new insights on how to better work with your remote team. Let us know in the comments which of these six tips you agree with most!
Also Read: Technology & Culture: Why Your Tools Are More Important Than Ever
Being remote work-ready is no longer just a perk—it's the new normal for many of us. Learn more about Kintone's remote work-friendly platform for teams.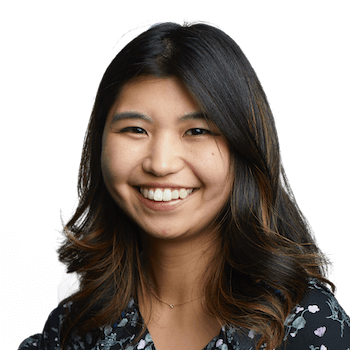 About the Author
Lena is the Marketing Strategist at Kintone. With her background working at one of the top business consulting firms, she understands how much data is important but can be a nightmare as well. That's why she loves it when new teams on-board Kintone and are able to save time and say good-bye to spreadsheet nightmares. She's very passionate growing the Kintone family as much as she loves Honey Lavender ice cream, her favorite!