Juggling multiple dating apps. Awkward blind dates arranged by friends. Going to a party or club with the faint hope you'll meet someone special. You're smirking right now reading this because you identify with at least one, if not all, of these scenarios. As if dating weren't difficult enough, the amount of time and energy spent on these efforts can be discouraging enough to consider giving up entirely.
But wait, pause your Netflix bingeing for a few minutes and hear me out. I can almost guarantee that you haven't tried Kintone for dating. No, we are not a dating application. We are a cloud-based digital workplace for workflow and data management that allows you to build business applications without any code. Have I lost you? I hope not. Here's the punchline. We've taken the strongest features of Kintone to demonstrate how you can find love using Kintone.
Meet Kintone's number one bachelor, Taisei. Taisei has been using Kintone to keep track of the dates he's been going on. His goal? To find his dream girl just in time for Valentine's Day.
Taisei also known as "Theo" amongst his friends and "T" on the soccer field, enjoys talking about all things Kintone product when he's not slide tackling the competition in soccer. While he does not have a sweet tooth, he does enjoy a variety of foods, particularly sushi, sashimi, and fish. Get ready for those sushi dates!
If he's not taking you out for food, he might be whisking you off to a Cal game. He is a UC Berkeley alumni and therefore a huge Cal fan. GO BEARS! Taisei will go the distance for you, as he is a cross country star, and he will climb every mountain for his dream girl with his admirable hiking skills. Once you're exhausted after a long day of activities, he will lull you to sleep with his beautiful singing voice. Get ready for a whirlwind romance and have your suitcase ready as Taisei is always on the go between traveling to Chicago and Japan for work. Behind his serious, calm demeanor is the heart of a child. Kintone has gained a true gem with Taisei, as he is hardworking professional and a true friend to all.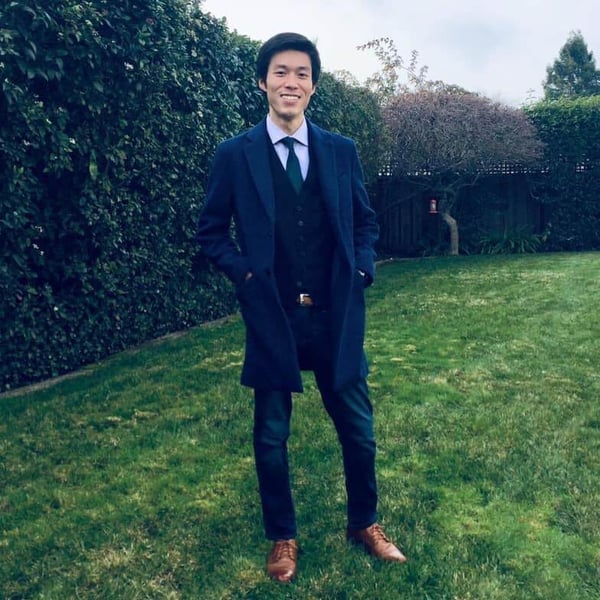 Let's find his match on Kintone!
Dating Profiles

Kintone makes it insanely easy to create a business application without knowing any code. You could even do it with your eyes closed! All you have to do is drag the fields you need on the left side and drop them over to the right. Then you customize the titles to fit exactly what you're looking for. Our awesome customer success team has articles to get you started on creating an app from scratch. In the picture above, you'll see that we created a Dating Profiles app where we can easily input what Taisei is looking for and what kind of feedback he has gathered over his interactions. You can even include photos. The great thing about this view is that you can customize and save the filtered and sorted list so you can get the big picture of all your dates on one page.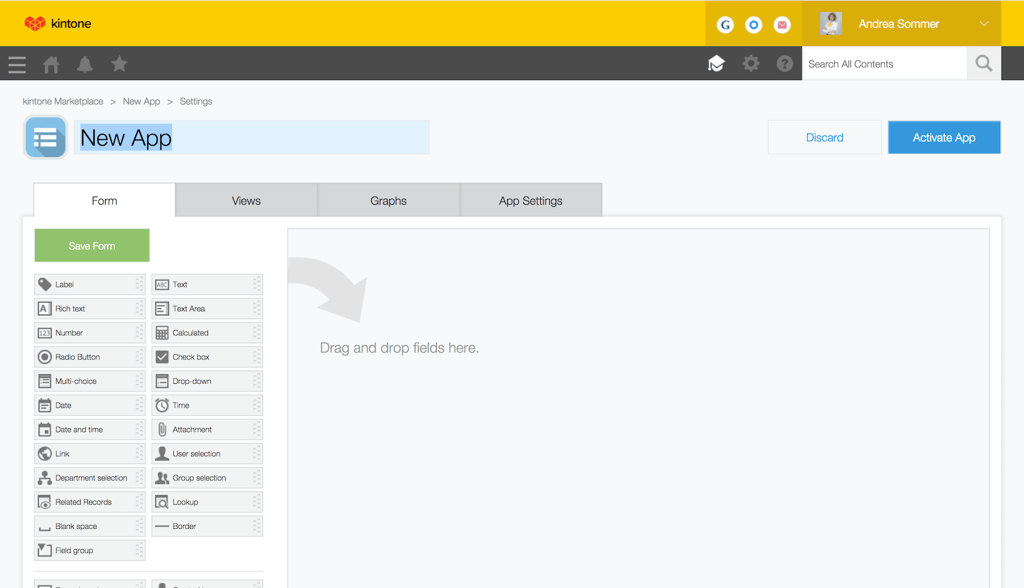 Going On Dates
Next up, Taisei went on a few dates and had some feedback.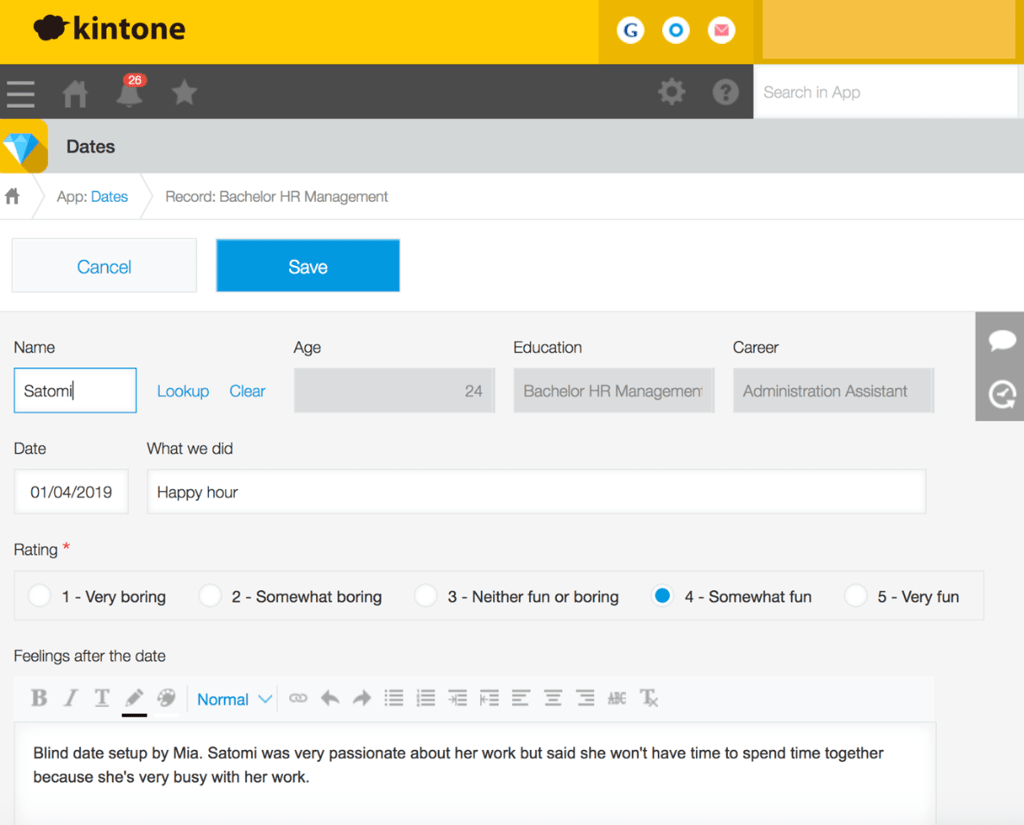 The dates app makes it easy for Taisei to record how his date went by making the form very simple. The dates app uses the lookup field to pull data from the dating profiles app so that he won't need to fill in some information he'd want to refer to such as age, education, and career.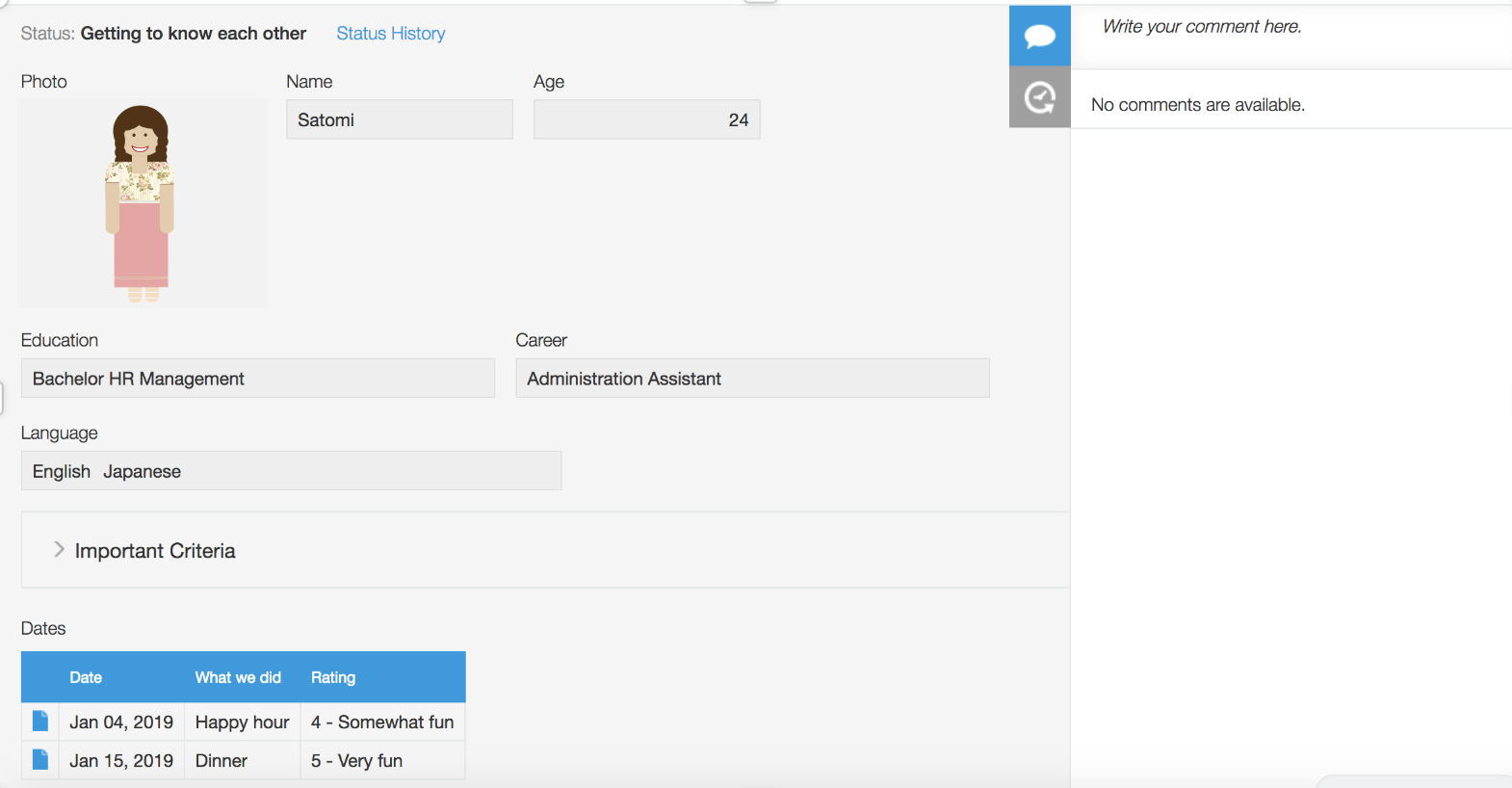 What's great about managing his dates on Kintone is that he's able to get advice from his friends that are already happily married. Whether it's getting advice where he should take her to next or if he should tell her his feelings. Taisei has a support committee that he can trust and rely on.
Workflow Management
Taisei is too busy at his role as a Product Manager at Kintone to debrief with his coworkers on how his dates went. Instead, he created workflow management so that his three coworkers who are very much invested in his love life can view his data on how the dates went. The workflow he created for the dating app includes the different stages that occur in dating such as we exchanged numbers, we're just texting, we've scheduled our first date, still texting, onward to date #2, and the last step, of course, asked her to be my girlfriend or we've decided to stay friends. These statuses are updated on Kintone using a drop-down field and the process management has been configured to notify his trusty coworkers when he is in the dating stage. They are able to provide feedback, ask questions and prepare him for his dates, while also rating their responses from high priority to low priority. As I said, he's a busy guy.
The Verdict
While unfortunately, Taisei was not able to find a date in time for Valentine's Day, he is very satisfied with the dating app system he's created on Kintone. We've asked him ourselves and he is quite optimistic. "With the new Kintone mobile app features rolling out in the spring, I'm really looking forward to inputting my data on the go and jotting down notes on my commute home after the dates. It's just so great to have all my data in one place." If you'd like to get to know Taisei or have any dating tips or questions on his Kintone dating apps then comment below.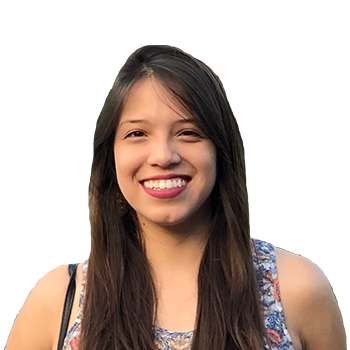 About the Author
Malena is a Senior Events Specialist and Marketing Campaign Associate at Kintone, where she enjoys getting people excited about Kintone through events they host and creative marketing campaigns. You will find her sketching out new ideas for social media copy, drooling over event catering menus, and flipping through Kintone threads where all the project management lives. Born and raised in San Francisco, she is a natural at finding the best places to eat in the city and navigating towards the nearest Bart station. Malena graduated from UC Berkeley, with a degree in Psychology, roll on you bears!