Human resources teams have a lot going on: managing payroll, handling employee concerns and complaints, recruiting and onboarding new employees are just a few of the complex demands expected of them. These tasks can feel exponentially harder in the kind of high-pressure environment fast-growing companies tend to foster, and it's easy to get busy executing tasks rather than seeing if those tasks can be done more efficiently—or if they need to be done at all.
But getting back to the big picture is imperative, especially with constant growth on the horizon. If the way you work is already in the way of getting things done on time and efficiently, it's going to feel impossible as the list of tasks grows.
Creating an HR System Designed for Constant Growth
Kintone's own HR team has faced similar struggles as part of a fast-growing, geographically dispersed tech startup. We currently support 50 team members in two primary languages (Japanese and English) across the United States. Major tasks include managing work-from-home stipends to help members during COVID-19, shifting to a newly-minted 401k plan, and hiring new sales engineers.
But for all their work, HR hasn't been completely overwhelmed.
In a recent webinar, Kintone's HR Coordinator Vincent Dang explained how he's able to stay on top of everything with Kintone; from recruiting and onboarding to fielding common HR questions, company culture, and more.
WATCH: [WEBINAR] Consolidate Your HR Operations in One Portal with Kintone
We want to share our formula for success with you, so we've put together this step-by-step guide to how Vincent and the rest of the HR team get the job done using Kintone.
We strongly recommend reading this article during lunch or with a snack, as we're using a burrito metaphor to break down (and then wrap up) all the applications Vincent uses to keep his HR tasks nice and neat:
The Basic HR Ingredients
Think of it like this: Kintone (the platform) is the complete burrito—and all the things you can do in Kintone are the ingredients that make up what it is. Ready? Let's dive in.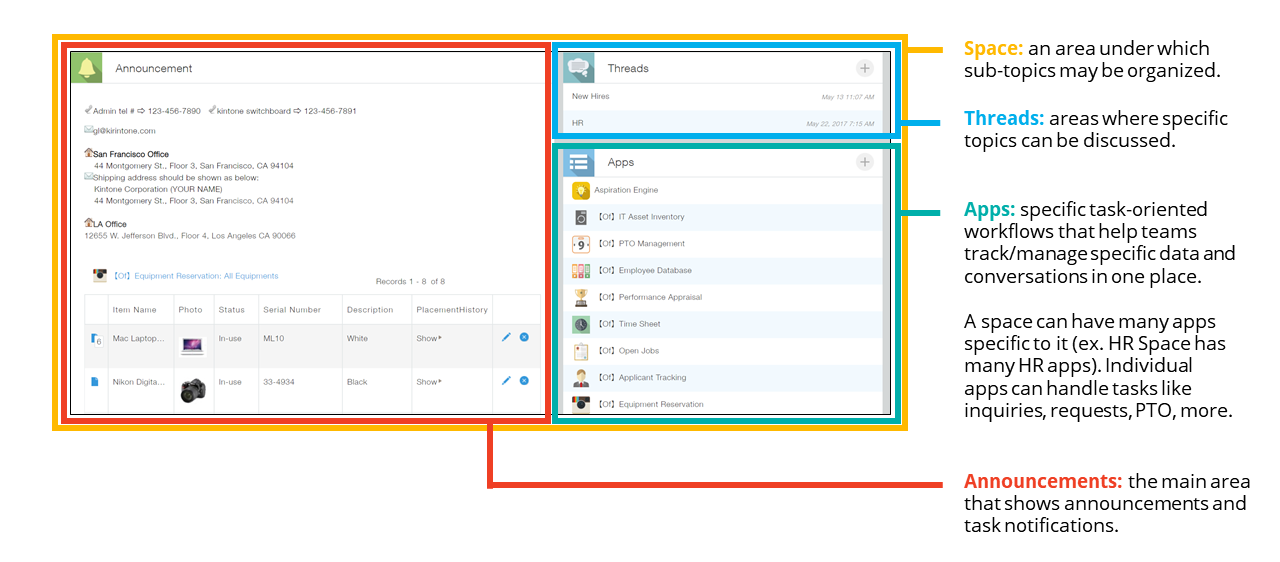 This image shows the dashboard Vincent's HR team sees when they log into Kintone. This dashboard (also called a Space) shows three primary things: threads, apps, and announcements.
The Tortilla: HR Space
Each department at Kintone has their own space where all of their conversations, apps, data tables, and task management is held. This HR portal is essentially the nutritious whole wheat tortilla which holds everything inside. Anyone in the company can visit the HR space and contribute to or search for information. It's designed to be easy and intuitive to navigate. The large panel on the left contains company Announcements and department notifications. The top right panel is where all of the discussion Threads are found. Beneath that is where all of the Apps are located, so each element of HR can be automated and catalogued.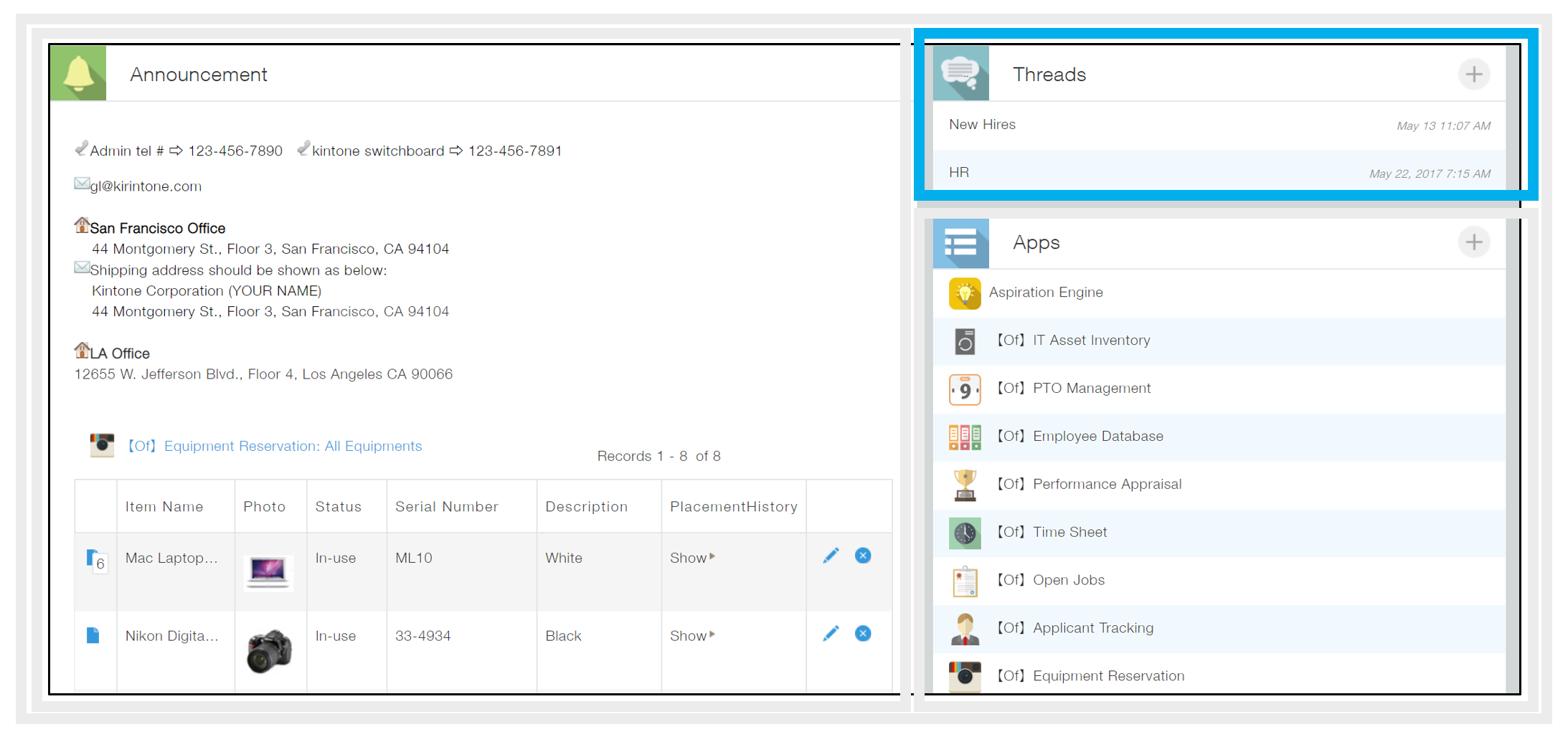 The Rice: Threads
This is where most discussions take place. Think of it like channels or sub-forums categorized by topics or themes. So there might be a thread for 401k discussions and another for paternity leave. Conversations live in these threads instead of emails and Slack channels, texts and any other chat tools you might have access to. These threads can be open to all, or only a select few, depending on the selected permissions. Keeping everything centralized here keeps conversations in context and keeps valuable information from becoming fragmented and lost.

The Beans: Apps
Each app is a critical ingredient in the HR burrito. Every single app is designed, created, and implemented in-house—not by IT, but by the HR department themselves. Yes, they are empowered to improve processes and experiment with app iterations. No, they don't know how to write code, nor do they need to.

The most important thing to note about these apps is that they're all working in unison within the same ecosystem. That means permissions, communications, data management, forms, and in fact everything in the department is working in sync. This also means that the whole system requires little maintenance, which improves data security by orders of magnitude.
The Good Stuff (What Makes Kintone REALLY Useful)
The tortilla, rice, and beans are the basis of any good burrito, but no one is excited about a bean and rice wrap. Without the substance and flavor of our custom HR apps, this burrito is just a messaging program with some basic database functionality.

How the recruitment workflow in Kintone works.
The Cheese: Recruitment
Recruitment takes up a big chunk of HR's resources, and could be considered the protein in our burrito. Our recruitment app handles form intake and record creation, information sharing/gating, interview reminders, note keeping, and list management.

Here's how Vincent breaks it down: when a position at Kintone opens up, the description and requirements are automatically added to our website's career page, while an announcement regarding the position goes out to the entire company. This way, we can quickly identify recommendations for the position and employees can easily share it with their networks. Applicants can complete the entire submission process on our website, which has strict field settings, which prevent errors from entering our database. For instance, the phone field can only accept integers as a valid input.

Once an application has been submitted, a record is created for them in our app, and the applicant's personal information is withheld from anyone outside of HR by default. Because we only rely on one system to maintain data and communications, data security is increased, while redundant tasks and communications are decreased.

The list of candidates can be sorted by any field type, and any notes from the interview process are kept with each record. Interview reminders including time, location, links, and attached documents are sent to participants automatically, ensuring everyone is well-prepared for every meeting. All changes to records are tracked, including who made each change, and when.

How the recruitment and hiring process work together in Kintone to make reviewing and interviewing candidates easier.
The Lettuce: Employee Database
Once a candidate is selected for hire, their record is moved to the Employee Database app, where all of our employees' essential information is securely stored. This information includes their mailing address, email address, phone number, photo, direct deposit info, and any other work-relevant information. If any information for this employee needs to be changed, all edits are automatically updated across the entire Kintone system.

Because we aren't bogged down by constantly switching software, copy-pasting candidate information and files across channels, or writing redundant emails, we're able to focus on our candidates and how they can influence and shape our teams going forward, rather than the other way around.
Carne Asada: The HR Wiki
Kintone's HR team doesn't depend on luck or happenstance to get things done. We've compiled a searchable database of every critical HR process into one of our most valuable apps—the HR Wiki. In this wiki, any HR employee can see detailed instructions on how to fulfill any task set before them. This wiki acts as a fail-safe for the department, ensuring that if core personnel aren't available, that every member of the HR team is self-sufficient. For instance, if our new HR hire is tasked with processing payroll that week, but the payroll expert is on vacation in Fiji, no one has to worry about getting paid on time. All information related to payroll is easily searchable in the wiki, with step-by-step instructions, relevant links, and up-to-date account information. Because we don't use email or other third party chat apps, each record has its own discussion and contextual information contained within, and any essential personnel have access.
Potatoes (Optional But Preferred): Meeting Minutes App
To help facilitate our record keeping efforts, we built a Meeting Minutes app where any and all meeting notes and recordings are kept and shared, either privately or openly. This way discussions can be referred to, but also kept safely confidential from anyone not privy to the contents of the meeting. Vincent is especially thankful for these features, as private conversations are part and parcel of the HR mandate. Occasionally, a difficult conversation may require a much closer examination, and knowing that these conversational records are not only easily created, kept, and searched, but that they are also safely and discreetly stored is a boon to the entire department.
Salsa: The Admin Wiki
The Admin Desk is where any employee can submit a ticket to HR for anything they might want or need. Tickets are automatically private, but if privacy options are set to 'open', anyone in the company can search for and contribute to a question or discussion. For instance, if Tim wants to know how he can get a replacement key fob for the office, he can submit a ticket, which is automatically assigned to someone in HR depending on the subject. The database of public HR inquiries is searchable by anyone in the company, so if anyone else has the same question, they can simply perform a quick search for "key fob" and have all of the information brought up, saving time for everyone.
Sour Cream and Guacamole: Gratitude App
Gratitude is one of the core values that we seek to embody at Kintone, and so the Gratitude Bank was created in order to make it easy for everyone to show their appreciation for each other, and create the kinds of special moments that make us happy to show up for each other. Not long ago, we celebrated Michelle Adams' second Kintone anniversary with a surprise message from everyone. It was easy to set up a thread with permissions for everyone except her for a week or so beforehand, then message everyone to share their gratitude without her seeing it until the day of her anniversary! Anyone can create a message of gratitude, and we're always showing thanks for each other's contributions and support.
Hot Sauce: Integrations and Guest Spaces
You probably already have partners for payroll and other complex tasks. It's super easy to set up guest spaces inside your Kintone ecosystem for anyone you've partnered with, from individual contracted contributors to company liaisons. Vincent set one up for our payroll. The author of this article has one set up for content development (and I gotta say, it works pretty darn well). Third-parties can easily be given access to internal apps on an ad hoc basis, bringing many of the benefits of our methods and products to our partners.
Just How Good is This Burrito?
After working in HR for years and dealing with all of the standard headaches, Vincent Dang says he's happy to be working in a framework that provides so much flexibility and empowerment. Not every HR department has all of the same challenges however, and what works for us might not translate directly to your own success. No-/low-code software is versatile and powerful, enabling you to develop your own solutions without bothering your IT department. If you want to get some specific advice about how Kintone can drastically improve your specific HR process, click here to quickly schedule a 1:1 with one of our own experts to get you started and answer any questions you might have.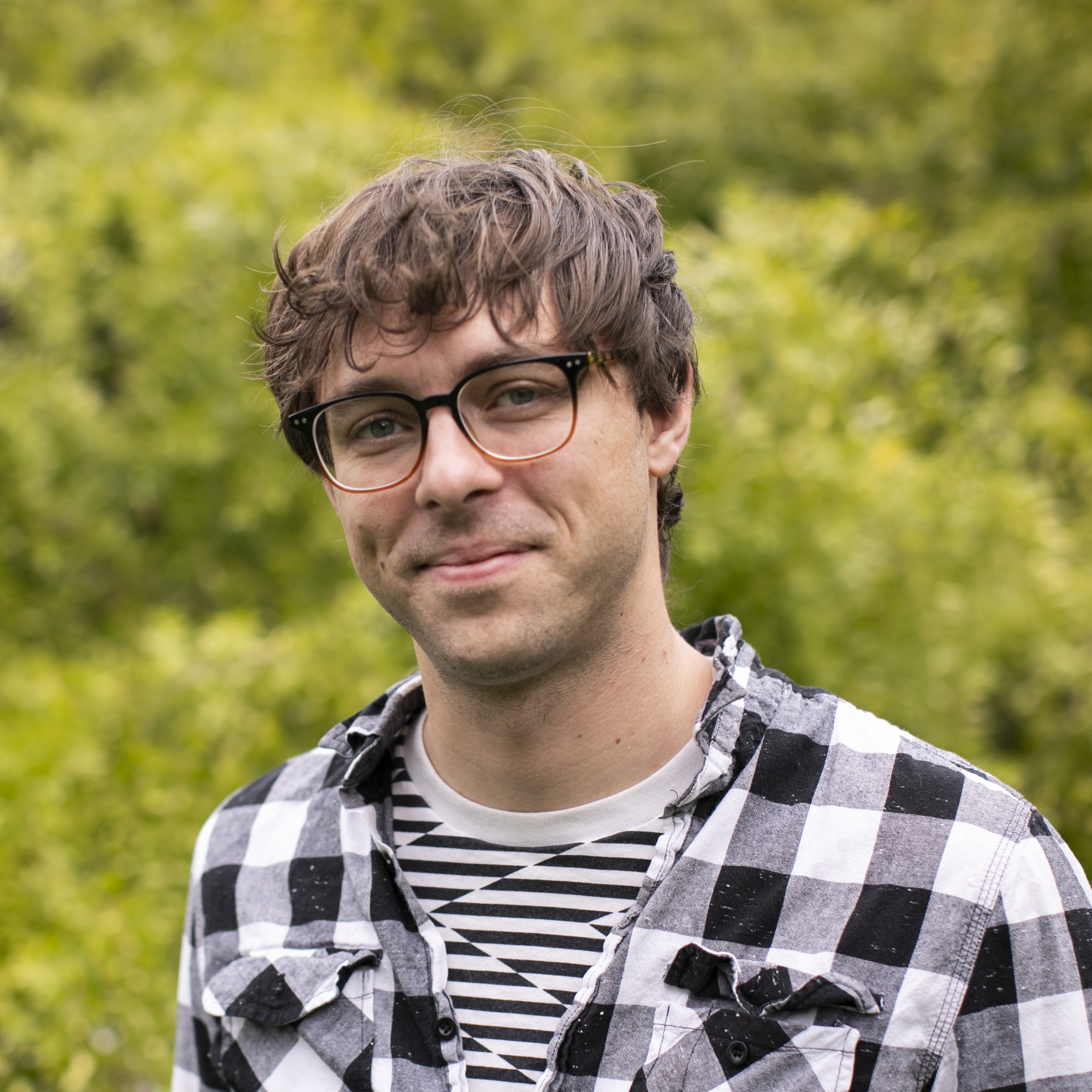 About the Author
Mark is an avid writer with a ton of experience in journalism, experience design, performance, and event production. He also has impeccable taste in music. He currently lives and works as a writer/editor in the SF Bay Area. When he's not working, he's probably either spinning records or scoring goals on a bike polo court near you.