If you're a regular reader of this Kintone blog, you may remember our first-ever "Drag-n-Drop-athon" Team Challenge at our Quarterly Impact Update ("QIU") last year in September.
For those who are new…
QIU is an event where team members across all departments gather (remotely) to share learnings from the past, strategies moving forward, aiming to build transparency, common vision, teamwork culture, and teamwork skills.
The Drag-n-Drop-athon Team Challenge is an internal competition where teams compete to design and build an app on Kintone. It aims to build stronger teamwork within our company while growing the skills to think, learn, persevere, communicate and embrace individuality.
Learn more about our first QIU Drag-n-Drop-athon
The Evolving QIU Team Challenge
Since our first Team Challenge was such a success, it has now become a tradition for a new Team Challenge every QIU. This time, which is the third challenge is a little different: instead of being given weeks ahead of QIU to build their solutions, teams had one hour during QIU--and not a minute more.
Another significant change from the first Team Challenge is the theme of the build is now based on real-world use cases. Compared to the first Team Challenge which was focused on using the new feature of Kintone, the IF function, the second Team Challenge was to build a Food Bank management system for food banks dealing with significantly increased demand because of COVID-19. This change was inspired by our Kintone user.
Rapid City Area Schools of South Dakota implemented Kintone to track COVID-19 cases among students and faculty in their 15 elementary schools, five middle schools, and three high schools. Shane, the IT Director, was able to build the solution on Kintone within a couple of days collaborating with the Kintone team.
Ground Rules for the Competition:
With the COVID-19 vaccine just starting to be distributed to the local counties' health departments, the first Team Challenge of 2021 was to develop an individual solution or solution suite to streamline the distribution, materials supply, recruiting, reservations, processing, tracking, and/or reporting of a vaccination program. The goal was to help enable distributors, manufacturers, county health departments or other entities who might be supporting or involved in the vaccination program to do their jobs more efficiently and more collaboratively.
The Team Challenge also required teams to deploy at least one plug-in from Kintone's partner, Sympo. The four plug-ins to choose from were:
Sympo's Plug-Ins to Use in the Challenge
Google Maps for Kintone - Interactive map that displays within the Kintone app's record based on the address of a specific field
Signatures for Kintone - Capture signatures as an image file right in your Kintone records
Recurring Records for Kintone - Easily copy one record multiple times with different dates
Multi-File Uploader for Kintone - Upload multiple files that need to be added as a separate record in Kintone
The Evaluation Process: Judges & Categories
The solution the eight teams built were evaluated by the judges (Kintone CEO and Sympo team) by the following criteria:
Best Use (creative, complex, efficient) of Kintone functions generally and Sympo plug-ins specifically
Teamwork – displayed teamwork in the concept, development, and presentation segments
Practicality / Potential Applicability for end users, specifically to be able to foster Better Teamwork
End-User Experience - The UI/UX of the solution
The judges used an app on Kintone to make it an easy process to identify and share the live bar chart to see the winning team. For the prize, the winning team was awarded with bragging rights, a $25 gift card, as well as a donation in their name to their charity of choice!
Curious to see what the top three teams built in just one hour on Kintone? Let's dive into it.
One Hour, Many Solutions for Covid-19 Vaccine Distribution
3rd Place: Team 7
Members: Tsuyoshi Hokonohara (sales engineering), Haley Albin (customer success), Taeko Hirota (admin), Lena Furuki (marketing)
Project: Team 7 focused on creating an easy experience for the patients to reserve the COVID-19 vaccine shot. The Reservation App was designed to look up only locations that had inventory and time available to make the reservation.
Sympo's Plug-ins Usage: the Google Maps plug-in identified locations where citizens could reserve a vaccine appointment; the Signature plug-in tracked patient consent; and the Recurring plug-in marked available dates & times for appointments.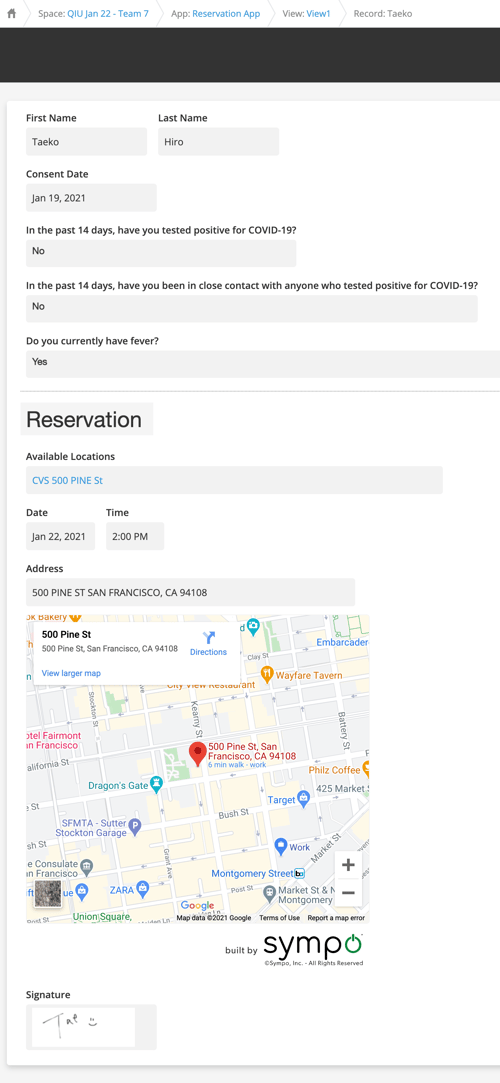 2nd Place: Team 3
Members: Nimrod Grinvald (technical evangelist), Marie-Claire Beaufait (customer success), Hiroki Nagata (sales), Atsumi Erling (sales operations)
Project: Team 3 focused on having a transparent system in place to track vaccine shipments and guarantee vaccine integrity. The Vaccine Supply Chain Certification captures whether there were any damages occurred during transit by having the driver take a photo of the shipments before and after the delivery.
Sympo's Plug-ins Usage: the Google Maps plug-in showed drop-off locations for the vaccine shipments; the Multi-File Uploader plug-in let on-site staff personnel upload any documents associated with the shipment; the Signature plug-in let volunteers sign off and track deliveries and the Recurring Records plug-in helped create new shipments in batch.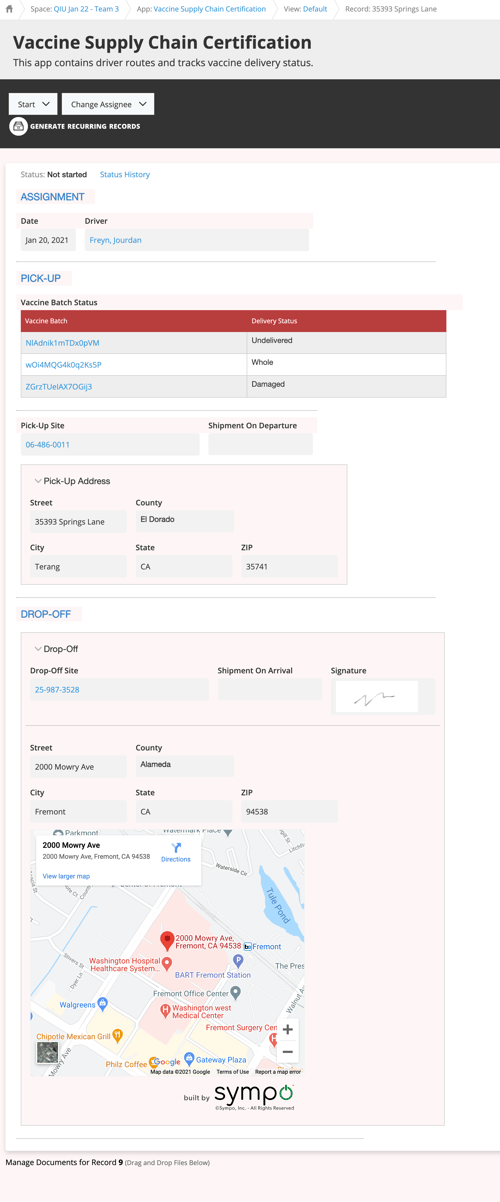 1st Place: Team 1
Members: Ryu Yamashita (product), Euna Kim (marketing), Kevin Veloira (customer success), Yoshimi Lorenza (human resources)
Project: Team 1 built an end-to-end experience from the vaccines being distributed to the vaccination centers to the patients receiving the shot and following up on additional side effects and that the vaccine is working as intended. Their solution suite included a Vaccination Center Master List (a directory of vaccination centers), a Shipment Tracker (tracks how many vaccine doses are going to each center and delivery status/dates), and a Patient Database (individual records for each person receiving the vaccine using the center as a lookup).
Sympo's Plug-ins Usage: the Google Maps plug-in displayed the vaccination centers; the Signature plug-in tracked patient consent; and the Multi-File Uploader digitized patient's medical records and other documentation.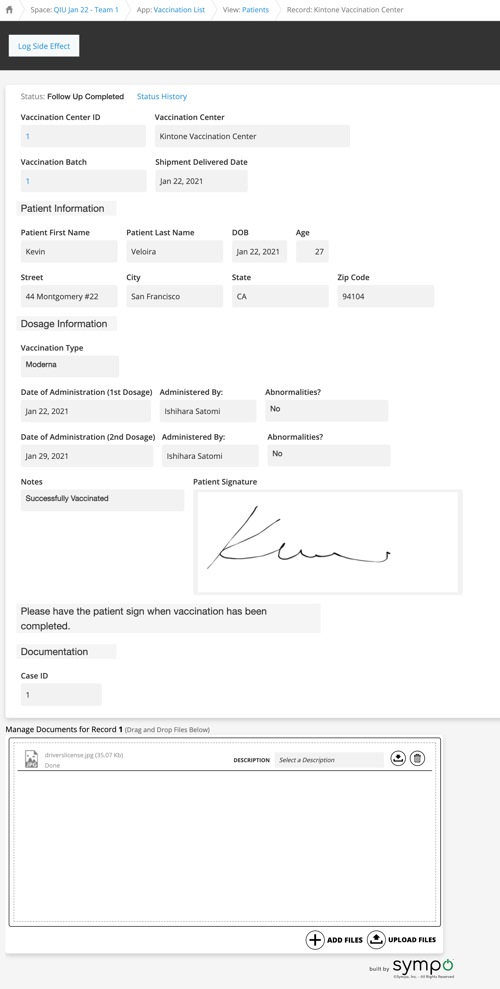 The Positive Impact Continues
Like the one before it, this year's team challenge was a welcome chance to test Kintone's agility against real-world circumstances (although all the solutions developed during this exercise have yet to be implemented). These kinds of solutions help us think deeper about how we can develop and offer solutions to our clients. As a result, our internal teams better understand the value and potential of Kintone--and how best to share that value to customers.
Many thanks to Sympo's team for joining us and building the amazing plug-ins!
"It was exciting to see the plug-ins we developed being used and all the different ways they were implemented during the challenge. I was especially grateful for the insights the teams gave us revolving around bugs and potential enhancements." - Sympo
For their reward, Team 1 has decided to make a donation to Charity Water, a non-profit organization bringing clean and safe drinking water to people in developing countries. Past donations from the QIU Team Challenges have been made to Feed My Starving Children, The San Francisco Foundation and the American Cancer Society.
Lastly, if you are or know any organization managing any step in the vaccination process, we would like to help. Reach out to us to make an appointment with a platform expert for a free consultation.
We look forward to the next QIU Team Challenge! Let us know if you're interested in joining 😉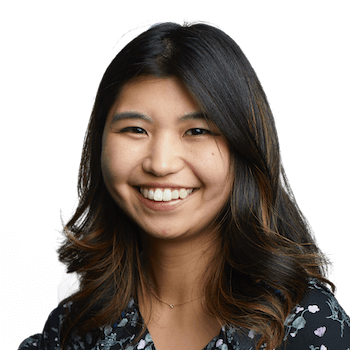 About the Author
Lena is the Marketing Strategist at Kintone. With her background working at one of the top business consulting firms, she understands how much data is important but can be a nightmare as well. That's why she loves it when new teams on-board Kintone and are able to save time and say good-bye to spreadsheet nightmares. She's very passionate growing the Kintone family as much as she loves Honey Lavender ice cream, her favorite!