Ever wonder where a project stands only to find yourself digging incessantly to find the answers?
Typically, you can waste a lot of time trying to find the answers you need. With Kintone, you always see the most up to date, live data set that you can report on in real time. You can see who a record is assigned to and follow up with them directly when needed.
As a Kintone Account Executive, I work very closely with our Sales Engineers to help all kinds of business leaders get maximum efficiency out of their respective projects. One of the ways we manage and coordinate all these moving pieces is through the commenting box in any given record.
For example, if I leave a note for my engineer with information needed in order to move to the next steps, he can respond in line, allowing us to streamline the process and keep it moving forward. As soon as his comment is posted, I'm alerted via a Kintone notification.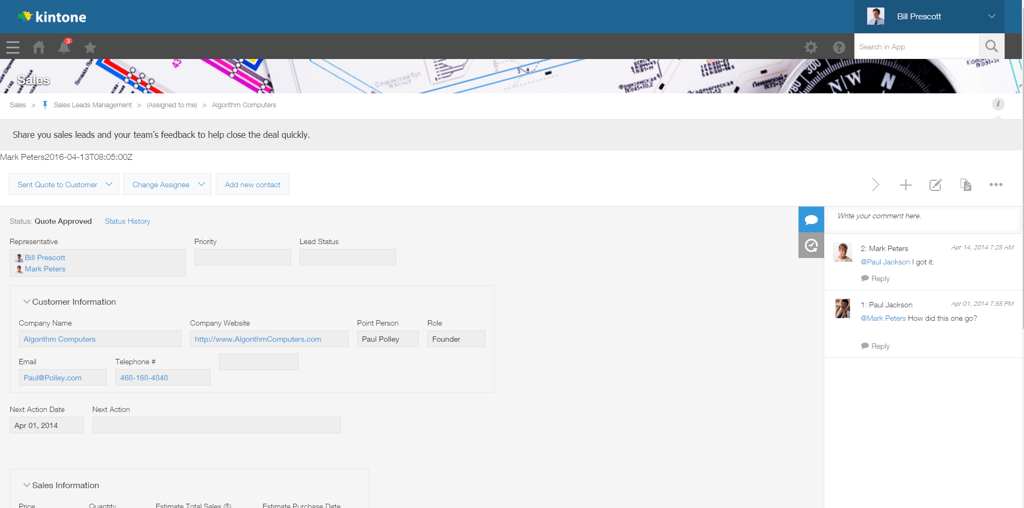 Notifications are great and they come in any one of three forms of your choosing: via the notification bell on the homepage of the platform itself, via a push notification from our native mobile apps or via an email. This way, you always know when a new comment has been posted and you never miss important information.
Having the most up to date information is imperative to doing business and Kintone brings all the pieces together so you don't have to run around wondering where the information is.
In former lives, I've spent countless hours searching for information, struggling to remember which email thread the information I need is hiding. This is particularly true as projects have been pushed out to a later date and you may have forgotten who sent which email and when. With Kintone, you have all the information in one place – inside the record. So you never have to go searching for information again. Just one of the many things I love about Kintone.