Juggling multiple project priorities and resources to meet competing demands in addition to creating a cohesive picture for senior management requires more than just a little bit of elbow grease.
Your organization needs a lean, mean project management machine to do the heavy-lifting.
Wherever you are on your PM journey, Kintone's custom business application builder and process management platform makes coordinating and tracking time and tasks easier.
"What used to take us two days now takes a half hour," says Kevin Fitchner, a 40-year automotive executive and consultant to Lease Tag and Mercedes of Santa Rosa, who used to spend too much time manually uploading his inventory data into Excel spreadsheets.
Visualize your project workflows and data to best schedule your resources to deliver each project on time and within budget.
Whether you have a linear, single process management need or multiple, parallel case management need, with Kintone, you can expect:
United planning and seamless built-in collaboration

Fail-proof execution with automated workflows and task-driven notifications

Ease of managing and switching between multiple projects

Agile, no coding necessary updates and iterations of applications

On-the-go access from desktop to mobile

Real-time, dynamic visualizations
Start managing your projects on Kintone in a few easy steps.
1. Build your project plan
First option is to just convert your existing Excel spreadsheet into a Kintone app with a single click (VIDEO). Or create a new app from scratch; select the Project Management Suite of apps from Kintone's library of pre-built apps; or leverage some other already-built templated app.
Then, capture each unique step and value of your project to perfectly customize to suit your process needs. No coding skills needed here, everything's configurable, agile and intuitive.


You can import additional Excel spreadsheet data into the app and voila! You just built your first project app. Use this as a template to customize and repeat for other projects, or just build another app from scratch using Kintone's drag and drop tool to fit your project's specific needs.
"There are plenty of project management apps out there but none are designed or prepared to manage 20 projects a week," Rehan Siddiqui, American Electric Director of Engineering says about Kintone, "It's not about managing a project, it's about managing a volume of projects."

2. Assign tasks with Automatic Notifications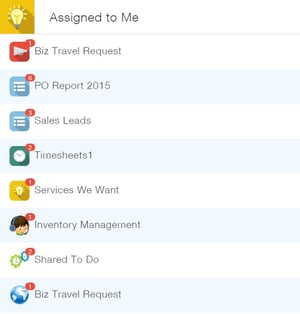 Ensure no task slips through the cracks. Under the general settings of your app, set up prompt
and reminder notifications triggered off of actions or time, and deploy the automated process management to see how Kintone automatically moves each project
task along to appropriate team members and stakeholders for approval. In this way, guide and view a single linear process from start to finish or capture and move along multiple non-linear processes within a single project.
Group members always stay on top of work by checking all tasks assigned to them under the "assigned to me" section on the portal page.

3. Run Great, Efficient Meetings
Use Kintone's Meeting Minutes app to easily organize and run meetings. Track agenda, participants, decisions made and tasks assigned instantly. Link this app to your main project management app via Related Records or Lookup integration fields.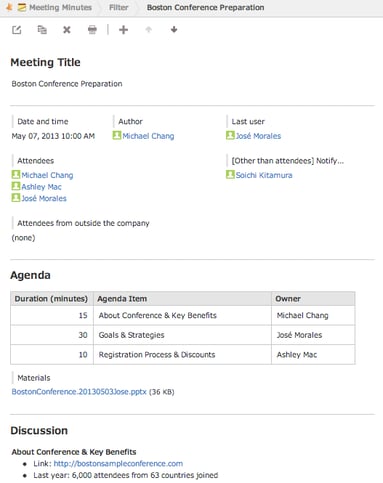 4. Organize Yourself and Your Team
Create and customize both private and shared Spaces to store important notes and enable collaboration with defined coworker groups. Use Spaces to divide projects by teams, stage, date or priority level and add apps, team announcements, detailed topic threads and other tools to keep your project organized, collaborative and visible.
"(Kintone) is a collaboration tool and it's for everybody," Rehan said. "People on the sales team, in the field — everyone is using it. Imagine the money you save in terms of operations efficiency that results when information is available to the entire team from anywhere and is always current."
You can also build a standalone document library app to store and organize your files, or just attach documents to tasks and records for a seamless flow of searchable information on one centralized platform.
5. Monitor a Project's Progress in Real-Time
From your desktop to mobile device, visualize your team's progress through smart, real-time graphs, Gantt charts and calendar views. Make reporting a cinch with automatic and interactive snapshots of multiple running projects for senior management and external stakeholders.
Ready to start building project management apps and workflows? Try Kintone free for 30 days.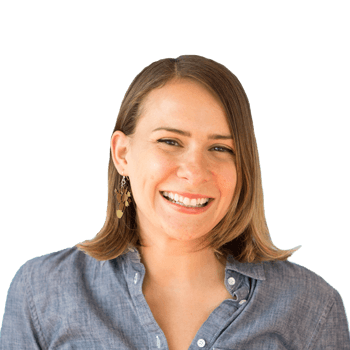 About the Author
Nicole is Director of Marketing at Kintone, with 10+ years experience in content strategy, campaign management, lead acquisition and building positive work cultures of empowered, purpose-driven team members. She spent seven years as a journalist, previously serving as a CBS San Francisco digital producer, NPR contributor, Patagon Journal deputy editor and reporter for several publications, including the Chicago Tribune. She's passionate about the tech for good space, social entrepreneurship and women leadership. On the weekends, you'll likely find her putting her Master Gardener skills to use in at community gardens in Oakland.