A good business conference is like a good recipe. It lays out what ingredients you need for success, how to combine them, and plenty of visuals to give you an idea of what the final result should look like. While Kintone Connect, our user-oriented business conference didn't bear any cakes, it delivered something even sweeter: a way to digitally transform your workflow without disrupting your business process.
Over 100 people gathered in a color-soaked room stuffed with animal giraffes and superhero imagery to hear Kintone CEO Dave Landa and Forrester Vice President and Sr. Principal Analyst John Rymer discuss the power of digital transformation over digital disruption.
"So often, young Silicon Valley entrepreneurs love to talk about disrupting this or that industry and flipping everything on its head," said Landa in his keynote speech. "They talk about this as if it's a good thing, but disruption is problematic for many organizations because it breaks things down first. Companies don't need to be dismantled to improve their processes. They also don't have the luxury to put everything on hold while they swap out systems."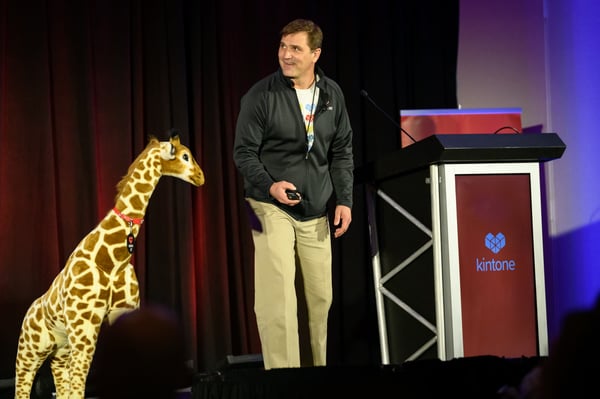 Rather than hitting pause on their business operations while changing their workflow, companies need solutions that give them power during the transition phase as well as after. But doing so, especially when it comes to software transitions, is challenging.
"Digital transformation is the goal, but it's not as easy to do right. As it turns out, attempts at digital transformation fail at an alarmingly high rate of 84 percent," said Landa. There are three key reasons for this:
Many execs practice digital transformation as a one-off solution imposed by leadership rather than a journey that demands internal collaboration. The result is usually a limited solution developed by third-party consultants who lack intimate knowledge of the everyday workflow process employee's experience.

Most digital transformations exclude employees (the direct stakeholders in the workflow process) from the development process. As a result, it becomes incredibly difficult to get an organization's employees to buy-in to the transformation effort after the fact, especially if they don't understand the bigger picture. All they see is someone disrupting their normal operations for no clear benefit.

A majority of digital transformation attempts focus on those processes that interact directly with external customers but neglect the hundreds, if not thousands, of processes and operations that are triggered or impacted by those few sequences.
So what are the right ingredients for a successful digital transformation process? And what does that look like in a no-code solution like Kintone?
"Number one is making your digital transformation a collaborative effort rather than one imposed on your team by leadership, " said Landa. With Kintone, this means making all your stakeholders Citizen Developers. In other words, you give them the tools and power to transform their workflow. They know their workflows best. All you have to do is give them the freedom to improve them."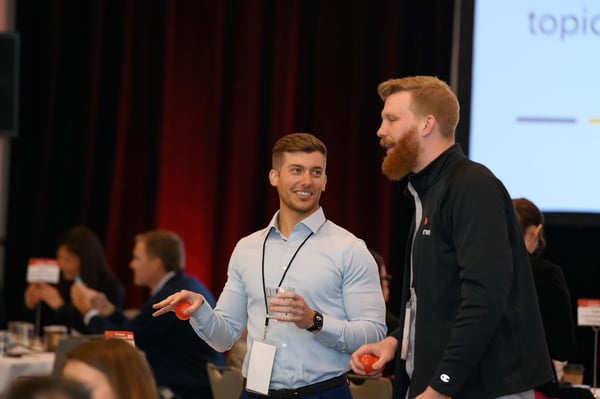 The second key ingredient is "encouraging a 'from the ground up' approach to transformation," said Landa. "Encourage your stakeholders to create solutions for their processes and reward their results. You will get better results when you tell people what you want and let them figure out how best to achieve it."
The final piece? "Creating opportunities for people to share solutions with one another," Landa added. Whether it's third-party developers or even other Kintone users, there's no substitute for a thriving ecosystem of solution-makers.
True to his final point, many of Kintone's afternoon sessions were hosted by Kintone developers and clients—all of whom had insight to share. "Kintone completely changed the way we do business," said Heather Johnson, Compliance Officer at Conrad Industries, in a presentation to the crowd. "Thanks to Kintone, what used to be a three-day process now takes three minutes. We were also able to eliminate at least 30-40 duplicate steps in a single process."
While not quite a feast for the eyes as a slice of cake might be, Kintone's presenting partners and clients presented an array of solutions, insights, and advice that gave attendees a very clear idea of what Kintone can—and could continue to do—for their companies.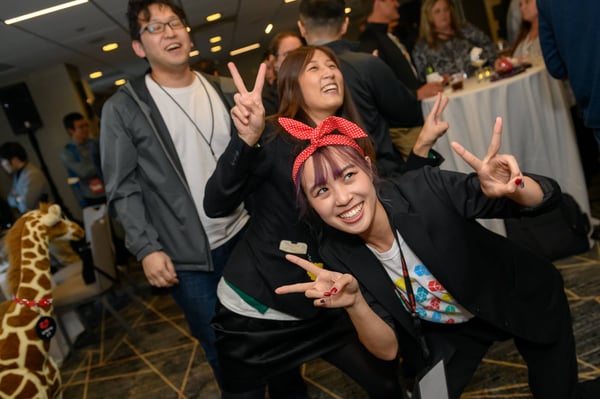 "Connect was a great way to learn more about Kintone's product and see how other people from various fields use it to increase productivity and solve many issues," said Kat H. from ElderCare Alliance.
Claire S., Evaluation & Learning Manager at LiveWell Colorado, had similar sentiments. "I left feeling very inspired and excited about our future growth on the Kintone platform."


Learn More From Kintone Connect
While we can't re-bake the cake, we can give you the next best thing: recaps. Watch all the speeches from our presenters here.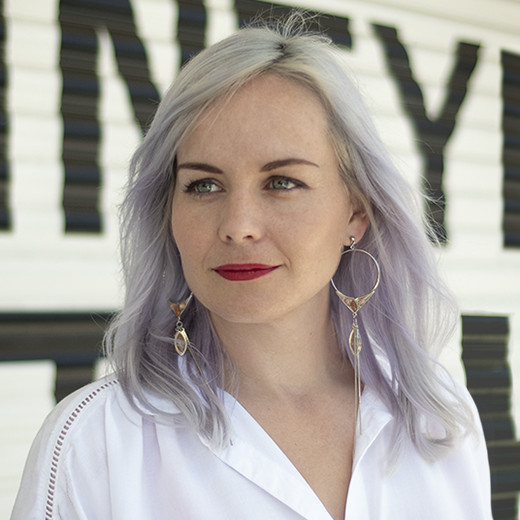 About the Author
Michelle is the Content Marketing Specialist at Kintone. She is a content marketing expert with several years in content marketing. She moved to San Francisco in 2015 and has experience working in small businesses, non-profits, and video production firms. She graduated in 2012 with a dual degree in Film and English.