While being a marketing manager in an era of ever-changing Google Search algorithms, new marketing automation tools and growing customer expectations are exciting—but easy? Not so much.
You're expected to stay on top of all marketing campaigns, collaborate with other departments such as sales, product development, and IT, and most importantly, acquire new high quality leads and maintain customer loyalty.
Kintone's Marketing Director Nicole Jones has found it effective to provide visibility and structure in order to maintain a productive team. This post will share just a few of Nicole's successes using Kintone to boost productivity.
Marketing Space Announcement Board
Marketing Space Portal (Top Section)
Does everyone on your team know the goal for this quarter? At Kintone, it's easy for anyone to identify what the marketing team's quarterly KPIs are, and which campaigns are running to reach those goals. This is all shared on the Marketing Space Announcement Board, which is public to the full organization.
The announcement board also serves as the go-to spot for making marketing team requests. Need a new one-pager for an upcoming event, or have a website change request? It's easy for anyone to create a new request through the marketing-related apps. Once the request is submitted, the notification will be sent to the assignee automatically. All tasks are set up with priority and reminders so that deadlines will be met. There's no need for Nicole to track each task and remind each team member.
Marketing Space Portal (Bottom Section)
More than getting work done ASAP, it's important for Nicole to have a sustainable high performing team. The graphs on the announcement board provide a clear overview of the workload of her team members so Nicole is able to assist in pushing back requests for a later deadline when needed.
Campaign Management App
Campaign Management App - Grant Management Campaign Record (Overview Tab)
All marketing efforts start with a campaign, and this is managed in the Campaign Management App. With this app, you can immediately confirm the campaign overview, goal, milestones, status, open tasks, budget and expenses, etc. Not only does this save Nicole a tremendous amount of time, but it also gives clarity to everyone involved in the campaign.
The App is set up with action buttons so that it's easy to assign a task, request content or support for an event, and even log a KPT (Keep-Problem-Try) at the end of the campaign. When you click on the "Assign Task" action button, a new task record is opened with the campaign name automatically filled in. This is also a link to the Campaign Management App for reference.
Guest Space to Work with External Collaborators
Kintone Social Impact Challenge Committee Guest Space
Nicole does not just use Kintone internally, but also to work productively with external collaborators. In 2018, Kintone Corporation hosted the first Social Impact Challenge. A committee was created which included 10 professionals from various business sectors including non-profits. The guest space was used as a workspace to share announcements, discuss topics, and manage applicants.
Lastly, I asked Nicole to provide a quote to end this article through our Content Request / Approval Workflow App.
"Kintone has given me the tools to encourage creative problem solving and empower my team. With coordinated apps, spaces and reports to track projects and initiatives, I always know what's going on, what's working well and where we need to improve. That allows me to get out the way and enable my team members, who are experts in their individual marketing areas, to deeply engage and take ownership over their work and see how it fits together with our larger team and company goals."
Are there any roles or solutions you'd like to see highlighted in our next blog? Comment below!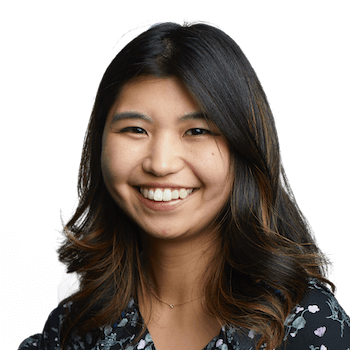 About the Author
Lena is the Marketing Strategist at Kintone. With her background working at one of the top business consulting firms, she understands how much data is important but can be a nightmare as well. That's why she loves it when new teams on-board Kintone and are able to save time and say good-bye to spreadsheet nightmares. She's very passionate growing the Kintone family as much as she loves Honey Lavender ice cream, her favorite!