May Kintone product updates will take effect on May 8, 2022.
Overview
Feature Improvements

Available Update Options
Expanded Range of Users Who Can Create Apps from Template Files
Previously, only system administrators could create apps from app template files, but now any user with app creation permissions can
create apps from template files
.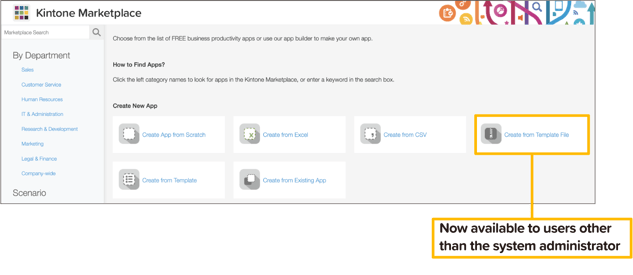 With this improvement, users can create apps using app template files obtained from partners and others without the help of a system administrator.
Please note that there are restrictions on template files that non-system administrators can use. Template files created from apps that specifically contain customizations that only system administrators can set up will not be usable by non-system administrators.
Available Update Options
Update Options is a tool that allows administrators to control how Kintone updates are applied.
Using the options, administrators can choose when to roll out updates to their team.
To access Update Options, click the gear wheel to the left of the search bar and select "Kintone Administration." Select "Update Options" under "Other."
Three options are available: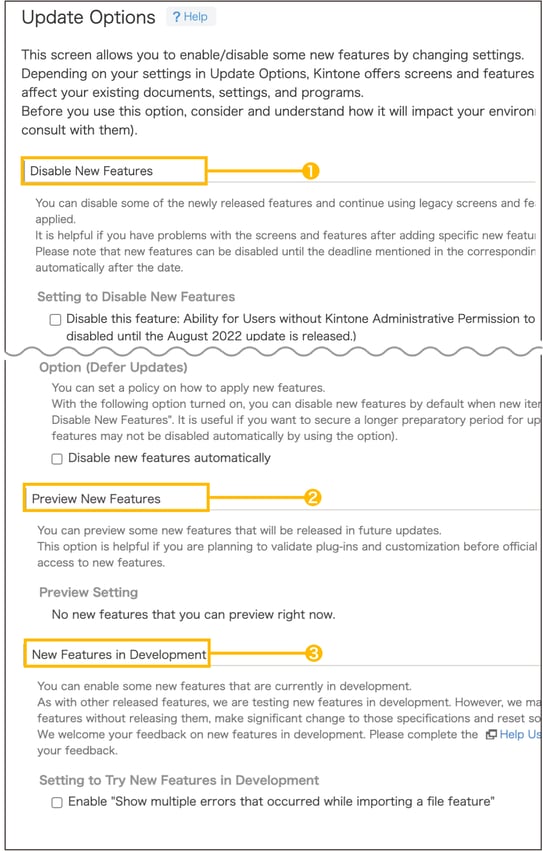 In May Updates, the following features can be applied to the Update Options:
Option

Available Feature

Notes

❶ Disable New Features

Any user with app creation permissions can create apps from the template files

The feature can be disabled until the August Update is released.

❷ Preview New Features

None

❸ New Features in Development

Improved Error Messaging When Failing to Import a File