It's hard to stay competitive on outdated software.
But that's what companies face in the wake of Microsoft ending their support for a variety of Microsoft Access versions. Microsoft Access 2013 (RIP April 2018), Access Services 2010 and Microsoft Access 2010 (estimated deaths of October 2020), and Microsoft Access 2019 (RIP 2023) are all recent (and soon-to-be) casualties of Microsoft's slow dismantling of the once widely-embraced platform.
And it's businesses who are the victim of this abandonment.


Pulling the Plug on Microsoft Access
If you're on a version of Microsoft Access that's lost support (or will), you have two choices:
Find an alternative platform to switch to while your current business software is actively supported (and you can get Access-specific developers to assist with a platform transition).
Wait until support ends and then follow step number one except without the expert help.
The Japanese School of Dallas chose route number two, with terrible results. Yukiko Willoughby, a full time administrator with the school, recalled the problems her team faced: "We had trouble finding a programmer who could update and maintain the software. I can't begin to describe what we went through in those years between 2009 and 2016...Microsoft Access switched from being multi-user to single user in 2009, which meant our administration team could only access our data from a single login. If we tried to do multiple logins, the whole thing would crash. Our data was trapped."

Read Yukiko's full story here.


A Cascade of Problems with Microsoft
Lack of support isn't the only problem Microsoft Access users face:
Lack of programmers trained to work with Microsoft Access. The lack of support isn't just coming from Microsoft, who has been slow to update the program over the last 25 years of its existence, it's also coming from vendors who specialize in program support. The fact is, companies are moving on and so are the developers who used to work in Microsoft Access.
Outdated security protocols: as database expert Susan Harkins acknowledges in her article defending Microsoft Access, "...the truth is, Access security simply isn't as robust as you might need."
Operating Software (OS) limitations: as of 2019, Microsoft Access is still unavailable to Mac users (although the Apple store does provide a few workarounds so Mac users can view data). For companies who offer employees a choice between operating software or companies who employee people that use their own computers, this presents a significant usability problem.
Disconnected from the cloud: unless you're using Access via Office365, your file is locked in your employees' hard drive. What does this mean for users? That remote access is difficult, and the workarounds are slow and full of security risks. For companies with an increasingly remote workforce, field operations, or extensive travel, this presents a major problem in scalability.
Limited Accessibility: Microsoft Access is great for small teams, but it has strict user limitations that prevent it from being a scalable solution, especially as teams and the database itself grows. According to SQL Server, "Even though Microsoft has stated that Access is able to support 255 concurrent users...If more than 20 users try to gain access to the database, performance and response time may begin to suffer."

Migrating Away Microsoft Access
In the wake of Microsoft's lack of dedicated support to Access users, it's time for businesses to consider a new home for their data.
Kintone's cloud-based platform gives Microsoft Access users the easy customization of their Access database while boosting their efficiency with sophisticated integrations, up-to-date security features, and remote access capabilities.

In Their Own Words: Access Users Who Switched to Kintone
1. Japanese School of Dallas
The Japanese School of Dallas knew it had a software problem.
The part-time program, which provides over 600 students in the Dallas-Fort Worth area with Japanese language and cultural instruction, was using Microsoft Access to manage its student and member data. The result was frustrating: while administrators could access data, the software often crashed or froze if they tried to execute too many tasks at once. The school knew it needed something new, but had no idea where to start looking. Read the full story.

2. Oregon Coast Community Action (ORCCA)
ORCCA is the South Coast's Community Action network, which was part of Hunter's national program. Her role is to oversee the operations of South Coast Food Share Program (SCFS) which includes food collection from various sources and donors throughout our local region and statewide.

"Our organization has a lot of moving parts, so we need to be organized. But for as long as I've been an ORCCA employee, the SCFS's data collection system was just Excel spreadsheets. I noticed this was a problem as soon as I was hired.

Our first attempted solution was to recruit a former IT person to create an Access database for us. It was usable, but very challenging. However, it didn't have a concurrent database for our volunteers themselves—it only had the tracking ability. That database eventually broke. Read the full story.
This is based on research by Kintone Corporation. If you find any information is outdated, please contact us so we can update our article accordingly.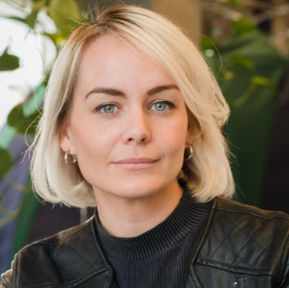 About the Author
Michelle is the Content Marketing Specialist at Kintone. She is a content marketing expert with several years in content marketing. She moved to San Francisco in 2015 and has experience working in small businesses, non-profits, and video production firms. She graduated in 2012 with a dual degree in Film and English.