November Kintone product updates will take effect on November 14, 2021.
Overview
New Features

Feature Improvements
Moving an App from Inside/Outside a Space to Anywhere in Kintone
Now you can move an app from inside or outside a Space to anywhere you have permissions.
This will enable you to:
Easily change how you're using Spaces
Move your apps to the appropriate place depending on their status, such as active or inactive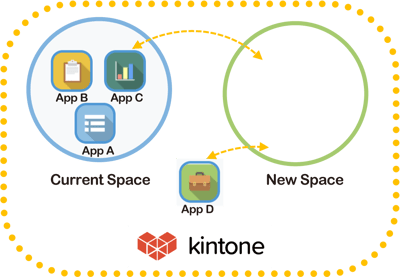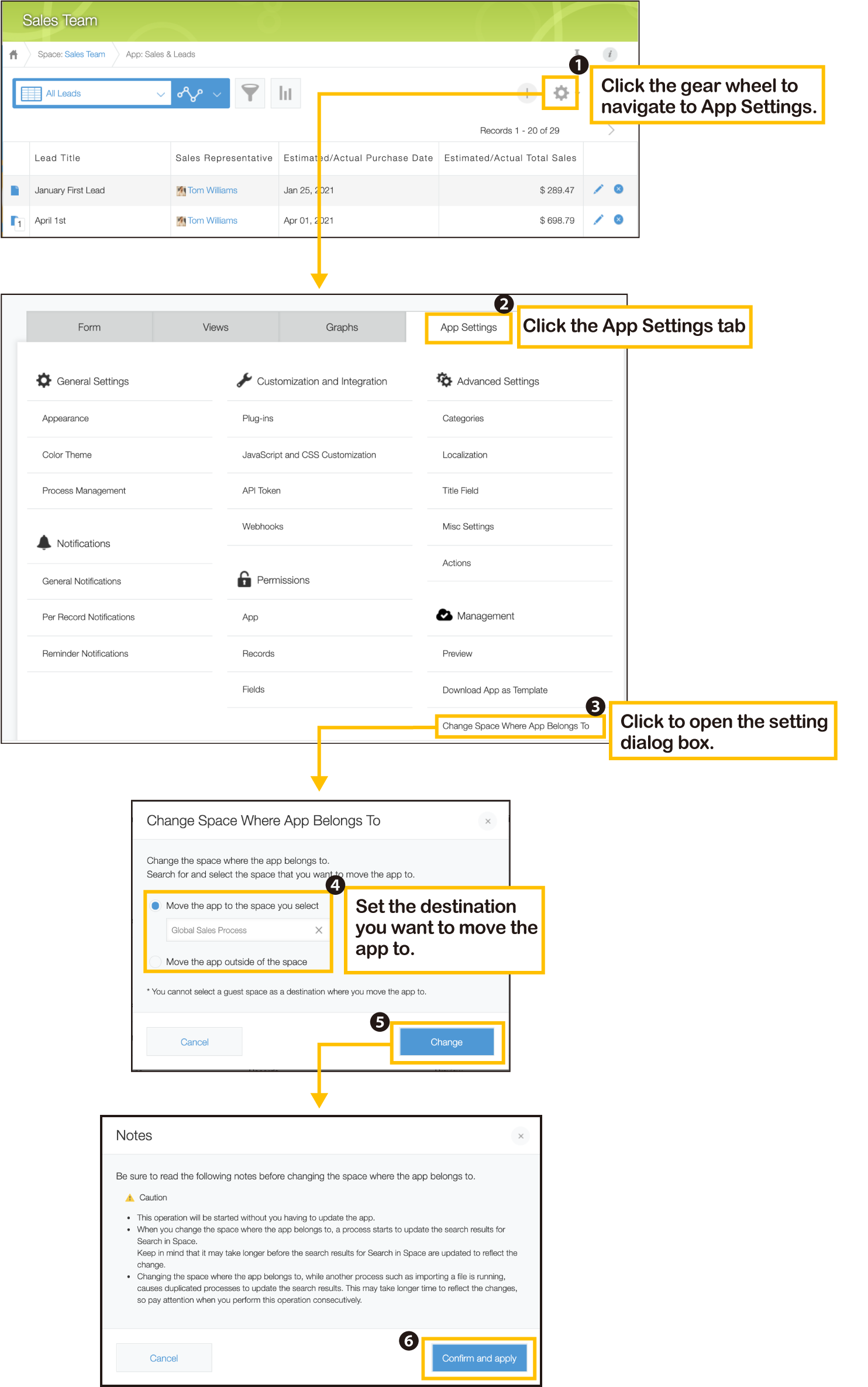 Please note the following:
Moving to and from a Guest Space is not available
Moving an app from a Space requires the Administrator permissions for the Space
App creation permission for the destination place is necessary
Control the Creation of Apps
Added
two new features
to limit where your team members can create apps in Kintone.
1. Allow Only Space Administrators to Create Apps Inside the Space
Added a new option to the
Space settings
that allows
only Space administrators to create apps
in the Space (default is "Off"). When this option is turned on, you can prevent users, other than the Space administrators, from creating apps in the Space.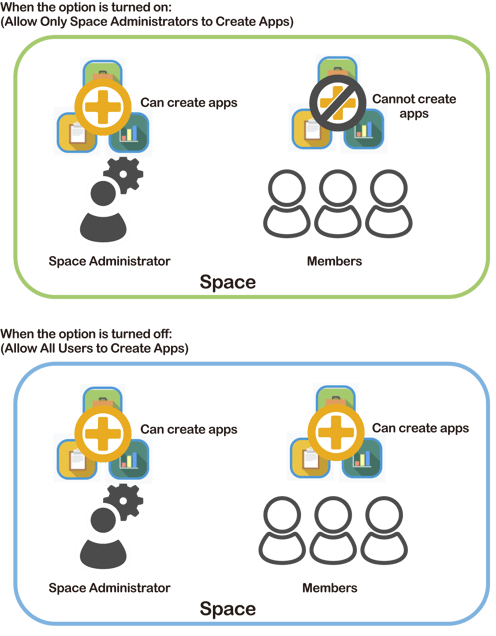 To turn on the options: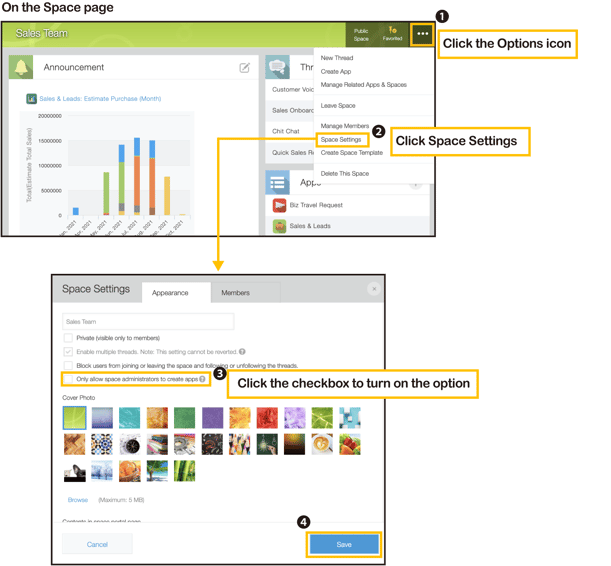 2. Prevent Users from Creating Apps Outside of Spaces
You can now stop your team members from creating apps outside of Spaces by using a new option added to
Kintone Administration. Your team members will only be allowed to create apps in the dedicated Spaces. To prevent users from creating apps outside of Spaces, you need to
turn off this option (default is "On").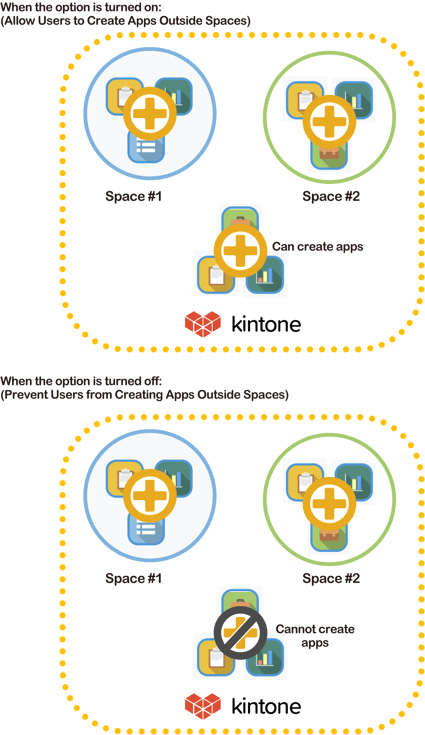 To turn off the options: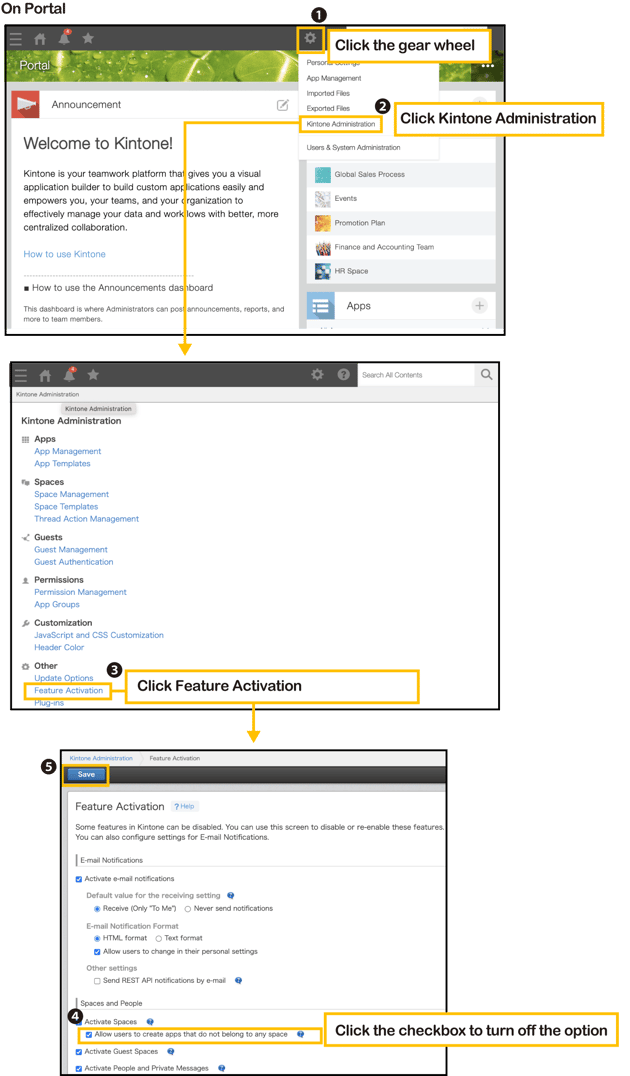 Please note, turning this setting off does not affect apps that have already been created.
Examples of combining the two new features: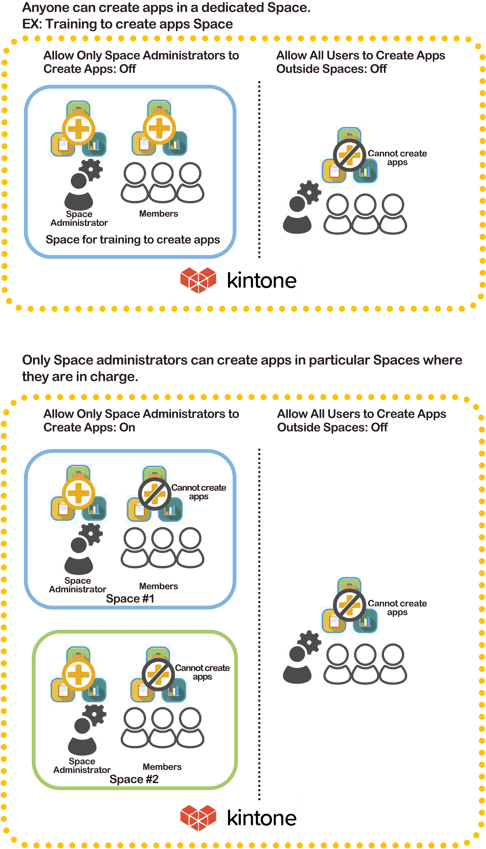 Added Setting for Referrer-Policy
You can now choose not to send referrer data when linking Kintone with external web services. Turn on the "Add Referrer-Policy:same-origin to a response header" option on the Misc Settings page to not send the referrer data to the external web service.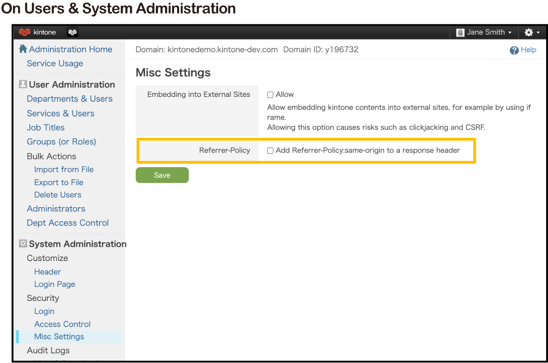 UI Changes on Users & System Administration
The page title has been renamed "
Misc Settings"
from Session "Settings."
Available Update Options
Update Options is a tool that allows administrators to control how Kintone updates are applied.
Using the options, administrators can choose when to roll out updates to their team.
To access Update Options, click the gear wheel to the left of the search bar and select "Kintone Administration." Select "Update Options" under "Other."
Three options are available: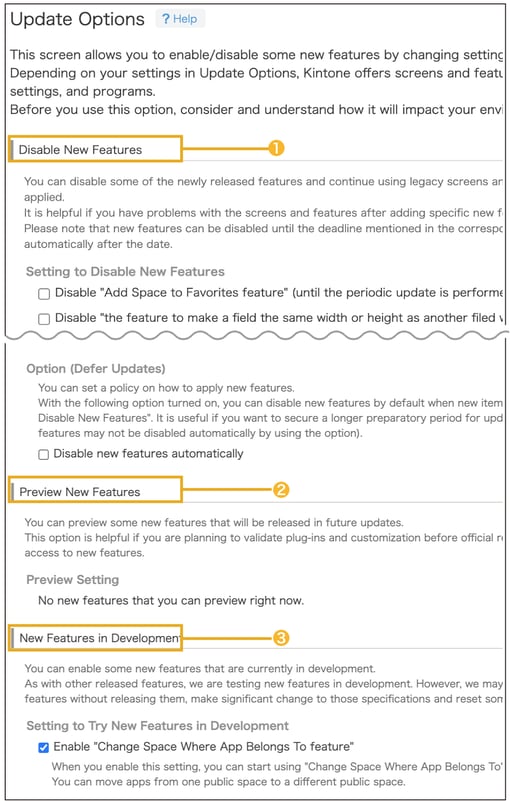 In November Updates, the following features can be applied to the Update Options:
Option

Available Feature

Notes

❶ Disable New Features







Removed Unnecessary Page Display on Mobile

The feature can be disabled until the February update is released.

Ability to Filter Records on Mobile

Faster Loading of App Forms Containing Related Records

NEW
Moving an App from Inside/Outside a Space to Anywhere You Have Permissions


❷ Preview New Features

None

❸ New Features in Development

Improved Error Messaging When Failing to Import a File