One of the key benefits of using a no-code application builder like Kintone is that you can get your custom business applications up and running incredibly fast. According to software development firm Soltech, most traditional software development projects take seven to nine months to go from concept to deployment. In contrast, Kintone's platform often takes businesses an average of one to three months to completely set up, with savvy employees developing brand new apps for themselves and their team in a matter of hours.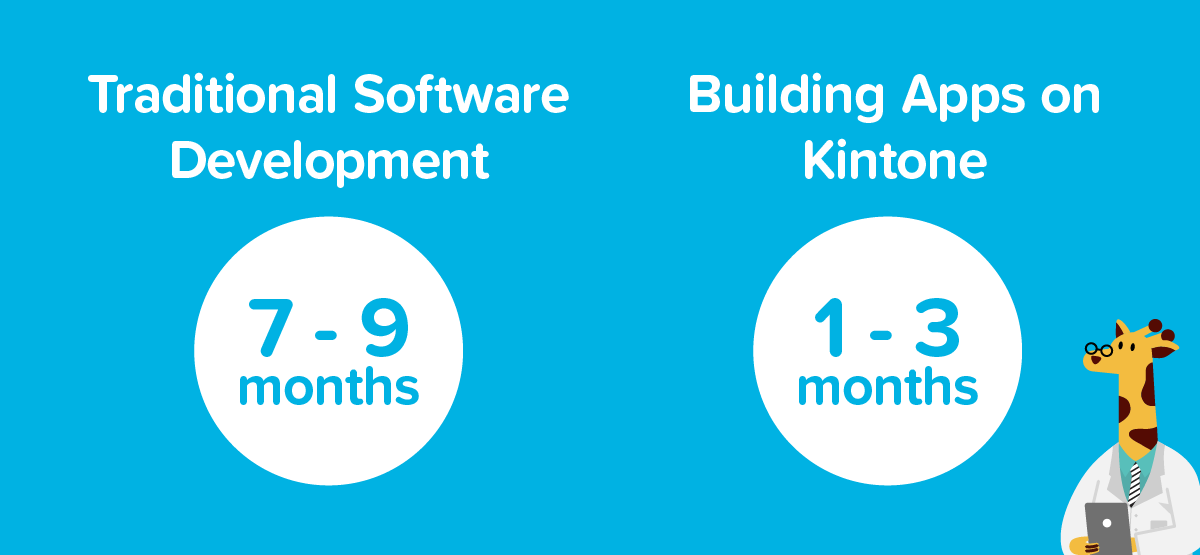 Yes, you can build a Kintone app in just a few hours. In fact, you can actually get a pretty basic app going within minutes. Watch the video below to see Kintone in action—you'll see one of our team members turning an existing spreadsheet of event attendees into a new database app in less than the amount of time needed to make an egg sandwich.
Level 1: Simple Database App
If you're looking for a pretty basic database app to organize files or information, or a list of people as you saw in the video, you can most likely build this on Kintone in under 15 minutes. If you're a pro builder, it might take you as little as five minutes to set this up using the drag-and-drop interface. Here's a glimpse of what it looks like if you're building from scratch.
Other examples of a simple database app you can build in just a few minutes include:
Inventory management
Customer or sales lead database
Document library or content archive
Internal survey app
While you can get the bones of a simple database app built out in just a few minutes, you might need additional time to set up more sophisticated permissions settings (perhaps you need to limit who can see social security numbers or salaries in an employee database app, for example). For any special permissions settings, you'll need some more time to get things set up just the way you want.
Level 2: Creating a Workflow
Kintone also lets you set up workflows to track a process through an app. An example of this is a PTO request app, which starts with input of the request and ends with approval. You can also have a more complex workflow with several stages, such as an expense report process that goes from input to approval to processing to completion. Setting up a process or workflow to be tracked in Kintone takes a bit more time, but it's well worth the effort. With customizable reminders and notifications, you can automate task handoffs and move processes along without having to send an email or ping your colleague.
While the actual setup of the workflow may take less than half an hour, the real prep work is in mapping out what the steps of the workflow will actually look like beforehand. Some workflows will need room for contingencies. For a marketing content request app, for example, you may need to build in steps in the workflow to make room for any necessary revisions—this way the approver can send the task back to the content creator if changes or updates are needed.
Other examples of apps you can build with a little workflow magic include:
Invoicing app
Job applicant tracking database
Task management app
Claims management app
Marketing content calendar
Content request & review app
HR or IT ticketing system
Level 3: Connecting a System of Apps
Thanks to Kintone's customizability, you can set up an entire network of apps that work together and pull information from one another—this means less manual data entry and copying and pasting across different spreadsheets or software solutions. You can build a nearly endless variety of apps to suit the needs of every member of your team—all in one central, organized workspace. Depending on the complexity of the apps you're building, the time needed will vary quite a bit. If you're looking to have a system built for you for an additional cost, our ecosystem of partners is available to help do the heavy lifting.
Bonus: with Kintone you can even communicate within the workspace, either directly in the apps or in threads organized by project or topic—no more digging through email or unruly chat threads for the info you need from your team.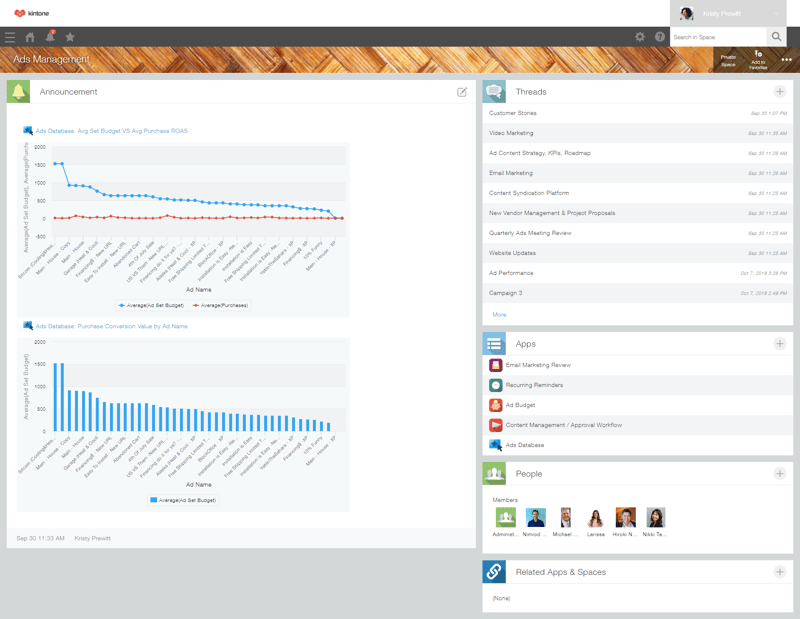 Here's an example of what a space can look like; in this case, a space dedicated to ad management.

Here are a few examples of the types of interconnected apps different departmental spaces can house:
HR / Recruiting
Employee profile database
Applicant tracking system
Headcount management system / job openings database
Onboarding document library
HR ticketing system
Employee Benefits FAQ
Expense reports
Invoices
Read Also: How Kintone Helps Our HR Team Get More Done
Sales / Customer Success
Sales leads database
Customer database / CRM
Sales activity log
Sales enablement / training archive
Inventory management
Contract management
Customer swag requests
Customer feedback tracker
Marketing / Events
Event management
Marketing content request / calendar
Marketing campaign tracker
Marketing content archive
Marketing task tracker
Website /request app
Weekly reporting app
IT
Office equipment management
IT ticketing system
Security & compliance checklist
Related Article: The Vaccine Management System Built on Kintone in an Hour
Real-world examples of Kintone in action
To give you a real-life illustration of how long it takes to build apps on Kintone (and the benefits of doing so), here are some actual customer testimonials about what they were able to build, how long it took, and the time it saved them.
"I ended up working with my colleague to build a solution in Kintone that solved her problem. It took about a couple days to do, but the result was fantastic. What took her three days to do in our original software took her three minutes in Kintone."
- Heather Johnson, A-B Emblem

"Within 72 hours, we were up and running with a fully designed database. Just 72 hours!"
- IT Consultant, ezCargoClaims

"With the help of the Kintone team, the app we needed was built in just a couple days. It was fast….[And] our Kintone app is MUCH faster to input data into compared to the Excel spreadsheet. It's not even close."
- Shane Daniel, Rapid City Area Schools

There's always room for improvement: launch first, iterate later
Another benefit of using a no-code app builder like Kintone, in addition to getting your apps built and launched quickly, is that you have the flexibility to keep making changes as you go. If your workflow needs an update, whether it's adding a step in or switching up the data you're tracking, you can go back into the drag-and-drop interface and make changes. Getting those changes live takes just another couple clicks.
Getting started in Kintone
Now that you know roughly how long it takes to build apps in Kintone, here are some tips to get started. If you're ready to get in and start building your app from scratch, you can absolutely do that. Sign up for a free 30-day trial of Kintone, no strings attached (read: no credit card required).
If you want a little more guidance or a different way to get started, here are a few other options:
Start with a spreadsheet: If you're already using a spreadsheet to track your data, you can turn it into a Kintone app with just a few clicks. Learn how here.
Use an app template: Kintone comes with a library of over 50 templated apps to help you get started. Tour the app library here.
Get by with a little help from your friends (at Kintone): Not sure if Kintone's right for your team's tasks or workflows? Our team of Kintone platform specialists can get you started with a

free custom app build

—you get to see what your app would like and ask any questions you have. L

earn more here

.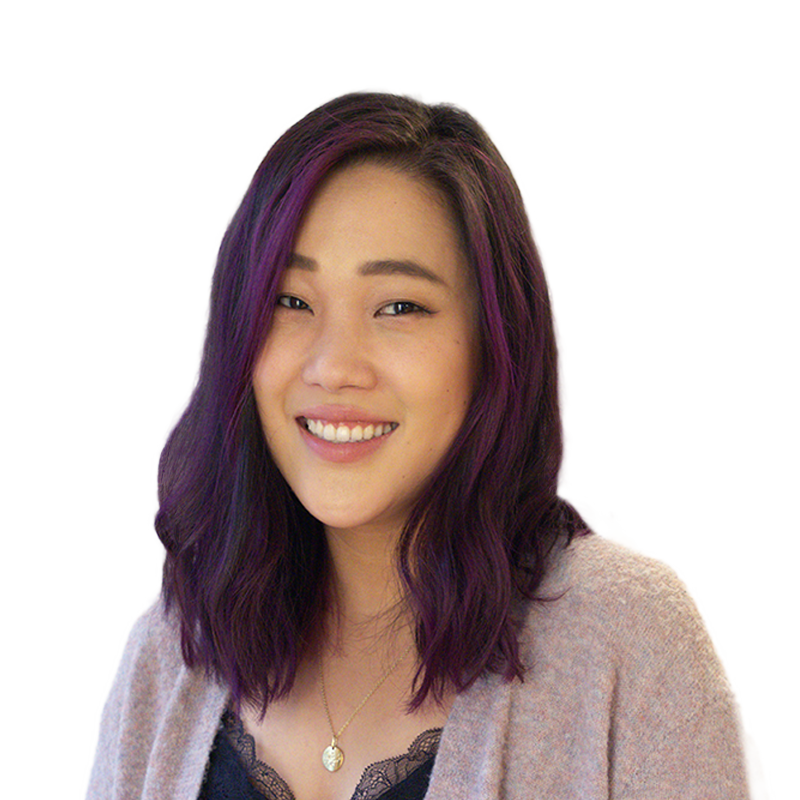 About the Author
Euna is a Content Marketing Specialist at Kintone. She holds a BA in English from the University of Michigan and has a thing for words, food, and travel.