September Kintone product updates will take effect on September 6, 2019. Infrastructure updates will take effect on September 8, 2019.
Infrastructure Updates
Kintone is transitioning its infrastructure from our private datacenter to the public cloud on AWS (Amazon Web Services) in the US. New users, who start their free trials and sign up after the September update on 9/8/2019, will be on the new AWS infrastructure. Current users who have signed up prior to the September update will be migrating to the AWS infrastructure in batches over time. The migration schedule for current users will be announced shortly.
Product Updates for Kintone on AWS

Boosted Performance
With our data center in the US, the new back-end system will increase the display speed of record lists.
New Search Features
Some special characters such as "_", "#", and "+" will be treated as delimiters for search keywords.
For more details, please refer to the article
Using the Search Bar
.
Enhanced Security
We will be providing all customers with Two-Factor Authentication (2FA) free of cost.
2FA provides you with the advantage of using Kintone more securely. Please refer to the following help articles for details of 2FA.
We will be discontinuing the following security features:
Client Certificate Authentication
Basic Authentication
API updates
New Kintone Store

With our transition to the new infrastructure, we have significantly updated the Kintone store for a smoother experience for our customers. We will continually improve the store interface. Please refer to
this help article
for details on the new processes. (The link will be available on September 6, 2019)
New Features
Visibility into App Admins

On the App Management page, you can now see who has created and last updated each app. We have increased the number of apps you can view to 500.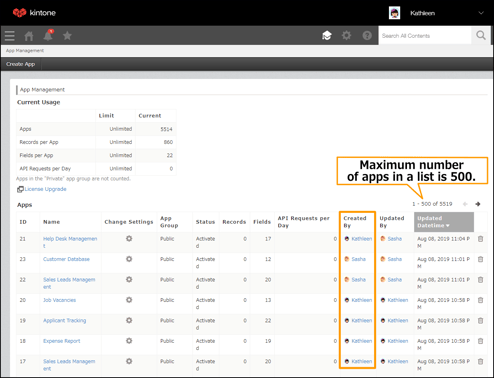 Printing List Views

You can now print the list view from the browser print function.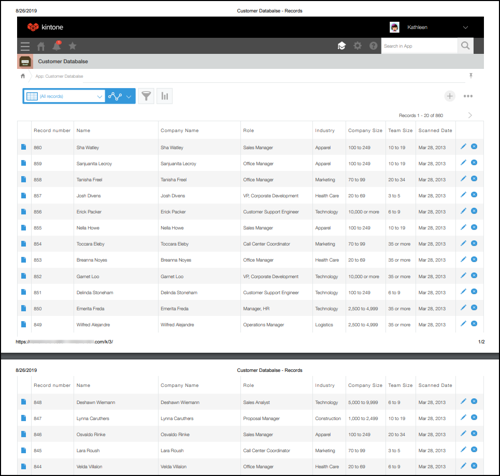 Mobile
Mobile Search Function for Space
We have added a search capability for Space when you access from mobile.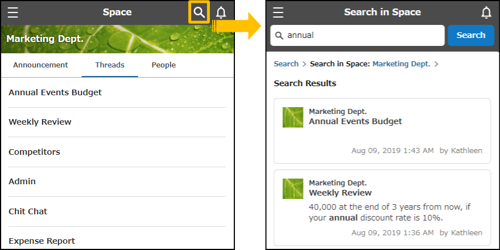 Increased the maximum number of Apps, Spaces, and People listed on the navigation pane.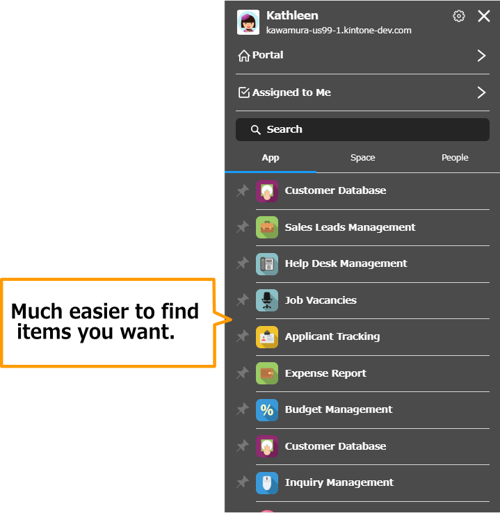 Larger "X" button to close out Notifications.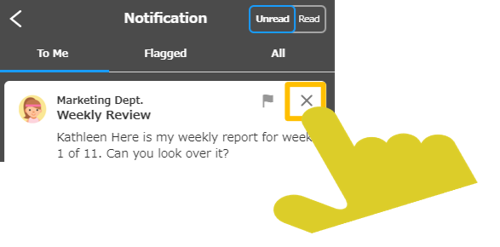 Added Headers while creating and editing records.

UI Changes
Enlarged Lookup Dialog
We have enlarged the dialog box to more easily select items from Lookups.