Ah, New Year's Resolutions: so uplifting to make; so hard to keep. Here are three popular New Year's "Business" Resolutions that Kintone can help business owners achieve with pleasant ease.
"Get Closer To Our Customers"
CRM (Customer Relationship Management) Systems are traditionally engaged to store information about clients, schedule tasks, ensure process-based follow-ups and produce customer data analytics. Kintone provides an excellent CRM Solution to meet these business needs. But, let's take it a step further and accomplish something unique with this New Year's Business Resolution: provide your customers with a personalized Customer Care App.
One of Kintone's unique features is the capability to generate individually-accessed "digital workspaces". App users can be placed within collaborative environments and participate in custom-developed workflows. Here's the unique twist: bring your customers "inside" a Kintone app.
Through Kintone, you can easily field applications that your clients access from their office PCs or mobile devices. The stacks of phone messages, the jammed-full email boxes, the questions that require multiple back-and-forth calls: all of these can be replaced by a sleek Kintone app. It is as easy as building out the application through the no-code feature then inviting your customers to join you inside their personalized Customer Care App.
"Delegate Decision Making"
This is often a perennial favorite amongst business owners who face what is seemingly an endless stream of questions from their employees: how should Problem A be solved; what should they do to maximize Opportunity B; when is the best time to complete Action C? In many cases employees are empowered to make the decisions, but they are concerned that doing so without feedback might not yield the results everyone wants. And, it is always good to keep the company leader informed! Hence, the door-knocks keep coming.
Kintone is also ready to help with this New Year's Business Resolution. The pre-built Task Management solution enables your employees to make business decisions within their digital workspaces and communicate with others when comments, questions, or approvals are needed.
Our suggestion to address the "delegate decision making" New Year's Resolution: develop an employee Decision Empowerment App. This is as straightforward as cataloging the key areas in which employees are asked to make decisions, deploying a collaborative workspace, and then designating the options for decision-approvals.
"Spend Less Time At Work"
This New Year's Resolution is a favorite with just about everyone!
Take your work "on the go": Kintone can automatically deploy all applications and database-access functions onto a mobile device. No longer do you have to be tied down to your office desk or keep your laptop in tow. Your apps can be up and running on a mobile device wherever an Internet connection is available. Mobile deployment takes no special actions or development steps. It is as simple as develop, deploy, and your Kintone digital workspace is ready to travel with you.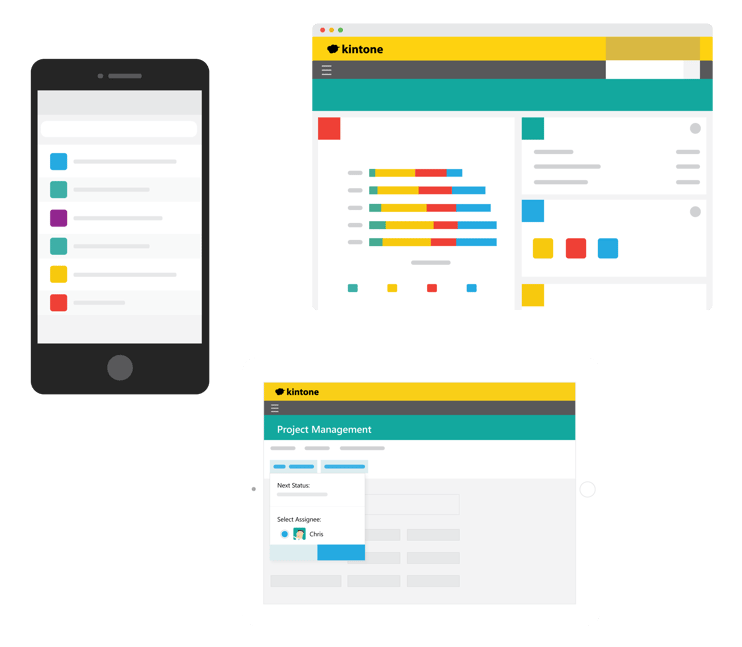 Develop your Kintone app at home! Most company systems require time in the office to install, adapt, improve, or expand. Many business owners are familiar with the long after-work hours that are spent getting the next version of their system up and running. With Kintone, you can build apps in small segments using the Rapid Application Development feature. Add a new process, build out more workflow, expand the database—all of Kintone's functions reside on our enterprise-grade cloud and are ready for implementation at the times and places most convenient to you.