In today's business world, Human Resource teams have a lot on their plate. Not only are they responsible for hiring new members, they're also in charge of fostering a workforce that is motivated and driven by a shared company culture. For HR, whose role includes things like recruiting new talent, developing training programs, managing compensation and benefits, developing leadership programs, and staying on top with changing employment laws, it's a lot to track.
Here at Kintone, we have an incredible HR department that does all this and more on a daily basis. Meet Megumi Weider, Kintone's Human Resources Leader. Since joining the team in 2017, Weider's role has grown to oversee all of Kintone's hiring and onboarding processes. To keep up with her growing list of responsibilities, Weider developed an HR-specific workflow in Kintone to track all her tasks. In this post, we look at how Weider uses Kintone to onboard new hires.
HR Space Portal
Do you tend to get the same questions from your employees over and over?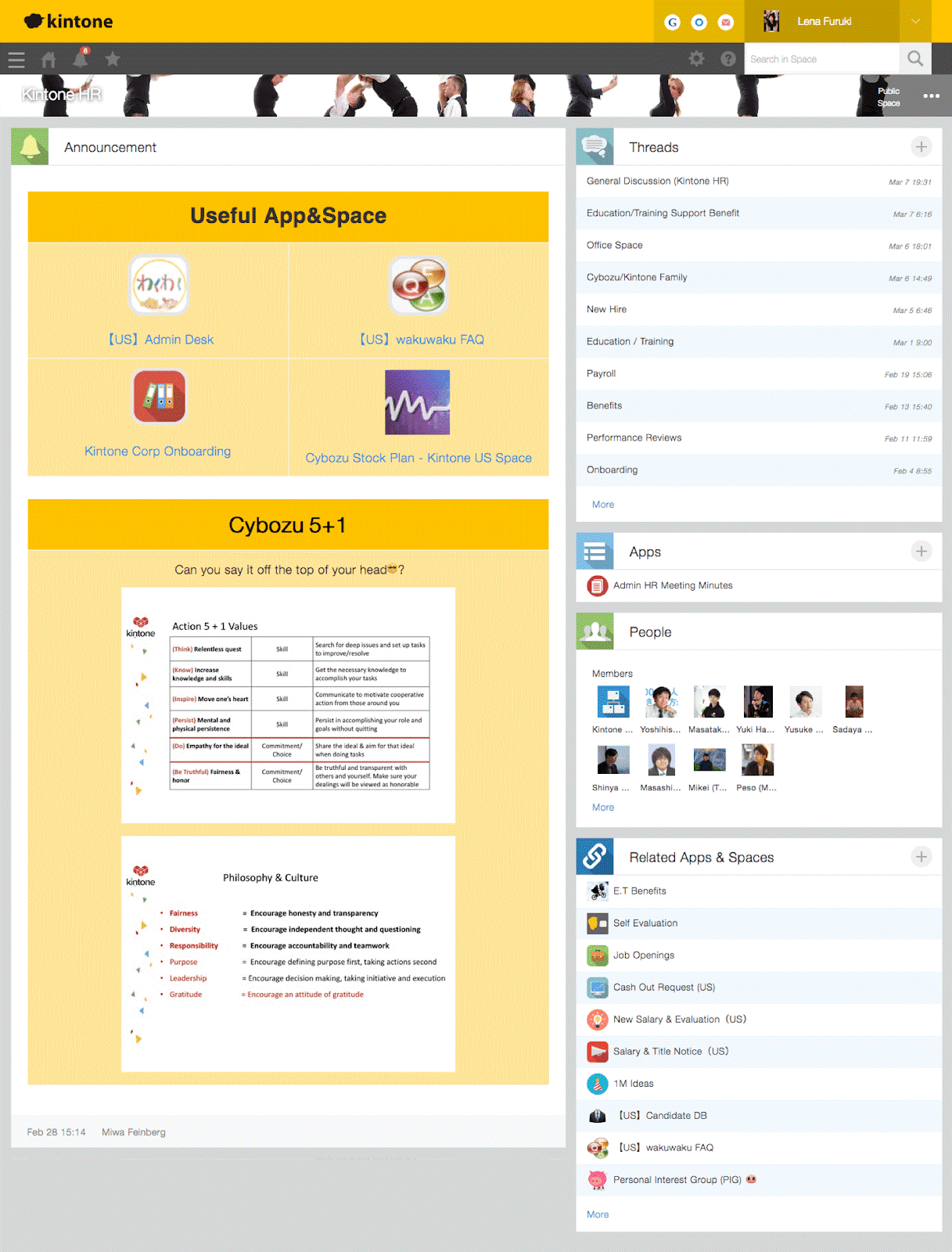 Kintone HR Space Portal
While all jobs have a degree of routine, nothing is quite so repetitive as answering the same 20 questions over and over. As the face of HR, Weider found many of Kintone's employees had similar if not identical questions about the company, employee benefits, and other aspects of the startup's unconventional work culture.

To free up her time while giving each member the answers they needed, Weider created a workspace portal that people can refer to for HR-related information. The workspace portal includes several applications that answer different kinds of queries:
Admin Desk App: An app where employees can discuss individual matters and inquiries about Admin, Finance, and HR. The inquiry can be open or private, and status can be easily managed.
FAQ App: From benefits and payroll to expenses and holidays, this app covers frequently asked one-off questions about various aspects of Kintone.
Onboarding App: This app makes it easy for any new onboarding member to get up to speed on their job role essentials. It also gives HR a convenient checklist to work through when training a new employee.
Stock Plan Space: This workspace app goes over the benefits of enrolling into the stock plan as well as how an employee can manage their plan.
These apps and spaces not only save the employees' and Weider's time, they also help Weider successfully collaborate with other HR members to track tasks and employee progress through the onboarding process.
HR Space Thread - New Hires
The threads in the HR space are broken up into topics such as new hires, office space and performance reviews. The HR team uses these threads to make announcements on these topics as well as open things up for others on the Kintone team to discuss.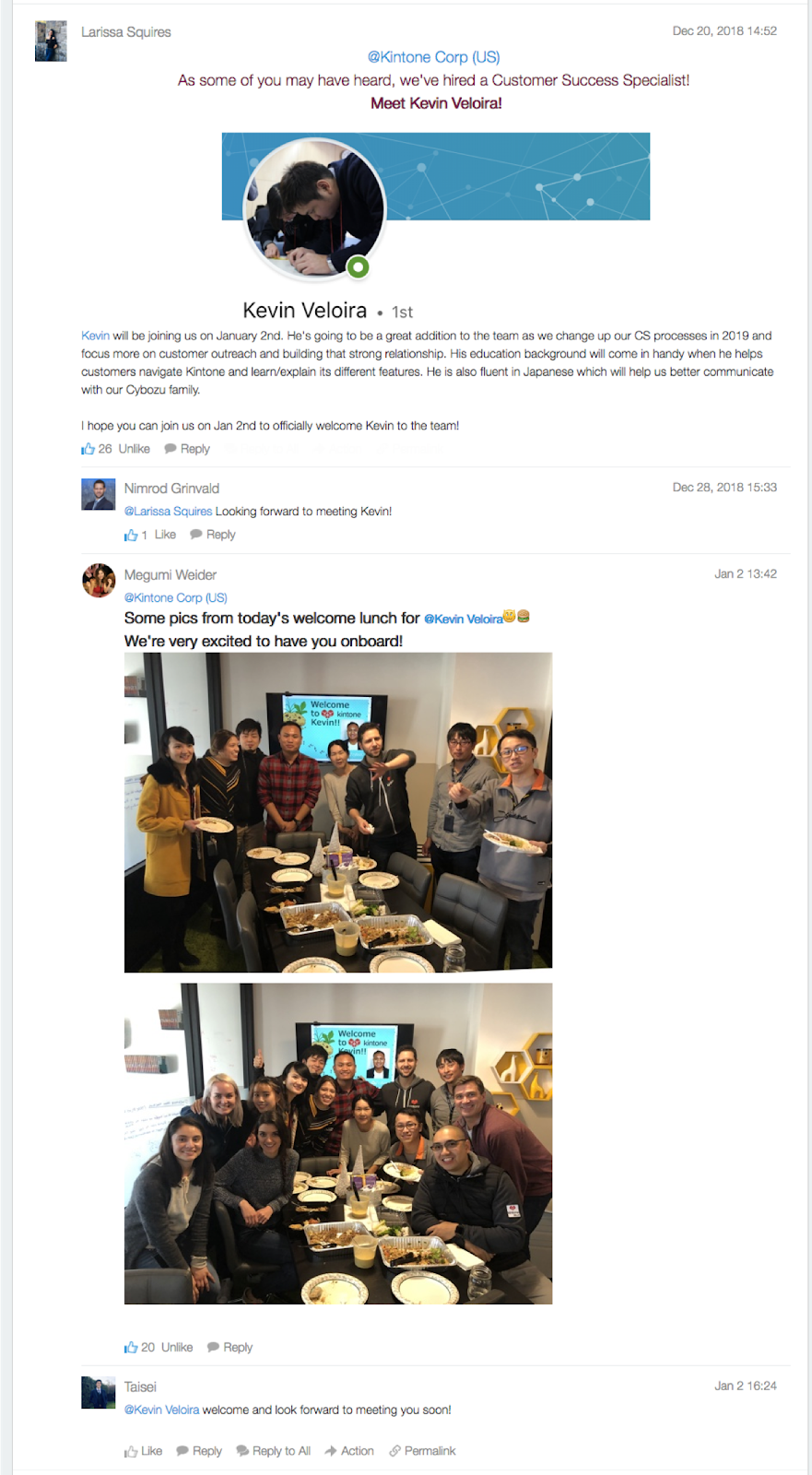 Kintone HR Space - New Hires Thread
One thread Weider is especially proud of is the New Hires Thread, which is used to announce new team members. Not everyone works at the San Francisco office, and many members either partially work from home or are entirely remote; this thread helps build a bond between the employees by making it easier for all members, no matter what their work life style, to greet new members.
Streamlined Apps that Help HR Collaborate and Onboard New Members
HR workflows can be repetitive at times, and onboarding is no exception. Onboarding starts once the stakeholder accepts the offer. After the offer is accepted, HR needs to collaborate with the Admin and IT department to prepare things like the corporate card and computer which the new hire needs from day one. On top of that, there's a list of things that HR teams need to go over with new employees including payroll, benefit plans, and rules on what can and cannot be expensed.
It was important to Weider to have the new member ready to go their first week with all the essential tools and information. To do that, she created a series of Kintone apps to streamline this preparation and orientation process.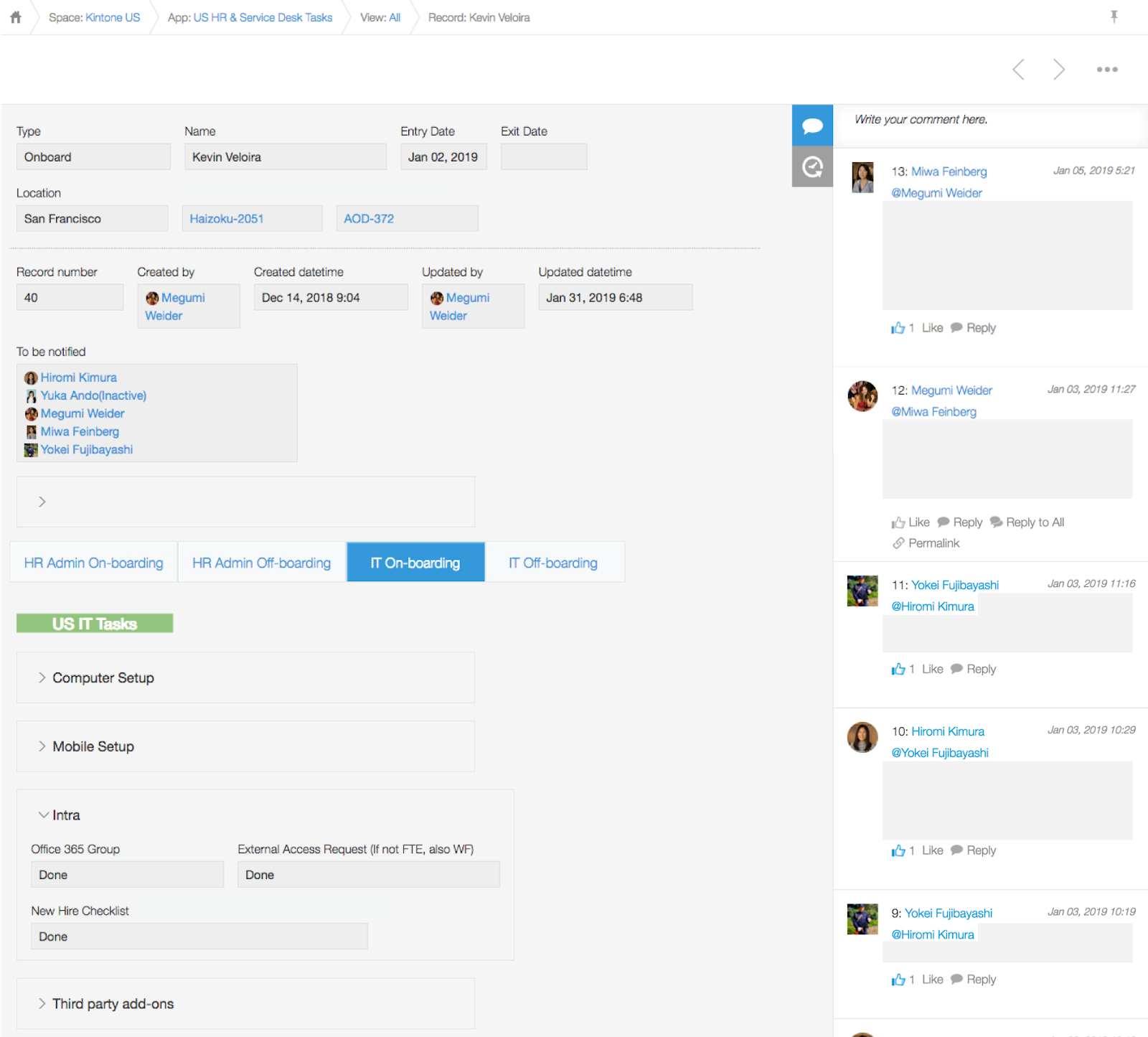 U.S. HR & Service Desk Tasks App - Record Details
Weider created a new record in the US HR & Service Desk Tasks App, which notifies the Admin & IT department when a new employee will join the team. Everything needed to prepare for the new hire is streamlined in the app and Weider can check the status of each task at any time. If there are any questions or specific requests from a department, Weider can comment on the record and the collaborators are able to refer to the record details and reply back right away.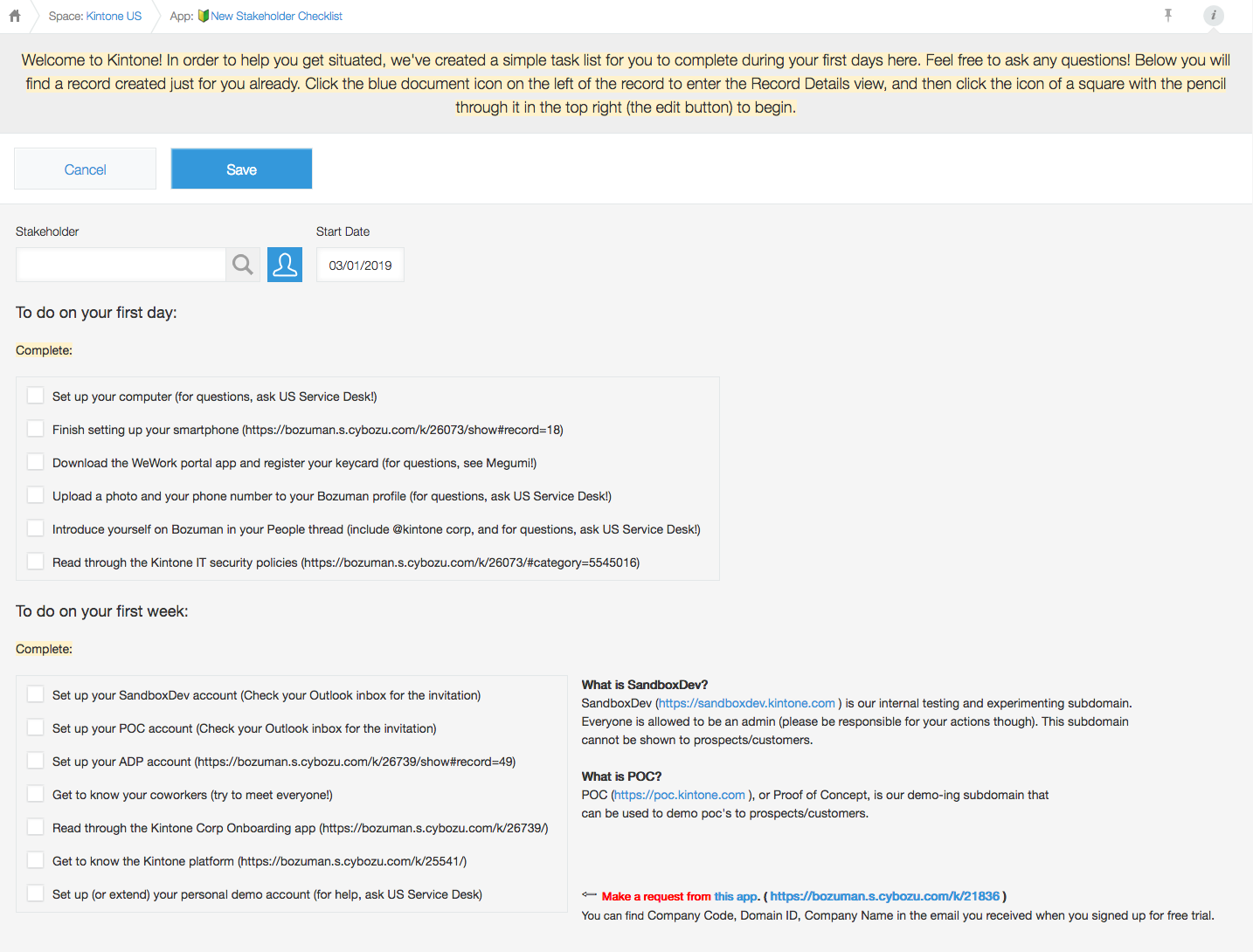 New Stakeholder Checklist App - New Record
After welcoming new members on their first day, Weider sends instructions via the app; the instructions include a checklist for the new hire to complete over the first day and first week of their time at Kintone. Although she hasn't yet had a new member fail to complete the checklist, the app is set up so the HR team is notified if any of the items are not completed by their respective deadlines.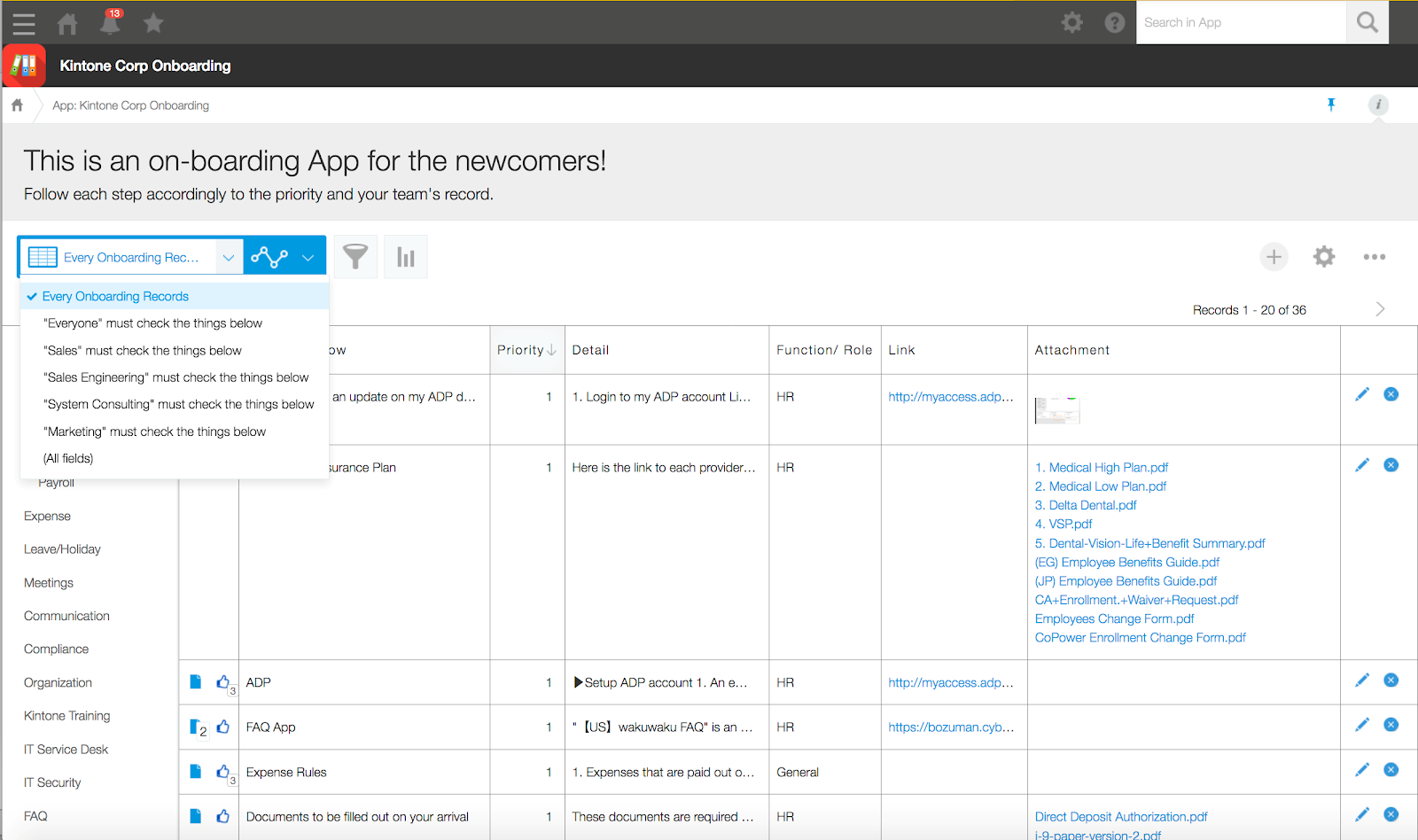 Onboarding App - List View
In the checklist, the first item of business is reading through the Onboarding App. The app provides information in order of priority and includes related links and attachments. Weider designed the app with categories, such as Expense and Leave/Holiday, and provided a list view by departments, such as Sales and Marketing, to make it easier to navigate through the list.
For Megumi, Kintone's platform has helped her tremendously:
"We are a startup, so our onboarding process evolves as our organization grows. It helps tremendously to use Kintone's apps, which anyone can update in a matter of seconds! Having the agility to do so has helped our HR processes keep up with the organization as it changes. Also, the transparency that comes from collaborating on Kintone allows our team to minimize misunderstandings and work together more effectively. I never stress at all if I work remote or take PTO because I don't miss out on any updates. I really appreciate how Kintone has helped make teamwork better overall for both our company and my role as HR."


Tell Us What You Think
Are there any roles or solution you'd like to see highlighted in the blog? Comment below!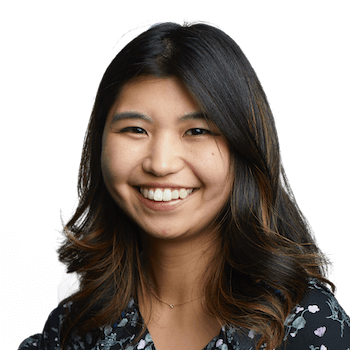 About the Author
Lena is the Marketing Strategist at Kintone. With her background working at one of the top business consulting firms, she understands how much data is important but can be a nightmare as well. That's why she loves it when new teams on-board Kintone and are able to save time and say good-bye to spreadsheet nightmares. She's very passionate growing the Kintone family as much as she loves Honey Lavender ice cream, her favorite!