Gartner Inc, is a company that delivers actionable, objective insight to executive and their teams. Each year they release their Gartner Magic Quadrant report, including the Magic Quadrant for Enterprise Low-Code Application Platforms that features Kintone.
The Report and What it Means for Kintone
For the fifth consecutive year, Kintone is in the Gartner Inc industry report Magic Quadrant™ for Enterprise Low-Code Application Platforms. The in-depth report evaluates 19 vendors in the low-code space using various criteria and places technology providers into one of four boxes labeled as Leaders, Challengers, Visionaries, and Niche Players. Kintone is positioned as a Niche Player, which is defined as "companies that focus on a specific area of the market or have a regional geographic footprint."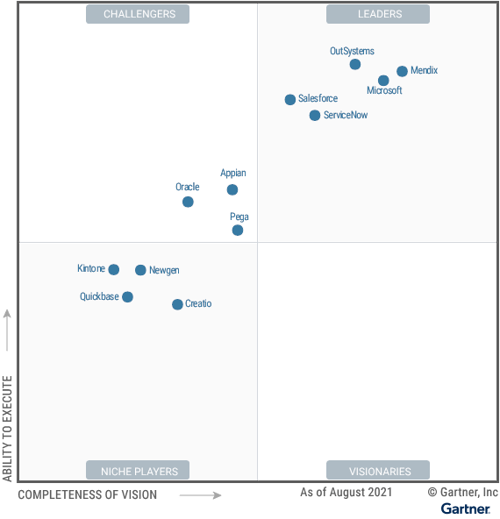 Why Should Business Owners Care About the Report?
Gartner's Magic Quadrant relies on "a culmination of research" to provide you with a "wide-angle view of the relative positions of the market's competitors." The graphical quadrant approach using a uniform set of criteria helps you to more quickly determine how well technology providers are achieving their vision statements and how their performance compares to Gartner's market view.

And we believe that by reading the report, you can:
Better understand the low-code space and some of the players in it—including Kintone
Identify which low-code tools and vendors may suit your business' needs through its thorough comparison reporting
Gartner's report in our opinion can help business leaders and team managers understand the value of low-code platforms and their usefulness in the workplace especially if you want to:
Develop and use business applications with minimal coding skills & developer resources
Drastically improve speed-of-delivery when it comes to software development
Address a wide-range of software needs with the human resources you already have
Overall, this report can give you the knowledge needed to make the best decision for your needs.
In addition to the report, the rest of this blog features basic information about low-code and the benefits and efficiency they offer businesses.
What are Low-Code Development Tools?
Low-code development tools (also called low-code application platforms) are software platforms that allow individuals to develop software solutions for business and personal purposes through graphical interfaces (such as drag-and-drop elements). Dubbed "low code" for their minimal coding demands on users, these tools encourage individuals to play a greater role in software development in contrast to traditional development processes.
To gain more familiarity, access a list of low-code terms here.
How Do Low-Code Application Platforms Help Enterprise Businesses?
Low-code application platforms give businesses the opportunity to bring a majority of their software development demands in-house, giving teams the power to directly create, deploy, and maintain software solutions for their specific workflows. A core advantage of bringing software development in-house is that it gives IT departments greater oversight over business application development without directly increasing their workload, as the majority of development is done by the citizen developer.
What is a "citizen" developer? Gartner defines this type of developer as "an employee who creates application capabilities for consumption by themselves or others...They report to a business unit or function other than IT." Employees who become citizen developers are able to develop and deploy software solutions that directly suit their individual and team workflows.
Trying to decide if it's time to turn your employees into citizen developers? Read this article to help you decide.
Kintone as a Low-Code Application Platform
One of the core strengths of Kintone's platform is that it goes one step further than most other solutions; while the majority of other low-code solutions rely on citizen developers to have a working grasp of code in order to effectively create applications, Kintone's platform is effectively no-code. This means someone with zero coding experience can still use Kintone's platform to develop sophisticated, custom applications for their work.
Citizen developers of every technical level can use Kintone's drag-and-drop interface to create the applications they need at a pace "traditional" software developers can't hope to match.
According to software development firm, Soltech, most traditional software development projects take (from concept to deployment) between seven and nine-9 months. By contrast, Kintone's platform often takes businesses an average of one to three months to set up, with savvy employees developing brand new apps for themselves and their team in a matter of hours.
One Business Owner Who Put Low-Code Platforms To The Test
Inspired by the flexibility of low-code platforms, Michael Callahan, owner of Michael Callahan and Associates, a Virginia-based accounting firm, decided to put them to the test.
The challenge
Try to build the features and workflows of some of the tech industry's leading enterprise software products in Kintone and see 1) if it would work and 2) how much money (if any) it would save him.
The result
After demoing hundreds of different software solutions, Callahan built his favorite five in Kintone to manage everything from project management to lead management to expense reports. When he tallied up what all the original software solutions he duplicated might have cost him (if he'd purchased each of them rather than building them in Kintone), he discovered an annual savings of $84,000 a year in software subscription costs. Read what Callahan built and how much it cost in Kintone here.
Gartner, Magic Quadrant for Enterprise Low-Code Application Platforms, September 2020
Gartner does not endorse any vendor, product or service depicted in its research publications, and does not advise technology users to select only those vendors with the highest ratings or other designation. Gartner research publications consist of the opinions of Gartner's research organization and should not be construed as statements of fact. Gartner disclaims all warranties, expressed or implied, with respect to this research, including any warranties of merchantability or fitness for a particular purpose.
Gartner, Magic Quadrant for Enterprise Low-Code Application Platforms, By Jason Wong, Kimihiko Iijima, Adrian Leow, Akash Jain, Paul Vincent, 20 September 2021
Gartner and Magic Quadrant are registered trademarks of Gartner, Inc. and/or its affiliates in the U.S. and internationally and are used herein with permission. All rights reserved.
This graphic was published by Gartner, Inc. as part of a larger research document and should be evaluated in the context of the entire document. The Gartner document is available upon request from Kintone.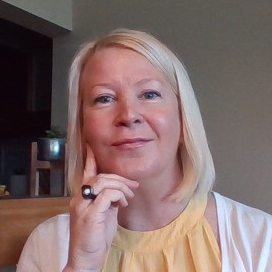 About the Author
Kristy is a writer living in Atlanta, Georgia where she works, plays and explores life. When it comes to writing, she's pretty much dabbled in nearly every form—she penned her first published piece, a poem titled "What's in a Name," when she was in grade school—she finds it ironic that she has forgotten peoples' names all her life. When she isn't moving her fingers on a keyboard, she's likely enjoying time with friends, playing tennis or spoiling her 10-year-old Scottish Fold cat, Cash.