We're proud to announce that for the sixth consecutive year Kintone, the all-in-one, customizable workplace platform built for teams, has been recognized in the latest Gartner® Magic Quadrant™ for Enterprise Low-Code Application Platforms* (LCAP). Kintone was one of only 17 vendors placed this year.
LCAPs are exploding in popularity as businesses search for faster and more affordable alternatives for software development. What started as a fledgling industry in the mid 2010s has grown into a whopping $12.17 billion dollar industry, with analysts predicting $187 billion in revenue by 2030.
Since 2017, Gartner has published the Magic Quadrant for Enterprise Low-Code Application Platforms report every year. Applications and software engineering leaders should use this research to compare and contrast leading vendors in the global market.
By applying a graphical treatment and a uniform set of evaluation criteria, a Magic Quadrant helps you quickly ascertain how well technology providers are executing their shared visions as well as how well they are performing against Gartner's market view.
"We're delighted to have been recognized for the sixth consecutive time in the 2022 Gartner Magic Quadrant for Enterprise Low-Code Application Platforms," said Yoshihisa Aono, president of Kintone. "Customer demand for LCAPs is being driven by a growing need among companies for more flexibility, collaboration and autonomy. Kintone offers a solution by enabling users and teams to design their own customizable collaborative workspace. We will continue to build on our strengths as a no-code, centralized, highly collaborative platform—in line with our vision for the future of work."
We believe Gartner evaluated us based on:
Our rapid growth and pricing for enterprise customers
Our customer experience relative to other low-code application platforms
Our long-term viability thanks to strong business and partner relationships
Throughout 2022, Kintone has continued to enhance its product with new features and functionalities. The platform is currently used by over 30,000 customers around the world, ranging from SMBs to multinational enterprises. Its ecosystem of partners, IT professionals and citizen developers have collectively built and deployed over two million applications.
To download a copy of the latest Gartner Magic Quadrant for Enterprise Low-Code Application Platforms report click here.
GARTNER is a registered trademark and service mark of Gartner and Magic Quadrant is a registered trademark of Gartner, Inc. and/or its affiliates in the U.S. and internationally and are used herein with permission. All rights reserved.
The report title was changed from 'Magic Quadrant for Enterprise High-Productivity Application Platform as a Service' to 'Magic Quadrant for Enterprise Low-Code Application Platforms' in 2019
Gartner does not endorse any vendor, product or service depicted in its research publications, and does not advise technology users to select only those vendors with the highest ratings or other designation. Gartner research publications consist of the opinions of Gartner's research organization and should not be construed as statements of fact. Gartner disclaims all warranties, expressed or implied, with respect to this research, including any warranties of merchantability or fitness for a particular purpose.
What are Low-Code Development Tools?
Low-code development tools (also called low-code application platforms) are software platforms that allow individuals to develop software solutions for business and personal purposes through graphical interfaces (such as drag-and-drop elements). Dubbed "low code" for their minimal coding demands on users, these tools encourage individuals to play a greater role in software development in contrast to traditional development processes.
To gain more familiarity, access a list of low-code terms here.
How Do Low-Code Application Platforms Help Enterprise Businesses?
Low-code application platforms give businesses the opportunity to bring a majority of their software development demands in-house, giving teams the power to directly create, deploy, and maintain software solutions for their specific workflows. A core advantage of bringing software development in-house is that it gives IT departments greater oversight over business application development without directly increasing their workload, as the majority of development is done by the citizen developer.
What is a "citizen" developer? Gartner defines this type of developer as "an employee who creates application capabilities for consumption by themselves or others, using tools that are not actively forbidden by IT or business units. A citizen developer is a persona, not a title or targeted role. They report to a business unit or function other than IT." Employees who become citizen developers are able to develop and deploy software solutions that directly suit their individual and team workflows.
Trying to decide if it's time to turn your employees into citizen developers? Read this article to help you decide.
Kintone as a no-code application platform
Kintone's no-code platform offers businesses an easy way to get the customized business software they need to do their best work. Designed for teamwork, the cloud-based platform lets you house all your data, workflows, and conversations in a centralized place the whole team can access.
Citizen developers of every technical level can use Kintone's drag-and-drop interface to create the applications they need at a pace "traditional" software developers can't hope to match.
The average Kintone customer takes less than one month to go live on our platform. "Going live" means that the platform is being used for its intended purpose, whether it's tracking sales leads, managing product inventory, or something else.
""I really love Kintone. It's such a smart database. The way I originally explained it to my team was that it's a "blank check" database. You can make it what you want. It's versatile, it's smart, and it's easy to work with." - Heather Johnson, A-B Emblem
To learn more about how Kintone can serve your business needs, schedule a one-on-one product demo with one of our product experts. Whether you have a single question or want our team to build you a custom sample app, we'll give you the information you need to make the best decision for your business.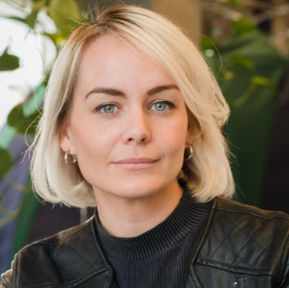 About the Author
Michelle is the Content Marketing Specialist at Kintone. She is a content marketing expert with several years in content marketing. She moved to San Francisco in 2015 and has experience working in small businesses, non-profits, and video production firms. She graduated in 2012 with a dual degree in Film and English.