When it comes to school upgrades, school budgets leave a lot to be desired. But not all improvements come with eye-watering price tags. With Kintone's new education pricing program, schools can get the all-in-one education management software solution they need at a price that meets any budget.
We've Put Our Education Prices Front and Center
We've created a handy chart to make it easy for you to view our pricing system.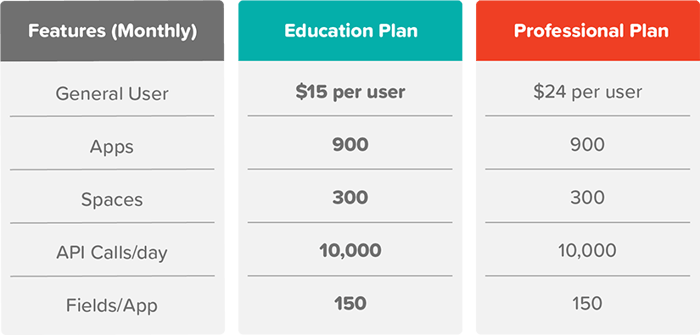 And whether you build from scratch using integrations, add-ons or template applications from our library to help you get started right away, you can super-charge your Kintone experience by connecting to the data and services you already love.While we might have slashed our prices we haven't cut a thing from our services. You'll still get every feature of our Kintone platform. From workflow management to dashboard analytics, you can track every aspect of your administration from one centralized platform.
The Sore Thumb of Education Pricing Programs in Low-Code Solutions
We'd like to think our pricing is just like our software: ahead of the curve. That's why we've developed an education-specific pricing program that few competitors can match: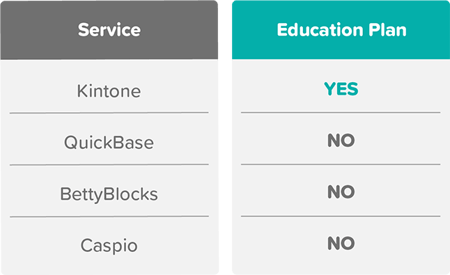 Get Kintone At the Price For Your Budget
While we're enthusiastic about bringing great tech to teams who need it, our education pricing program is for schools and educational institutes. To qualify for our educational pricing, you must meet the following requirements:
Have a registered .edu domain

OR

be listed in the U.S. Department of Education database
Be listed in the Department of Education for your state
To learn more about Kintone as a school management software or for any questions about our pricing, please contact our sales support team.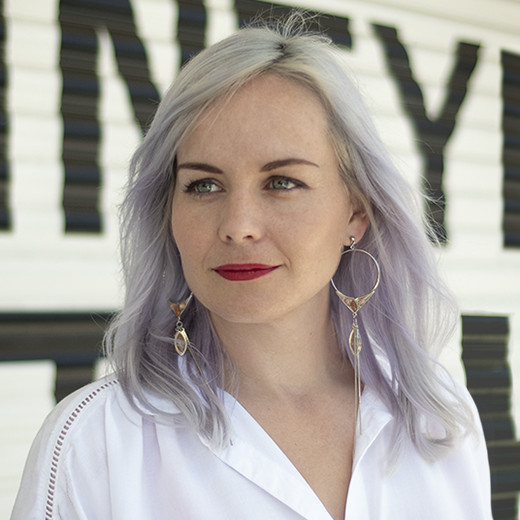 About the Author
Michelle is the Content Marketing Specialist at Kintone. She is a content marketing expert with several years in content marketing. She moved to San Francisco in 2015 and has experience working in small businesses, non-profits, and video production firms. She graduated in 2012 with a dual degree in Film and English.