When companies went fully remote practically overnight, all social interactions went from in-person to behind a screen. If you're a social butterfly, you probably felt the impact of a fully remote work life quicker than others (no team lunch?!), though ultimately everyone has felt the strain. We're social beings, we crave human connection, and it's evident during our camera-on weekly meetings. When someone shares personal news, the excitement is palpable. The chat always goes off, everyone wants more details—show us the baby bump, we like your new bangs, is that a new dog on the screen? Yes, we love our Kintonian updates.
Luckily, remote PIGs saved our Kintonian's social lives from total demise. No we aren't talking about the pink four-legged pig that goes oink—we are referring to Kintone's Personal Interest Groups (PIGs). This is a company benefit for Kintonians to start a social club around any topic or hobby of their choice. You need to recruit at least three team members, and submit a record with the description to HR for approval. This social activity is 50% reimbursed by Kintone; you just have to write a report, tag members involved, including photos, and submit an expense report.
Below are a few examples of some of our PIGs. We currently have 44!
Our PIGs were in place before the quarantine happened. While some were in person activities such as playing soccer and karaoke, we were able to transition our most popular PIGs to a remote setting.
Below, we're sharing our five favorite PIGs during quarantine that saved our social lives.
1. Foodies
Can you guess what the theme of our Foodie PIG was last month?
Every first Wednesday of the month the Foodies get together to eat lunch and share their recommendations for the food of the month. Having a Foodies PIG was a no brainer, and we take our food choices very seriously at Kintone. We started out with sushi. Everyone had a unique sushi roll to share, and we jotted down the best places to get sushi around the Bay Area. Then we chatted about what we should order the next month and landed on Mexican food. This is a great way to catch up with coworkers and also support local small businesses.
2. Workout Buddies
Crunches are no fun, but they are more doable when working out alongside your workout buddies.
Every other Tuesday, Haokun leads a 30-minute workout session. Every session is different, ranging from abs, chest, legs, or a full body HIIT workout. All you need is a yoga mat! While working from home, we're spending much more time being stationary—bed, desk, kitchen, repeat. A few Kintonians complained of back problems and feeling more sluggish since the quarantine. This is when we knew it was time to bring back the workout PIG. Exercise is an incredible health benefit not only for your body, but also relieves stress, insomnia, and overall mood. Highly recommend working out with a friend virtually if you need the motivation to keep going.
Also read: 5 Ways To Avoid Remote Work Burnout
3. Game Night + Sweeties
We went from Friday evening happy hours at the bar to Friday evening game nights online. We're not complaining—it's much nicer (and cheaper) to sip a beer in the comfort of your home while playing games with coworkers. We even combined our Sweeties PIG on one occasion and ordered boba and desserts. Our favorite games to play are Drawful and Trivia Murder Party, and we are constantly adding new games to the mix. While we do join in to have a jolly good time, our secondary motives are to take down Steve and Euna who ALWAYS win.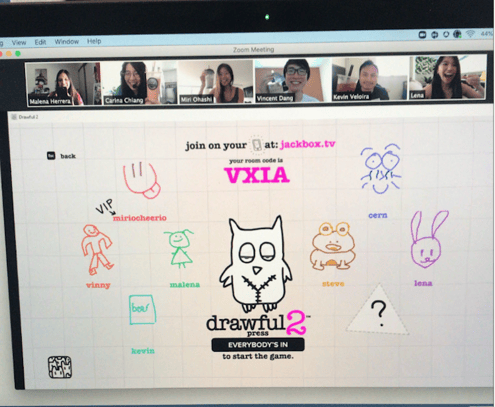 4. Ipsy Glammers
When we first told Osamu, Executive Vice President of Kintone, that we were starting an IPSY PIG, his first reaction was a hearty laugh. A club around makeup?! IPSY is a makeup subscription program that delivers five customized sample sized products in a cute makeup bag each month. We decided to start a PIG so that we could share what we received, swap products, and share makeup tips. This has been the most active and most resilient PIG out of all of them. We've been a steady group of about five to seven members for almost two years now! I like to think of this group as a sisterhood. While we do discuss makeup, it's become a safe space to share life updates, from moving in with partners, motherhood, diet and workout tips, and a blissful 45 minutes to put work aside.
P.S. Ipsy is a Kintone customer! Yet another reason to love them :)
5. BLM/Social Impact
We recently started a Black Lives Matter and Social Impact PIG with the goal to educate ourselves about the BLM movement and what we can do to address these injustices that are happening in our very own communities. We'll be sharing books, YouTube videos, articles, and movies that we can watch and later discuss as a group. We'd also like to invite speakers from organizations that are making an impact and who can share how we can be more involved or simply share a new perspective. We acknowledge that none of us are experts, and we need to learn from others by listening.
If you were to create a PIG, what would it be about? Let us know in the comments!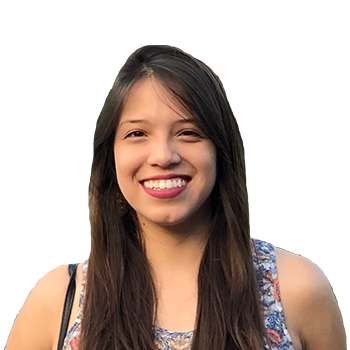 About the Author
Malena is a Senior Events Specialist and Marketing Campaign Associate at Kintone, where she enjoys getting people excited about Kintone through events they host and creative marketing campaigns. You will find her sketching out new ideas for social media copy, drooling over event catering menus, and flipping through Kintone threads where all the project management lives. Born and raised in San Francisco, she is a natural at finding the best places to eat in the city and navigating towards the nearest Bart station. Malena graduated from UC Berkeley, with a degree in Psychology, roll on you bears!