Getting work done as an intern is hard for any job. As an intern, you have a vague idea of what is happening around you, and being productive can be a hard task. But what differentiates my internship experience at Kintone compared to previous ones is the fact that I had Kintone to stay organized and productive every step of the way.
Kintone provided me with a structured and an easy-to-navigate workplace in the following ways:
Notifications of which tasks I have and which ones have an upcoming deadline

A calendar of company events and internal meetings I have coming up

All the introductory information that an intern would need to know

Threads that allow for discussion and communication, and

Other custom apps to supplement the workflow of tasks.
As an intern when you first log into Kintone, here is what you see on the portal page.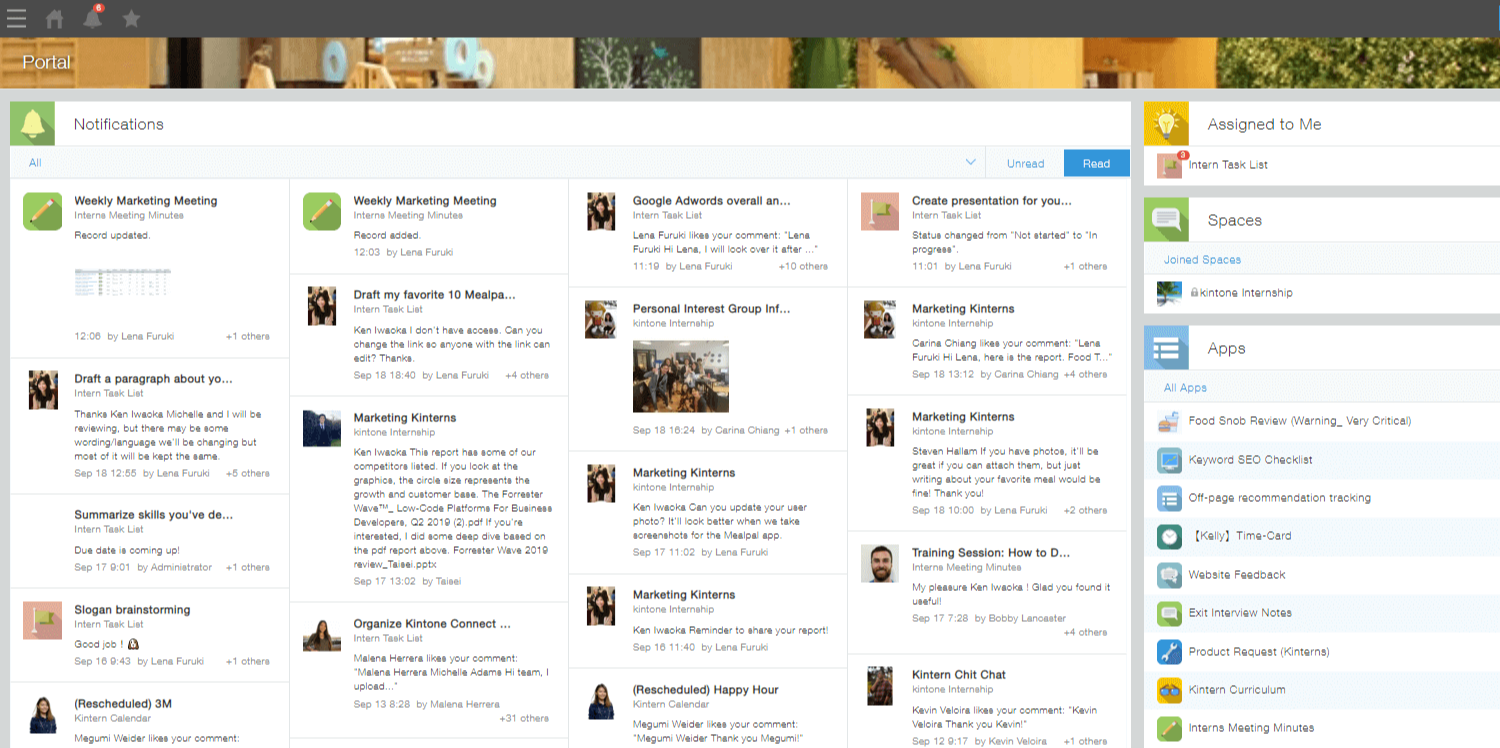 The four main components of the portal page is the Notifications box, Assigned to Me box, Spaces box, and Apps box.
The Notifications box notifies users to view messages you have unread and read. The Assigned to Me box takes you to an app that has all of the tasks assigned to you. The Spaces box allows users to be part of different groups. In my case of being an intern with limited access, I could only access the internship space. In the Apps box, you can find all of the Apps that I have access to across different Spaces that support day-to-day workflow at Kintone.
I mostly use this page to look at my notifications, access my tasks assigned to me through the Intern Task List, or go to the Kintone Internship Space and access my apps from there.
Today I'm going to share the top three apps I used during my internship that helped me stay organized and focus on what's important. I hope this article provides internship supervisors a good understanding of how structure can help boost interns' productivity and growth.
1. Intern Task List - No question, the app I use the most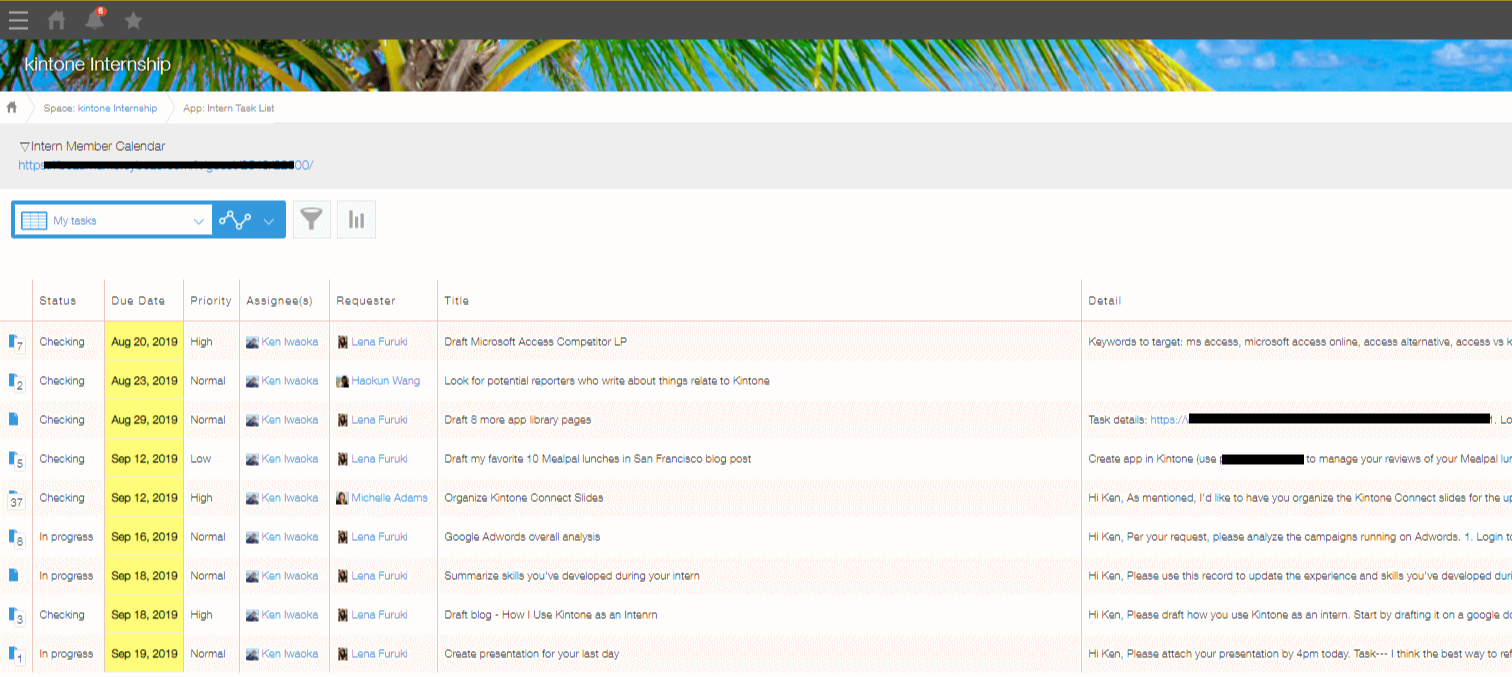 Inside the app, each task is shown in a list format with the status, due date, priority, and other relevant information. By clicking on each task, you can view the task in more detail and submit the task for your manager to review.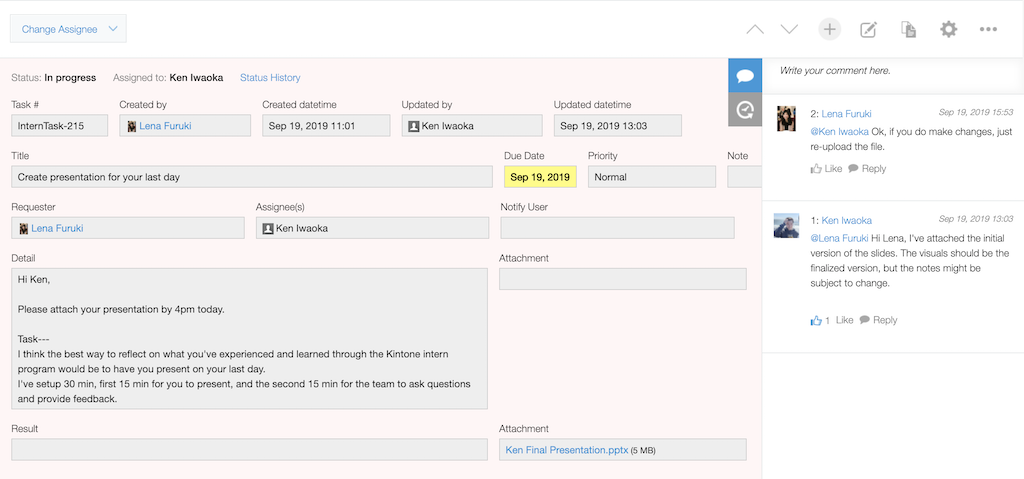 I can't emphasize enough the ease of access and organization that Kintone provides when managing your tasks and projects. In my previous internship, the tasks were assigned by an attachment on Outlook email. Using Outlook was a hassle since we get hundreds of internal emails every day, and projects were sometimes overlooked when going through the inbox. On top of efficient assignment of tasks with Kintone, you can also communicate right on alongside each task!
ALSO READ: Summer Intern at a San Francisco Tech Startup - What it's like at Kintone?
2. Interns Meeting Minutes
The next app I use the most, and my personal favorite, is the Interns Meeting Minutes. In this app, you keep a record of meetings and attach any files or notes associated with the meeting and share it with appropriate team members.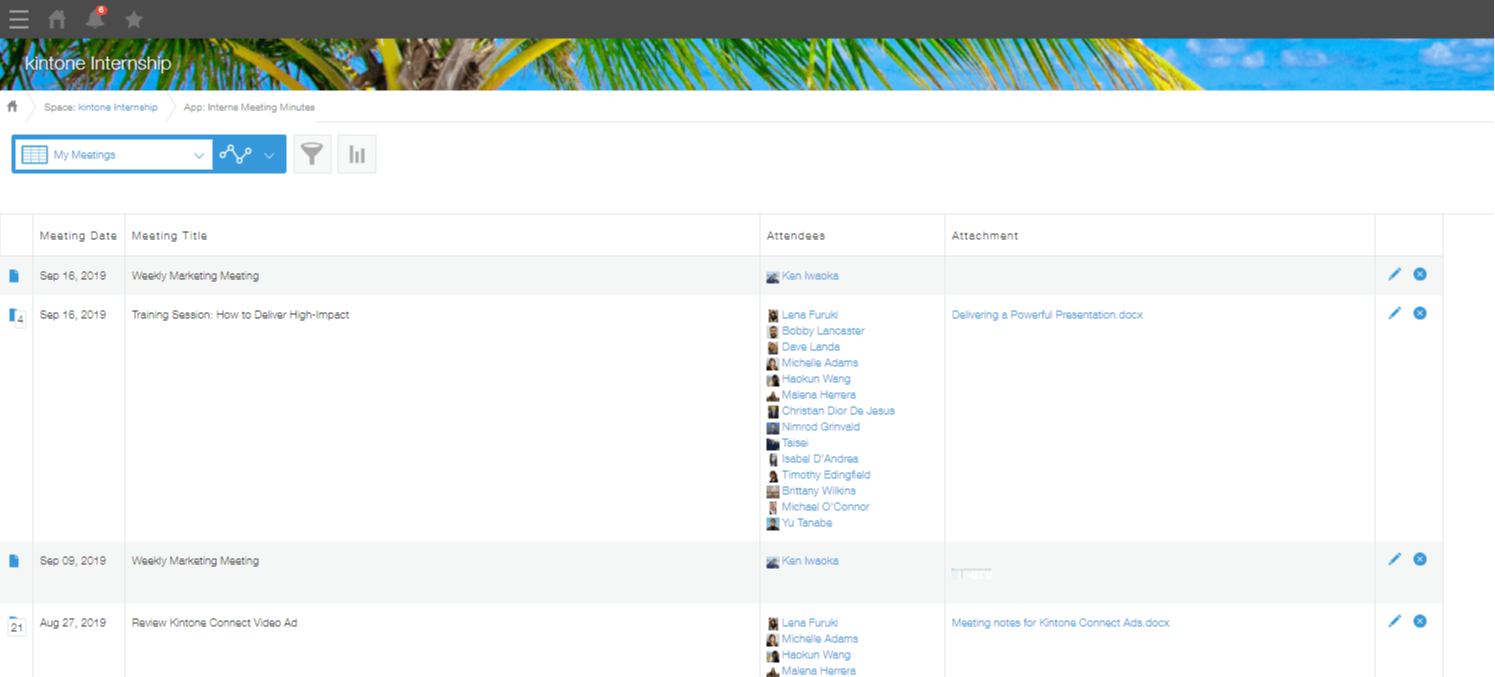 This is a great feature because it centralizes all the archives in an easy to access format. Compared to my previous internship where I needed to go to a different person or email every time for the notes, this eliminates unnecessary steps and headaches for the interns.

3. Daily Report - Important app for interns' growth
The final app that I like to use is the Daily Report app.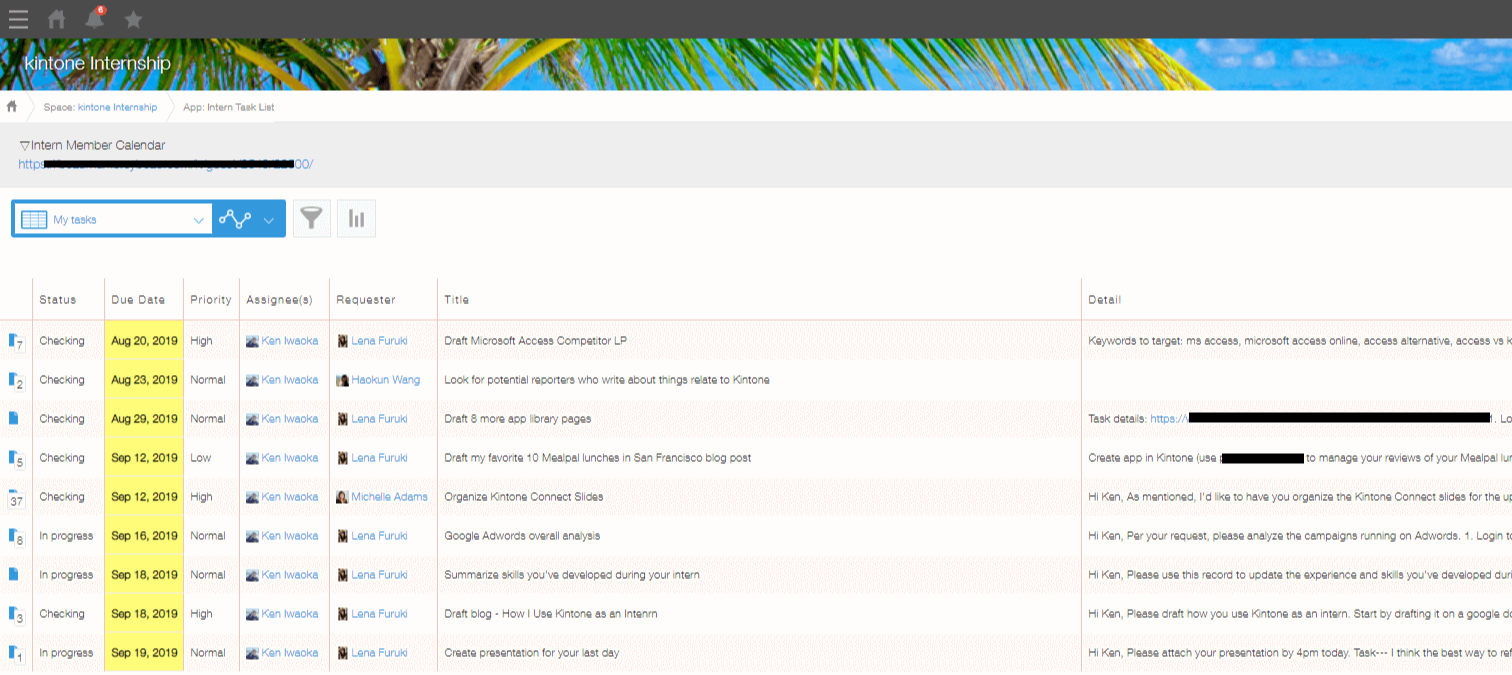 As the name suggests, this app is used to submit daily reports to your manager on what you've done during the day. Not only is this a simple solution for reporting, but it also allows the interns to look back on previous accomplishments. It's easy for an intern to forget what they have done in the past, especially with all the new information thrown at them. Without this app, reflecting on what you've done would be so much harder and make the intern's growth much slower.
RECOMMENDED: How Do Kintonians Use Kintone?
Those are my top three apps I used during my internship, but there are many more that help interns succeed during the limited time of the program. And without them, this internship would not have gone this smoothly, and I would not have been able to complete as many tasks and grow as a professional as I did this summer - so thank you Kintone!