A lot of moms want to return to work. But the challenges they face are daunting: hiring managers that view multi-year work gaps with suspicion, digital job application filters that discard any resumes without specific industry keywords, and company cultures that expect moms to pretend they don't have kids and work as if they were childless.
Enter The Mom Project, a company committed to making corporate America accessible to moms. Run by Allison Robinson, a mother of her own young son, The Mom Project creates opportunities for moms to meet and connect with companies that not only want moms but have policies built to support them.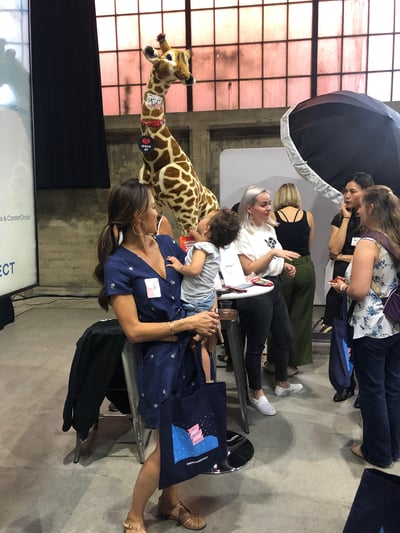 Meeting Bay Area Moms Who Want to Work at the Women's Work Initiative
On Thursday, October 24th, The Mom Project hosted the Women's Work Initiative, a networking event between local businesses and moms interested in meeting potential employers face-to-face. The event gave attendees a chance to talk directly with hiring managers about their desire to work, what they were passionate about, and what they could do. Companies also had a chance to share their own policies designed to make work-life balance guilt-free and easy for moms, especially those with very young children at home.
As part of our partnership with The Mom Project, we attended the event to share our own love for working moms. Our Content Marketing Specialist, Michelle Adams, shared Kintone's company values in a short presentation to the hundreds of women who attended:
"A lot of companies think of moms as people who've been outside the workforce. But the truth is, moms have been working. And the work they've been doing is not only harder, it has no days off. No overtime pay, no place to hand in a resignation letter when they're at the end of their rope.
But it's the challenges they've faced and overcome as moms that not only make them great mothers—but desirable employees. We see that at Kintone, and that's why we hire moms.
So often, companies don't take the time to understand how a mom's skills correlate to a businesswoman's skills. But they do. What a parenting blog calls flexibility, the workplace calls 'ability to prioritize.' What experts call a can-do, work through attitude, we call a 'strong work ethic.'
Moms have spent every day developing a list of skills that make that make them not only great employees, but reliable colleagues. At Kintone we notice that, and we want it."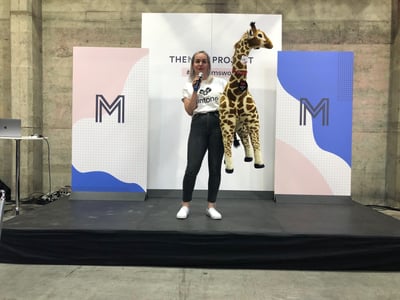 Our Passion for Working Mothers Is More than Words
Many of the working moms at Kintone feel the company has helped them find a balance between their work and families. As Office Administrator Miwa Feinberg put it:
"It's really nice to work for Kintone when you have a family and little kids. I don't expect to see this kind of flexibility and freedom anywhere else. Kintone trusts you to decide how many hours to work and where to work.
If you have sick kids at home so you want to work from home, no problem. If your kids have a doctor's appointment so you will be offline for an hour, no problem. There are no unwritten rules or peer pressure from colleagues.
When I was working full time at my previous company, there wasn't an option for working fewer hours, and I was still supposed to request PTO 3 days in advance...something you can't do when kids get sick anytime. Kintone stands by what they say: 100 people, 100 ways of working."
We're Part of a Larger Vision for People-First Workplaces
Our vision for working moms is also shared by our parent company, Cybozu, who has a well-earned reputation for empowering working women and mothers in Japan. Great Place to Work, considered the global authority on high-performing workplace cultures, has named Cybozu one of the best places for women to work for four years in a row.
Among Cybozu's own progressive mom-oriented initiatives include a six-year maternity leave policy and a Mama Internship program that helps mothers return to work. The company's head office in Tokyo also features a play room where moms can watch their kids while they work.
"After 16 years of raising my children, I didn't have the confidence that I'd be able to return to the workforce," says Naomi Ehara, who joined Cybozu as a full-time employee after completing the Career Mama Internship in 2016. "I thought my skills were all gone, and I wasn't sure if I could work just the way I used to. But after I started working again I realized that it's still there. My skills aren't completely lost. It just takes time and support to successfully make the transition."
Many of the women who joined the Women's Work Initiative had similar stories of their own, but all of them were passionate about finding a spot in the workforce where their talents could be recognized and utilized to their fullest.
At Kintone, we are passionate about our motto of 100 Workstyles for 100 People. We believe that work isn't about leaving a part of yourself at the door or fitting a mold to match what the company needs. It's about creating a dialogue where companies give people the flexibility and freedom to execute their best judgement as part of balancing their professional and personal lives. As Adams shared, "What our motto means is that we don't ask you to adapt to our office. We work with you, in all your strengths, weaknesses, and circumstances."
To learn more about current hiring opportunities at Kintone, visit our job page.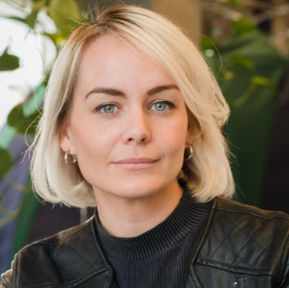 About the Author
Michelle is the Content Marketing Specialist at Kintone. She is a content marketing expert with several years in content marketing. She moved to San Francisco in 2015 and has experience working in small businesses, non-profits, and video production firms. She graduated in 2012 with a dual degree in Film and English.