Kintone Connect Chicago was held on Wednesday, October 9th, at City Point Loft. Chicago is one of the four stops on the Kintone Connect traveling roadshow series along with Los Angeles, Boston, and San Francisco. Attendees traveled from far and wide to be a part of the first Kintone Connect ever held in the windy city.
Below we've outlined the top five things you missed at Kintone Connect Chicago. We've also got some exciting news to share about how you can be involved at the bottom of our recap.
1. We Took A Quick Trip to Cybozu HQ in Japan

To truly understand Kintone's vision of a society and company brimming with teamwork, attendees took a tour through Cybozu's early years as a company in Japan. Kintone CEO, Dave Landa walked attendees through the history of Kintone, stretching as far back as 1997 when three engineers quit their job to create Cybozu. Inspired by a vision of better teamwork, the three engineers set out to create a collection of business software designed for faster, more effective team collaboration. One of their projects became Kintone.
Fast forward to 2019 and now over 12,500 companies are making teamwork better with Kintone. Cybozu is also now internationally recognized for its progressive workplace policies. Not only do employees love the company's new work-life balance—the company loves it, too.
Check out everything that happened in between 1997 and 2019 below.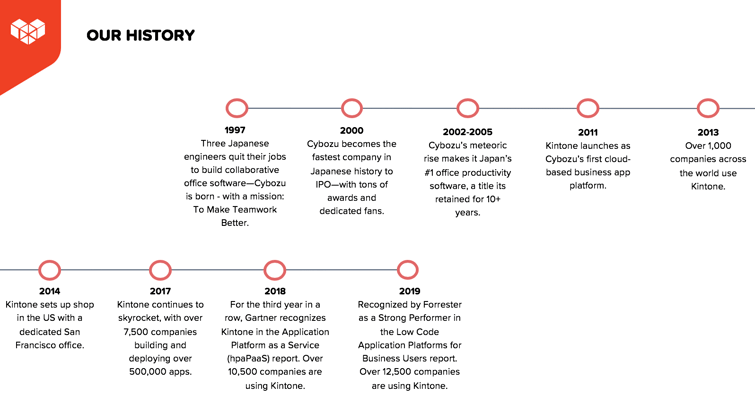 2. We laid eyes on a magical triangle. Seriously. It will change your company for the better.
At Kintone, we believe that if you have the right tools, policies, and culture in your organization, then you are on the track to success. As you can see below, these are the three components that make up the transformation triangle. But success isn't just about having the right tools—it's also about how you implement them. Sound simple enough?
We backed up the transformation triangle claim with internal data on how it made a difference to our own teamwork. The numbers don't lie. When we implemented the transformation triangle, our revenue went up and our turnover rate went down. We also walked through how we've engrained the transformation triangle into every fiber of Kintone through initiatives such as the Mama Internship, 100 Workstyles for 100 People, The Aspiration Engine, and our commitment to the community via the Social Impact Challenge.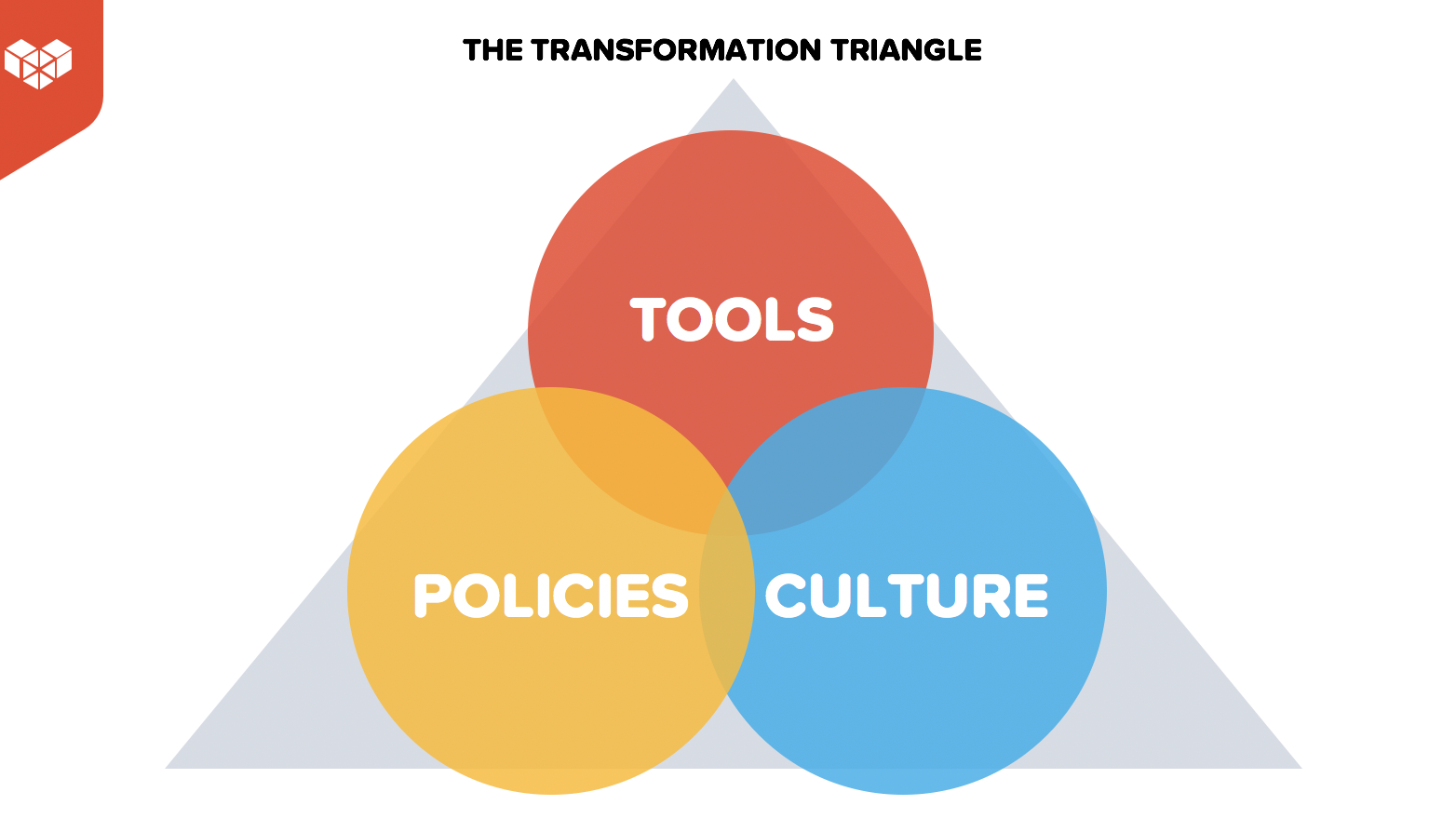 3.) Product maven Taisei gave us the facts
If you're a 'give me the data' kind of person, you would have loved this part. Taisei outlined some of the issues that many in the workplace are now facing.
Fact #1: Workers aren't equipped with the tools they need to build their own software
Fact#2: The demand for app development is five times more than IT can handle
Fact#3: 75% of company IP is contained in email
Solution: Kintone!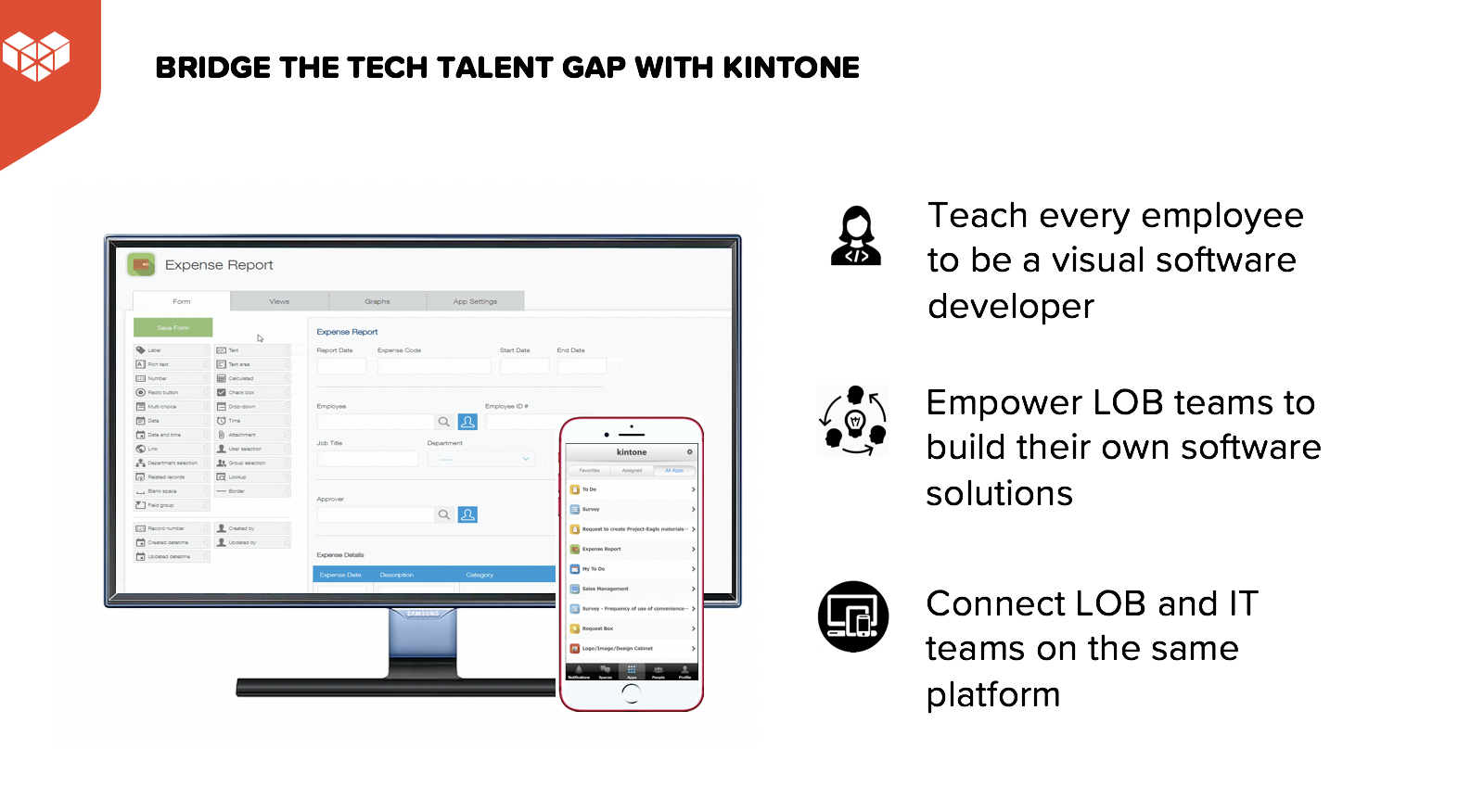 4.) We Voted For Our Favorite Social Impact Challenge Design
NPO Community Leader, Tim Edingfield enthusiastically introduced us to seven Social Impact Designs created by members of the community in San Francisco as part of our Social Impact Challenge initiative to help put an end to childhood hunger. Once he had presented all seven designs, attendees were invited to the Social Impact corner where they could view what the concept could look like as an app and read more details.
Feedback and voting cards were provided to encourage attendees to share suggestions and ultimately vote for the design that they think will make the most impact. The winner will be announced in San Francisco on December 12th, when we hold our last Kintone Connect of the year with our partner TechSoup.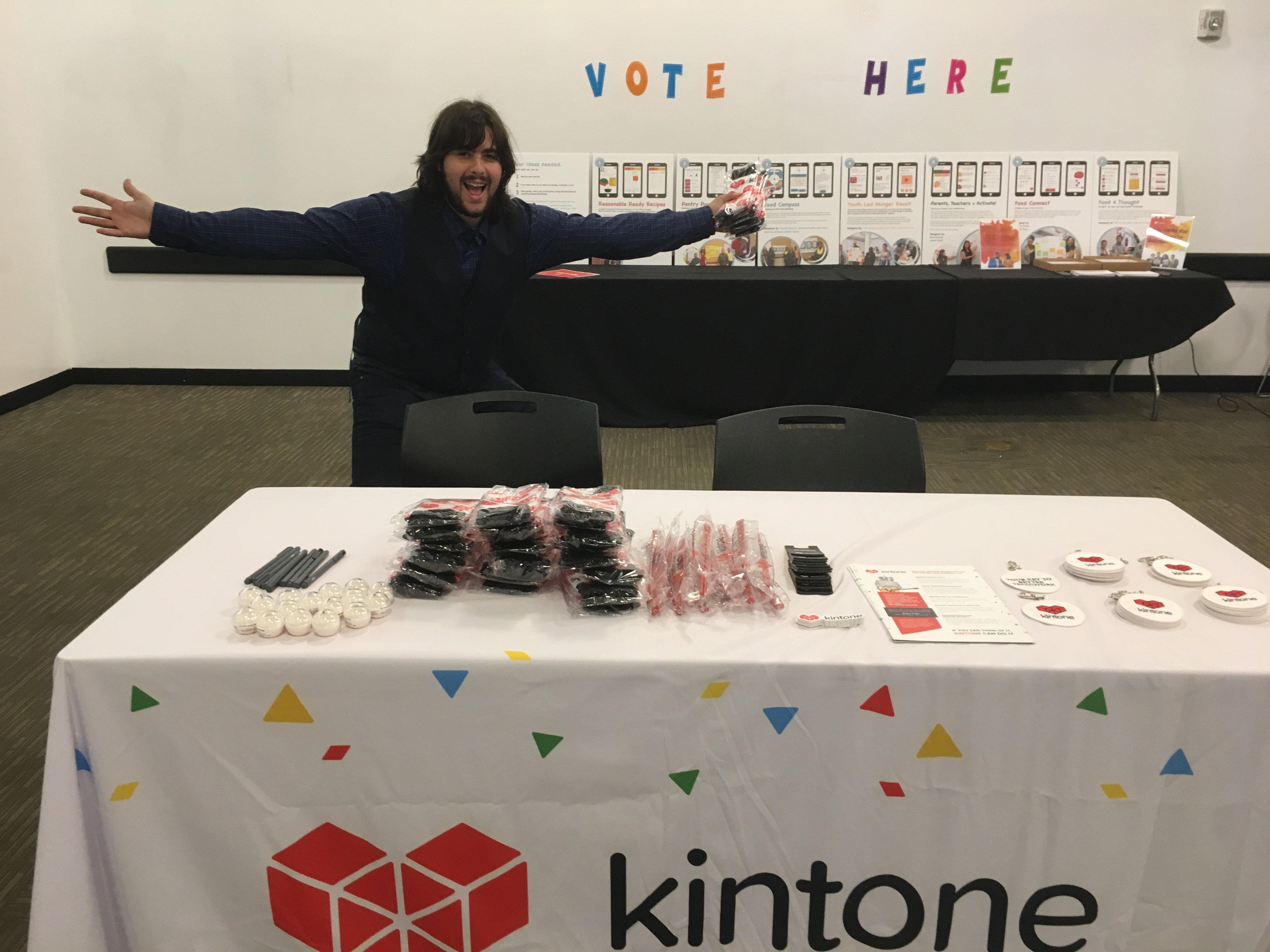 5.) Our panelists sat on the big comfy couch onstage
Kyle Novitsky, our local Account Executive in Chicago and moderator of the panel, wasted no time to ask panelists the big question, "what does social impact mean to you". Starting from the left, we were joined by Sharon Burns, CEO & Founder of BlockData4Good, Allison Robinson, CEO & Founder of The Mom Project, and Andrew Means, Senior Director of Global Impact Initiatives at Salesforce and founder of Data Analysts For Social Good. Panelists sat down with us to share the core ingredients of good teamwork and their unique experiences in using technology as a tool to make an impact in their community.
Here are some of our favorite quotes:
"Technology is critical, but not technology alone. Think about what is needed in your team's culture that can enable better teamwork, tools can be the gateway." - Andrew Means
"Cultures that reward individual contributors hurt the company, you want someone that knows how to play ball." - Allison Robinson
"It comes down to your team strategy, what's most important is your culture and how you cultivate it." - Sharon Burns
"Take some risks, control the downside risks, you can do it (create your own organization) in increments, you can do it in the way you can, don't let perfect be the enemy. You don't have to quit everything on your plate and go 100% into something." - Andrew Means

ALSO READ: Kintone Connect Los Angeles: A Look Back By Kintone CEO Dave Landa
We're sorry if you're experiencing a bad case of FOMO after reading what you missed at Kintone Connect Chicago. The good news is...you can still participate!
There are two ways:
Vote online

for the Social Impact Challenge Design of your choice.

Register for

Kintone Connect San Francisco

and if you are not in San Francisco, but know of a friend who would love to join us, feel free to invite them.
Look out for the next blog in our series for updates on who the winner is!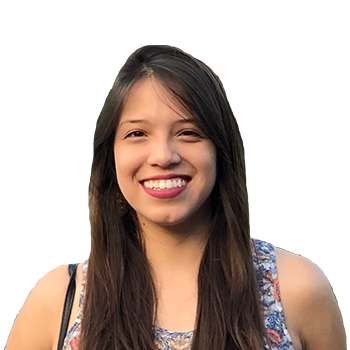 About the Author
Malena is a Senior Events Specialist and Marketing Campaign Associate at Kintone, where she enjoys getting people excited about Kintone through events they host and creative marketing campaigns. You will find her sketching out new ideas for social media copy, drooling over event catering menus, and flipping through Kintone threads where all the project management lives. Born and raised in San Francisco, she is a natural at finding the best places to eat in the city and navigating towards the nearest Bart station. Malena graduated from UC Berkeley, with a degree in Psychology, roll on you bears!