WFH Parenting in the Era of COVID-19
In the face of accelerating COVID-19 cases in the US, California just announced all schools will now be closed at least until May 1st. I suspect we won't be the only state to move in this direction.
For parents of school-aged kids like myself doing the Work From Home (WFH) thing now, this means what may have been a couple week exercise in flexibility, patience, juggling, balance and new rule-setting is now the new normal at least for the next couple months.
I'm a busy CEO with two boys: a 13-year-old in middle school and 15-year-old in high school. They're now home all day with my wife and me, so I am experiencing firsthand the unique challenges of working at home alongside kids who are schooling from home (SFH). As such, I have a few tips and tricks from my experience that I'd like to share.
For years, our policy at Kintone has encouraged and promoted flexible workstyles and remote work options for team members, including parents. As a result, we have several Kintonians who are also parents and have more WFH experience than I do.
So, in a nod to chapter one of the CEO handbook, 'You Don't Know Everything,' I have also crowd-sourced the expertise and insights from many Kintone team members for the following ideas.
Even though the kids are home they still have online classes.
Thank you everyone who contributed, and I hope this guide will provide some assistance and direction to those trying to navigate this brave new world (ironically, the book my 9th grader is reading right now for English) of working and parenting at home while everyone is home all the time.
Time Segmentation and Scheduling for WFH Parents
Good time management is always critical for busy folks to be productive. What I'm referring to here is the unique way we can segment our days when working from home to incorporate quality time with family.
Personally, my regular commute to the office was composed of a drive, a boat ride, a train ride and a walk. Each one is relatively short, but they add up to an hour and 30 to 45 minutes each way. These three-plus hours of reclaimed time has given me the opportunity to schedule my day differently.
A few things I've done with the 'extra time' opportunity to re-balance for WFH parenthood:
Meals with Family
I now can get some quality morning breakfast time with my younger son before he starts his remote classroom day and I start mine. Along with many of my fellow WFH parents, lunch has become a regular all-family activity. And weeknight family dinner, which had been about a 25 to 30% occurrence on weeknights for me previously, due to both my work schedule as well my kids' sports schedules, is now an 80 to 90% occurrence.
Midday Family Breaks
Since I can also get more of my standard daily tasks of emails and 'tones done during this reclaimed commute time ('tones are the name we give to the notifications from our Kintone platform, which is our workplace intranet that we all use internally to manage all of our daily operations, workflows and communications), and generally have more flexibility with scheduling meetings and deep work, I am now intentionally coordinating with family and blocking midday time for outdoor exercise sessions.
Since my sons have been getting all their exercise at sports practices for years now, this has been a great opportunity to spend time and share an experience with them that I wouldn't otherwise have, while also refreshing and recharging for the rest of the workday. Many of my colleagues with younger children and different interests carve out midday age and interest appropriate family break time as well, for things like snack time, play time or music time.
Intentional Scheduling
Of course, maintaining a very closely intertwined busy work schedule and busy family schedule requires deliberate and intentional scheduling and as much advanced planning as possible. I'm very fortunate in that I have older kids with somewhat regular school from home schedules and a wife who is a full-time mom. But for those families with parents who both work and have younger children requiring much more attention throughout the day, the pre-planning and schedule coordination is even more critical.
Schedules for everyone (and individual workspaces) help
create a sense of structure for the Landa household.
Boundaries & Discipline to Help Separate "Work" from "Home"
With this opportunity to spend more time with family also comes the challenge of being productive for work while being in the same space together with your family all day with the distractions and interruptions that can come with that. In addition to the intentional scheduling, creating boundaries and enforcing discipline are also key to effective WFH parenting.
Cues & Planning
Creating a boundary, both literally and figuratively, when necessary is important. Having a home office with a door is great, but we do not all have that and depending on the children's age, doors may not help all that much. So, establishing rules and cues, like a closed door or a 'do not disturb' sign or headphones on to indicate 'don't interrupt' times, while also coordinating daily 'do not interrupt times' with your spouse at the beginning of each day is essential.
Rules & Consequences
Discipline applies not only to the kids but also self-discipline too. As we all know, kids tend to learn more from what they see than what they hear, so providing a good example of self-discipline is a key if you want the same from the kids. Of course, general parenting still applies during WFH so establishing those guidelines and rules and having proportionate consequences that are clearly explained in advance are still best practices.
Sometimes you have to be a parent and an employee at the same time.
But Kintone moms are making it work!
Fun & Sharing with Family
On the other hand, as one of my colleagues pointed out: "As parents, let's not forget why most of us are working in the first place: for our family." So, be patient, really embrace the opportunities for more sharing, and even try to appreciate and have fun with the distractions.
Sharing Work
During times when the work you are doing does not require quiet or complete focus, try doing "family work together" time at the kitchen or dining room table. It's a great opportunity to share more of what you do for work with your family as well as understand more of what your kids are working on at school.
Embrace Interruptions
We've all seen or heard the kids in the background during Zoom calls these past few weeks. To the parents out there, if your boundaries and discipline don't work exactly as planned, I say Introduce them, give them a chance to say hello to your team, to your clients, to your prospects. We're all humans. We are parents, we have kids, and we are all working in close proximity with our kids now, so embrace it, have fun with it, don't be embarrassed by it. At this time, everyone does or at least should understand.
In the Chinese language, the word for "crisis" is wei-ji (危机) , which is the combination of two root words for the concepts of "danger"(危险) and "opportunity" (机会). Indeed, in this time of danger and disruption, it is also a time of great opportunity.
For WFH parents, if we stay positive the opportunity is great to spend more quality time with the family, do things with them that you haven't had the chance to do in the past, and humanize yourself and connect more with your colleagues and clients.
For me personally, especially with my 15-year-old high school freshman who was quickly moving into his teenage world of friends apart from the family, this enforced WFH experience has come as a warmly appreciated reprieve and temporary reversal from that very natural detachment and separation. And I am thankful for the opportunity.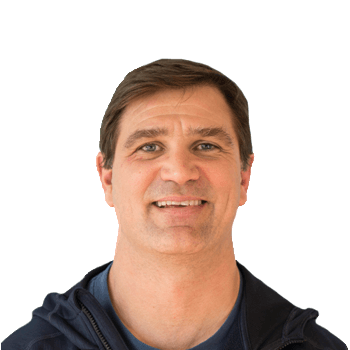 About the Author
Dave Landa is CEO of Kintone and has been on the forefront of the Cloud revolution driving strategic business development on the executive teams of multiple leading Software as a Services (SaaS) application providers dating back to 2004.