Everyone remembers their first time working from home. It's a monumental day in your career, when it sinks in that you can finish your workload from the comfort of your home. Maybe you played that Fifth Harmony song "Work From Home" on repeat while you took your inbox down to zero from the comfort of your bed. Instead of that unpleasant 45-minute bus ride to the office, you used that time to tackle your next project and start a load of laundry. Oh the joys of telecommuting.
Do you also remember the first time it dawned on you that perhaps that sharp neck pain was from sitting on your couch all day hunched over your laptop? We've all been there.
Making the transition to remote work, just like any facet of our lives, takes some adjusting to. But it's worth taking the time to learn what your optimal work setup looks like and implementing it. You are worth the investment.
Read Also: Remote Work Best Practices: What We've Learned at Kintone
Before you rush out to purchase all the ergonomic friendly options out there, hang tight and read on as our Kintonians have shared how they've successfully customized their workstations. You'll find that many of these work spaces are budget-friendly and infused with personality. After all, sitting at a desk should not feel like a prison sentence! Below are five ways you can revamp your work-from-home station to make it a space that you are proud to call all yours.
1. Neat as a pin
"Organization is key," is the advice of Kintonian Steven, sharing his double monitor setup. This is a very popular setup amongst other team members as well. Meanwhile, Haokun takes it the extra step with tips to stay organized and a sneak peek of where the snacks are hiding. Lisa wins the award for largest desk and cutest home office. Adorable child not included.



2. Make sure you're comfy
If you're going to spend 40 hours a week sitting behind a computer screen, you want to make sure that you're comfortable.
"I use an L desk, and the vertex of the angle is my main monitor setup. To the left of that near the edge is my work Macbook, and on the other side is my personal one that's usually playing Spotify. The one thing that pulls everything together is my racer chair for comfort!"- Kevin
Speaking of pulling everything together—can you spot the foot pillow in the photo above (right)? It's the accessory you didn't realize you needed in your life—your feet will surely thank you for this.
3. DIY monitor stand
You've probably picked up on the double monitor photo trend by now. Before you start looking up monitor stands, you'll want to take a look at some of the genius monitor stand hacks that our Kintonians have going on. They're quite creative! Cost? $0
"I use a piano bench to prop my monitor and sit on the carpet to see my screen. Not very conventional but it works"- Georgina
"Sometimes you have to get creative with your computer stands," Alex advises, as she breaks down her creation. "Featured to the left is the cutest elephantè that you ever did see, and a dried rose from my wedding. I also taped blue post-its, they seem to be easier on the eyes than ugly boxes."
But she did leave us with a warning considering we live in California. "Lets just say if an earthquake hit...my setup would be TOAST."
BONUS: Learn about creating a digital workplace for your team
4. Personalized desk accessories
Don't forget to add some personal touches to your desk; here is where your personality can really shine. The best part is that most desk decor items are already in your home! Ask yourself which items bring joy to your life. It can also be a memory or a photograph of someone special.
Mike admits he's a minimalist. "Two monitors are a must, no clutter, and photos of Mom and Dad keeping an eye on me to make sure I stay on task!"
Darth Vader keeps Leo on task with a menacing saber in hand, though it looks like a duel between Obi Wan and Darth Vader has ensued.
For all the anime lovers/gamers out there, Carina found Fate Grand Order figurines and a League of Legends mousepad. Keep your fandoms right where you can see them, next to your monitor.
5. Work buddies
For those with furry companions lurking around, we have a serious question. How do you manage to stay on task with those puppy dog eyes looking up at you during meetings? We are grateful for all the pet cameos we occasionally get when video conferencing, please keep them coming.
Also read: Work From Anywhere: The Next Phase of Work From Home
"My pugs are so needy, so I now use a folding bench seat (used to be my girls'). They immediately start snoring right next to me... It's so tempting to take a nap with them."- Atsumi
Isabel couldn't resist getting her dog into the Kintonian team spirit with our heart shaped logo socks to stay warm during those harsh East Coast winters.
We hope that after reading this blog you feel inspired to revamp your remote workspace! Let us know in the comments which of these five tips was your favorite.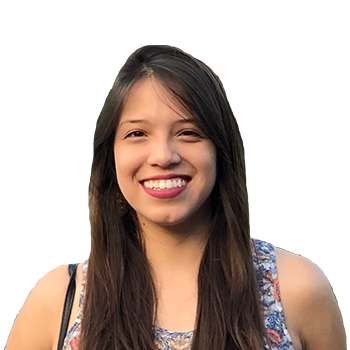 About the Author
Malena is a Senior Events Specialist and Marketing Campaign Associate at Kintone, where she enjoys getting people excited about Kintone through events they host and creative marketing campaigns. You will find her sketching out new ideas for social media copy, drooling over event catering menus, and flipping through Kintone threads where all the project management lives. Born and raised in San Francisco, she is a natural at finding the best places to eat in the city and navigating towards the nearest Bart station. Malena graduated from UC Berkeley, with a degree in Psychology, roll on you bears!