To celebrate our upcoming Bay Area Social Impact Challenge, we sat down with the woman who inspired it all. Emiko Nagaoka is a native from Chiba Prefecture and current stakeholder at Cybozu, Inc. In 2015, she hosted Japan's first-ever social impact challenge in Chiba, Japan.

The event, called Chiikura, saw nonprofits, startups, and entrepreneurs pitch their ideas to a local audience for fundraising. The event received wide media coverage in TV, newspapers, and digital media for its alternative approach to traditional digital fundraising methods and inspired other prefectures to host similar events.

Nagaoka's interview is translated from Japanese courtesy of Lena Furuki.

Interviewer: Give us a sense of who you are.

Nagaoka: My name is Emiko Nagaoka. I am currently the Regional Crowdfunding Event Producer at the Executive Office Department at Cybozu, Inc. I am also the startup advisor at Dai-ichi Kangyo Credit Cooperative.

Interviewer: How long have you been with Cybozu, Inc.?

Nagaoka: I've worked for Cybozu, Inc. for four years.

Interviewer: What life experiences lead you to create the first social impact event?

Nagaoka: There are a lot of things I could point to. I think my work in the startup world in Japan is probably the biggest influencing factor. I've been involved with startups and the startup community for awhile now. I was a member of a startup at one point, and then was also a director for the Chiba City Startup Support Center. I also started my own business counselor office along the way. Being surrounded by startups, and then creating my own, I think, gave me a really good sense of what kind of support startups need to thrive.

Interviewer: Why did you decide to use your knowledge and experience with startups to do an event rather than just donate to a given organization or company?

Nagaoka: I thought an event would let me have a wider impact.

I've received a lot of emails asking for funds over the years. I've also seen a lot of new crowdfunding sites pop up asking for donations. These are all great things, but these types of requests often go to a stranger or person who has maybe a limited or nonexistent relationship with the business asking for the fund. It's really hard to convince a stranger to give from their wallet. It's much easier to reach out to a network of people who know you and are invested in your cause.

To really make a difference, people need to reach out to their community. I think that personal connection is irreplaceable.

My hometown, Chiba Prefecture, has a big agriculture industry. I have friends who are farmers there that sell their vegetables online for good prices. Unfortunately, the Fukushima nuclear accident in 2011 affected a lot of them; people online were worried that the farms in Chiba were also impacted by the disaster and were a health risk, so they stopped buying. This put a lot of my friends and their farms in a difficult spot. What saved them was their community. The Chiba locals started buying all their products to help them get by. That story made me realize how important it is to meet in person, and the power of local support.

Because of that, I was inspired to create an opportunity for businesses to attract locals from their own communities. In Japan, there are services to support setting up a business, but there aren't a lot of support services once the businesses is up and running. I thought my event would help fill that gap.

Interviewer: So an event will help draw in the community the startup or business is affecting?

Nagaoka: Yes, exactly. If you host an event, you can promote the business to the locals who will directly benefit from the actions of these startups.

Interviewer: What was the think that pushed you to take action and get started?

Nagaoka: It might be a surprise, but my role at Cybozu. When I joined the Executive Office at Cybozu, the company's mission was to help enhance teamwork by encouraging individuals to do things that made them happy.

I've always really liked working with startups, and the concept of "supporting startups" and "revitalizing local communities" really aligned with both my personal philosophy and Cybozu's company philosophy. The support I received to go after what I wanted to do led to me hosting the first Chiikura.
Interviewer: How did others react when you told them what you planned to do?
Nagaoka: I think some people were confused. There had never been an event like Chiikura in Japan, so people didn't always understand the value it would bring. But I'm really passionate about bringing my ideas to life, and events can be done with little cost and low risk, so no one was really against my vision.
Interviewer: What were some challenges you faced creating the event?
Nagaoka: There weren't any real major challenges that made me reconsider making the event a reality. I was committed to seeing it come to life and talked about it 24/7 to anyone I met. If anything, I think the biggest challenge was just making sure everything was cleared with the legal department prior to the big day.
Interviewer: So there was no point where you weren't sure it would work out?
Nagaoka: No. I was excited and passionate about my vision becoming a reality, and I don't think anything would have stopped me from seeing it through.
Interviewer: So how did the event go?
Nagaoka: It went great! We hosted the first event in my hometown in Chiba, and we had more than 100 people attend. Before the event was over, a lot of people asked me when the next event would be.
It was really fantastic to see everyone helping each other. It really gave life to the vision I had and made the entire day exciting.
Interviewer: Did you have a favorite moment from the event?
Nagaoka: One of my favorite moments was watching the business pitch. There was one in particular that stood out to me. It was an entrepreneur who wanted to start a bookstore where locals would be able to gather and talk and share their knowledge with one another. Even though book stores are closing in Japan, he was able to get the funds and help he needed to find a place and open the store from Chiikura.
I also sometimes see attendees write about their experience at Chiikura, and how it let them meet new people who helped them with their business. That's something I really treasure.
Interviewer: If someone wants to host an event similar to yours in the future, what advice would you give them?
Nagaoka: Don't be afraid to ask people for the things you need. When I was creating Chiikura, I asked many people around me for favors. I did it in person. I prepared a backup plan in case people rejected my requests, but the possibility of being rejected didn't stop me from reaching out for support.
People are more likely to take action when you ask them. And if they can't, think of other ways they may be able to help that meets both parties' goals.
Interviewer: Thank you so much. It was wonderful to hear your story.
Nagaoka: It was a pleasure to talk about it.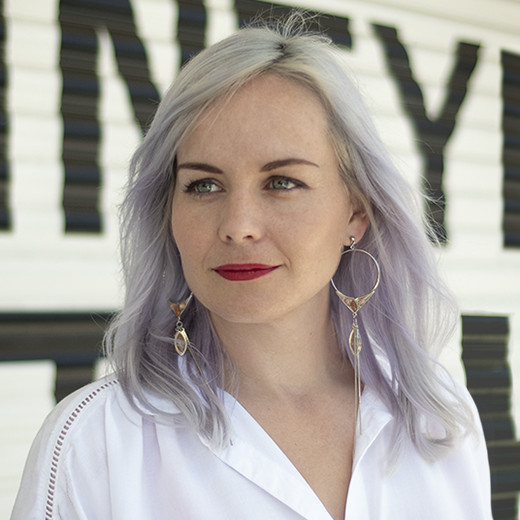 About the Author
Michelle is the Content Marketing Specialist at Kintone. She is a content marketing expert with several years in content marketing. She moved to San Francisco in 2015 and has experience working in small businesses, non-profits, and video production firms. She graduated in 2012 with a dual degree in Film and English.