Stretchy sweatpants? On. Turkey? In the oven. Grandma's famous mashed potatoes? On the table. If this scene sounds familiar, then you are probably one of hundreds of thousands of families all over the country celebrating Thanksgiving. While sharing the traditional Thanksgiving meal of turkey, mashed potatoes, and ham with family and friends is a staple of the holiday, another special tradition is going around the table giving thanks. This Thanksgiving, we asked Kintonians what they are thankful for and their unique family traditions for the big day.
The responses we received were heartfelt and speak to how having a strong company culture resonates beyond the office walls. We're more than a team, we're a big family. Apologies in advance for the drooling that some of their Thanksgiving meal photos may cause (looking at you Yosh!).
READ MORE: It's a Bird, It's a Plane, It's...SUPER MOM!
1) What are you most thankful for this year?
Tsuyoshi "Yosh" Hokonohara
#1 Family–this is something that can't be topped on my list.
#2 To have met Kintone and my Kintone family members!
#3 All the new people I have met after joining Kintone (not only work related) as well as all the people that I've been able to keep in touch with over the years.


Larissa Squires
I'm thankful for working for a company that understands life happens and things change. I can only imagine how stressful my cross-country move would have been earlier this year if I wasn't able to have such a flexible work style and the ability to move to a remote position. Thank you, Kintone!


Miri Ohashi
My job transition from a large corporation to a startup, following my own wishes, and taking action. (Thanks, Kintone, for hiring me 🎊).
Most thankful within Kintone: flexibility to prioritize personal life and work life. I moved from San Francisco to New York (was also on a business trip to Los Angeles and Tokyo before that) and apartment hunting is so much harder in New York. My supervisor agreed to let me focus on getting an apartment over work so that I have the basic foundation of life settled before jumping into things. I really appreciate that. It means so much more than just having autonomy: it means that your team trusts that you will take care of yourself first. I love that about the culture here.


Hiroki Nagata
I'm thankful for my family, my friends, and the opportunity to serve the world through our mission to make teamwork better globally. In 2019, I went from being self-employed to working for two tech companies (with absolutely no tech background), one of them being Kintone.
What I learned is that:
The "if you're not an entrepreneur, something's wrong with you" mentality works for some people, but it's over-glorified to a certain extent, and there's nothing wrong with contributing to the world by building someone else's business.
Although it's not a bad thing to work for someone else, it's critical to find a team/organization that has a mission that resonates with your passion.
When you find the right opportunity, you better grab ahold of it!
There's no such thing as a "waste of time," as long as you're learning from your experience. I'm thankful for finding an opportunity where I can utilize the skill sets and experiences I've gained throughout my life, and am given the freedom to apply it to achieve the team's goal. 😁
RECOMMENDED: Summer Intern at a San Francisco Tech Startup - What it's like at Kintone?
2) What are some Thanksgiving Day traditions your family/friends have?
Yosh
We always gather at my wife's aunt's house for a Thanksgiving party. It's my 19th time this year after coming to the U.S. Everyone brings a platter or cooks there, so it's not a typical traditional Thanksgiving dinner; we have turkey, gravy and mashed potatoes, but also white rice, sushi, Chinese dumplings, carnitas, chile verde, ceviche, etc. As we all got married we brought in diverse culture into the family. Myself included, I'm now proud to serve some Mexican food! It's fun to watch all our children hang around with cousins and play all day!
My traditional dish that I can't skip is cactus (nopales) cooked Japanese style like kinpira.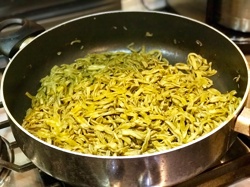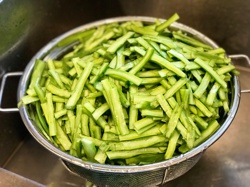 Hiroki
I haven't had a "delicious turkey (not dry, better than chicken)" to this date, so our family tradition is to eat chicken...especially fried chicken. 😝
There you have it! This Thanksgiving, we hope you are able to spare a couple of minutes before chowing down on turkey, to also reflect on what you are most thankful for with family and friends.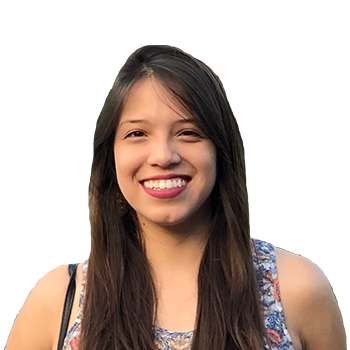 About the Author
Malena is a Senior Events Specialist and Marketing Campaign Associate at Kintone, where she enjoys getting people excited about Kintone through events they host and creative marketing campaigns. You will find her sketching out new ideas for social media copy, drooling over event catering menus, and flipping through Kintone threads where all the project management lives. Born and raised in San Francisco, she is a natural at finding the best places to eat in the city and navigating towards the nearest Bart station. Malena graduated from UC Berkeley, with a degree in Psychology, roll on you bears!