The phrase "work-life balance" gets thrown around pretty often—and for many, abrupt transitions to remote work and having to juggle ever-changing family responsibilities have complicated that fragile balance even further. But one thing we've learned during this global pandemic is abundantly clear: having an employer that encourages flexibility and shows empathy for their people can be the deciding factor for whether you stay at a company or leave.
100 people, 100 workstyles: the origin story
At Kintone, many of our policies are built around the idea that for 100 different people, there are 100 different workstyles that are ideal to promote employee wellbeing, engagement, and retention. The idea is that your people know best what is going to make them most productive and happy—and if you invest in their wellbeing and provide them the flexibility to work the way they want to, you'll see some serious results in your bottom line.

The "100 People, 100 Workstyles" concept originated at Kintone's Tokyo-based parent company, Cybozu, which was founded in 1997. When Cybozu went public back in 2000, it was the fastest Japanese company to do so at the time. The pressure to continue their rapid growth was on and started to take a toll on their people. Employees were feeling overworked, and yearly turnover reached a staggering 28%. Not only did they have to ramp up hiring to support the business' growth, they also had to replace all the people who were constantly leaving. And with goodbye parties happening every week, morale was plummeting.

For a company whose mission was to make teamwork better, something was clearly not right. Osamu Yamada, now the head of Cybozu's Global Organizational Strategy Office, saw that there was an opportunity to transform the company by focusing on employee satisfaction. The leadership team started implementing the "100 People, 100 Workstyles" policy, allowing for transitions to part-time roles, less rigid schedules, remote work, generous parental leave, as well as other unique one-off requests.

What followed was a 180-degree transformation: employee turnover saw a precipitous drop and has stayed below 5% for the past decade. And the impact of all the employee-centric changes and improved engagement and retention was also evident in the company's revenue growth.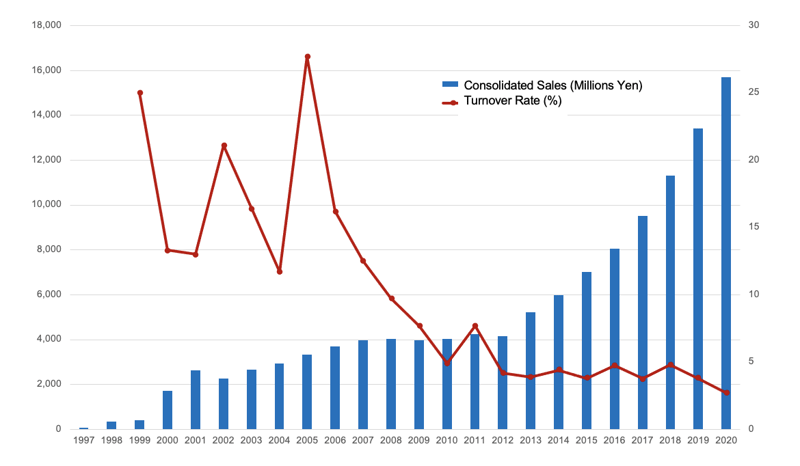 Remote work is just part of the equation
Post-pandemic, remote work has dominated the conversation when it comes to workplace flexibility, but it's not the whole story. If anything, we've learned that other types of flexibility can be just as important. A few Kintonians have transitioned to part-time roles within the past year to better balance family commitments and work. Several of our sales team members even found that once they finally took advantage of our unlimited vacation policy, a slew of new sales deals would follow. It's just another example of the close ties between your employees' wellbeing and your company's performance.
A Gallup study found that highly engaged teams are 21% more profitable, with a 10% increase in customer ratings and a 20% increase in sales. And of course highly engaged people are more likely to stick around.
According to Entrepreneur, the top three reasons your employees stay are:
They're engaged with your organization and its mission,
They're respected and recognized for their hard work, and
They're treated like people, not just workers.
So how do you get your people more engaged?
The bottom line is empathy. A 2021 study found that only a quarter of employees believe that empathy in their organizations is sufficient, while 72% believe empathy drives employee motivation. Seems like there's a bit of a gap there.
Providing flexible workstyles shows that you as an employer understand that there are other things going on in your employees' lives besides work. Below are a few real stories from Kintonians about what the 100 workstyles policy means to them.
Real stories from Kintonians
Lisa on our sales team shared that when the pandemic hit, her son in second grade switched to remote Zoom classes. She requested to reduce her weekly hours so that she could help her son with the transition to remote classes:
"It was definitely a good move for our family. Having this new schedule gives me more time back to take care of my family and focus on my other responsibilities. I've actually decided to keep this schedule now that the kids are back in school. It's great that Kintone's culture allows people to work differently from others and embraces those differences. As long as I contribute my part to the team, I can choose how I want to work."
Haokun on our marketing team had a family emergency and had to travel outside of the U.S. Because of COVID-19 travel restrictions, it took several months for her to be able to come back. She was able to work remotely from China during this period and spend valuable time with her family.
"For a long time, I didn't know when I'd be able to return to California because the COVID-19 circumstances and travel restrictions kept changing. The Kintone HR team was so understanding and supportive during all of it. They were willing to work with me and figure out the best plan, and I was able to choose my schedule while I was away. This experience definitely deepened my appreciation for my job and for Kintone."
Nim, our Technical Evangelist, also shared his thoughts on the 100 Workstyles policies:
"One of Kintone's core tenets is 'embracing individuality,' and the 100 Workstyles for 100 People policy is one of the ways we actualize that. It's great to feel supported. It's great to see our humanity in action. We're more than cogs in a machine. And to know that my boss and my boss's boss all support this idea brings me a sense of peace around my own work-life balance and my own commitment to excellence at work."
What workplace flexibility looks like in action
Here are a few more examples of what we do at Kintone to give our team members the flexibility to work the way they want and provide opportunities to pursue what they're interested in.
Flexible schedules

Remote work

options, work-from-home stipend
Part-time options
Education benefits
Unlimited vacation
Do you feel there's something missing from this list? Let us know in the comments below!
What to read next:
Policies alone don't create your company culture. In fact, the tools you use can have just as much of an impact. Learn more in our article: Technology & Culture: Why Your Tools Are More Important Than Ever.

Sometimes having a few awkward conversations can lead to a whole lot of improvement. Learn more in our article: How to Improve Your Company Culture Through Conflict.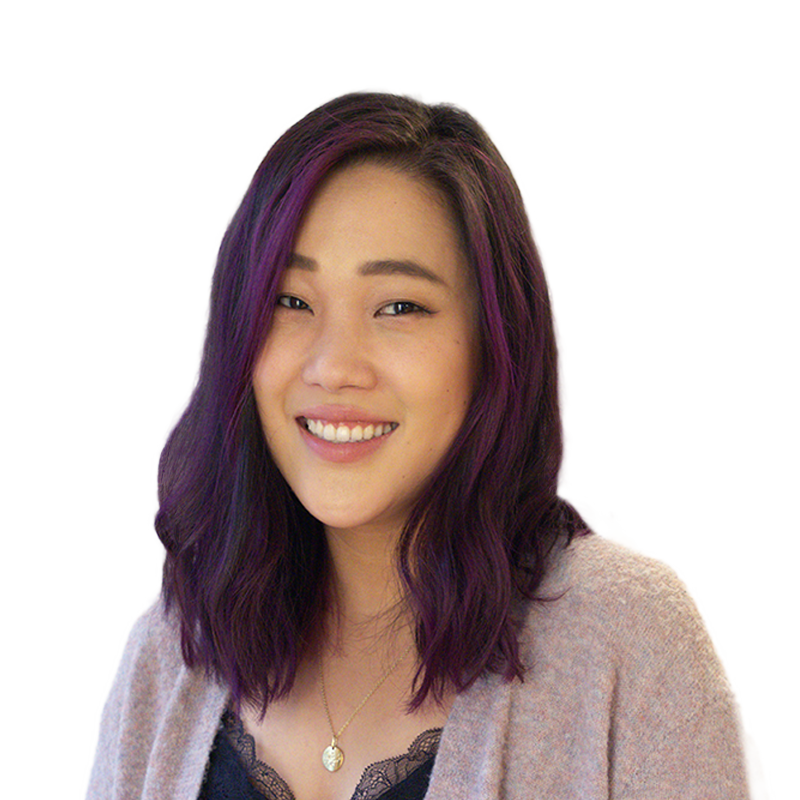 About the Author
Euna is a Senior Content Specialist at Kintone. She holds a BA in English from the University of Michigan and has a thing for words, food, and travel.