Do you remember your last day at the office before the quarantine kicked in and you went fully remote? I do. The last time I saw my marketing team we had a photoshoot for our mini giraffes that had arrived just in time for our upcoming conference. Later that day, we squeezed into our usual booth in the corner of the office and talked about our weekends, the dalgona coffee trend, and where to find good poke. We all walked out of the office that day, thinking we'd see each other again. Then the quarantine measures set in and we haven't been back since.
Now that it's officially been a year since we have been in the office, it's a strange feeling to think about how drastically different our lives were last March. Since then, many of our team members have moved out of the city, some have had babies, gotten new pets, proposed to their partners, and birthdays have come and gone without blowing out celebratory candles.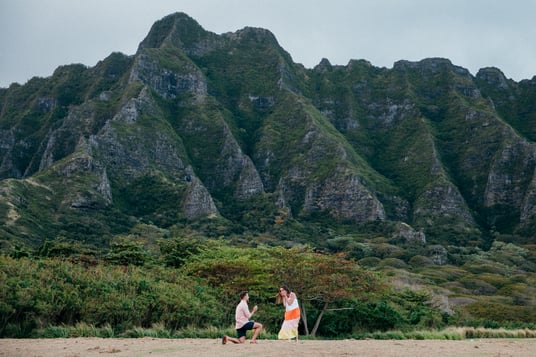 Above: Kyle Novitsky proposes to long term girlfriend in Kualoa Ranch, Oahu
We made the best of our remote work set-ups by sharing our new home offices, participating in monthly Personal Interest Group's (PIG's), and even competing in app building challenges. Our CEO, Dave Landa, gave tips for managing a busy household as a parent, and halfway through the year when we were all feeling burnt out we gave recommendations for managing this too.
We even extended our ideas and knowledge to others: last year we held several webinars on various remote work topics, such as managing your remote team, improving your company culture, creating a sustainable work from home policy, and many more. If you haven't checked these out, you can view the recordings on demand here.
Now, as we cross the line marking a year of lockdowns, quarantine, masks, and gloves, we're looking back at our experiences. Below, Kintonians have shared what the past year has been like for them. Can you relate? What were some of the positive changes that came out of working remotely? Let us know in the comments!
Lisa Niihara: I got myself my own office and got rid of our guest room since nobody visits us and stays at our home anymore due to COVID. I used to share an office with my husband. It makes it way easier for us now that we can be on our Zoom calls without hearing each other in the background. 😆
Haokun Wang: I started working on the feral cat population problem in my neighborhood and finally was able to domesticate one of them. Frap is now my cat!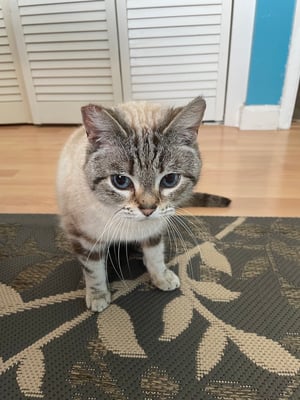 Pictured above: Haokun's newly adopted cat, Frap is adjusting to a new environment
Vincent Dang: I have invested in a standing desk, footpad, seat cushion, etc. and don't regret the investment at all! It's helped to alleviate my back pains.
I have also been doing yoga which has been great to keep me physically and mentally healthy.
Miri Ohashi: I've had my dog Pluto way before the quarantine hit but I appreciate him more and more everyday as he is the main reason we go outside.
He challenges my creative side and encourages me to be fun (hence the button training LOL). Highly recommend having a fur baby and if you already have one, invest in something fun together!
Euna Kim: I moved to the suburbs! And I don't feel like I miss SF as much I would normally because you know, pandemic life. The biggest challenge for me has been finding activities that limit my screen time so that I don't turn into a Netflix zombie potato.
Here's what I've found enjoyable:
- Lunchtime walks with Trigger
- New hobbies like painting/drawing, puzzles and baking (although pandemic baking is dangerous because who's going to eat all those cookies? The answer is me.)
- Spontaneous dance parties with my dog (still fun even though he doesn't seem as into it)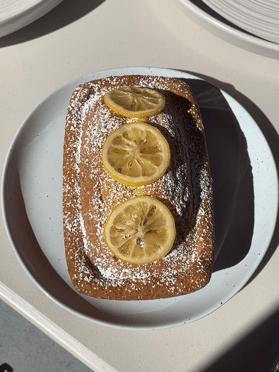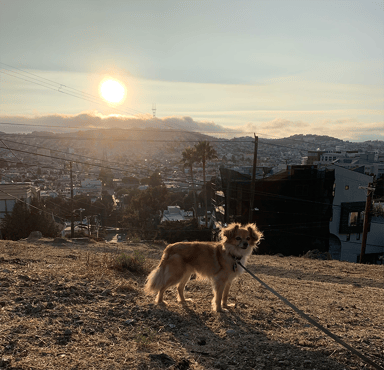 Pictured above: the olive oil cake I've loved baking + Trigger walking around our old neighborhood in SF.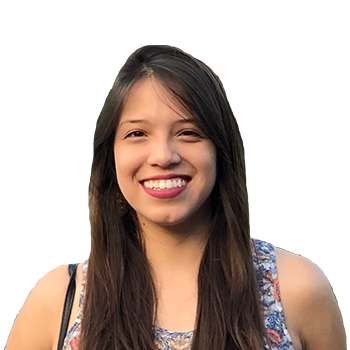 About the Author
Malena is a Senior Events Specialist and Marketing Campaign Associate at Kintone, where she enjoys getting people excited about Kintone through events they host and creative marketing campaigns. You will find her sketching out new ideas for social media copy, drooling over event catering menus, and flipping through Kintone threads where all the project management lives. Born and raised in San Francisco, she is a natural at finding the best places to eat in the city and navigating towards the nearest Bart station. Malena graduated from UC Berkeley, with a degree in Psychology, roll on you bears!